From the Open-Publishing Calendar
From the Open-Publishing Newswire
Indybay Feature
"Don't Over-react!" Organizers Demand Police Grant Right to Assemble After Mesherle Verdict
Tony Coleman speaking at press conference called by Oakland General Assembly for Justice for Oscar Grant, on Broadway and 14th Street, Oakland, on July 1, 2010.
Photo: Jonathan Nack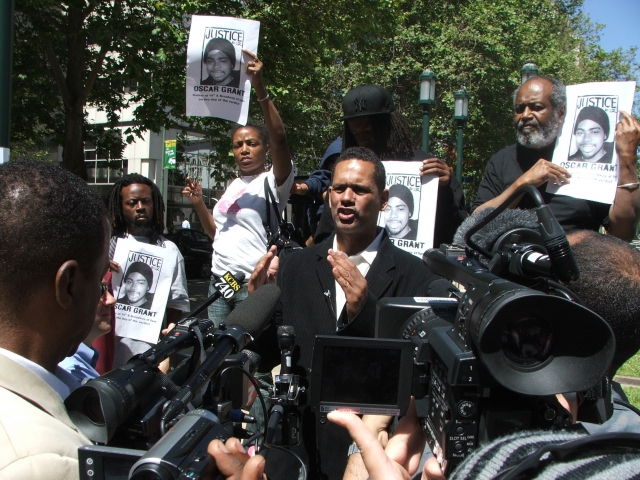 "Don't Over-react!" Organizers Demand Police Grant Right to Assemble After Mesherle Verdict
by Jonathan Nack
July 2, 2010
OAKLAND, CA – Activists in the movement for justice for Oscar Grant are organizing a mass gathering and speak-out for the evening of the day in which the verdict in the murder trial of BART Police Officer Johannes Mesherle is announced. The jury in the case, which is being tried in Los Angeles, is expected to be sent out to deliberate on Friday and a verdict could come down anytime after that.
Organizers are asking people to come to Broadway and 14th Street in downtown Oakland, at 6 pm the day of the verdict. They are demanding that the Oakland Police Department (OPD) not "over-react".
A press conference was held at that same location on Thursday, July 1, at 11 am. It was called by the Oakland General Assembly for Justice for Oscar Grant.
Tony Coleman, of One Fam, and the New Year's Movement for Justice for Oscar Grant, began the press conference by speaking personally. "My son was Oscar Grant's teammate," said Coleman. "He's 22 years old. He's a Black young man. It could have been him on the BART. I'm proud of my son for coming out here and, feeling angry enough, and feeling enough passion and compassion, to come out here and stand want to stand with the people."
"We're asking all the people, if you feel that way, don't pent it up inside. Come out here. We're providing a space," said Coleman.
"It's an alternative to other forms of expression. So, if you want to go out and do other things and all like that, that's on you, but if you want to come out and participate in a speak-out, and deal with other brethren about what we can do to move forward, then come out here to 14th and Broadway," said Coleman.
Coleman said that it will be organized as a speak-out and a sharing of ideas to determine what are the next steps forward for justice for Oscar Grant and his family.
"We have a message for OPD – Let us have our space. Do your job, but that doesn't mean going overboard and hitting on these youngsters. They may be a little hot, they may be a little angry, they may be talking. Don't over-react!"
"They have a right to be mad. They have a right to be fearful if this officer is let go...that they cannot ride the BART with their friends," Coleman concluded.
He warned that some non-profits are spreading the wrong message about protests following the verdict.
Responding to talking points being circulated as a message from the City of Oakland, Coleman said that, "the City is paying certain non-profits to spread this hysteria about violence...All the talking points, all six of them, are about property damage...about what the young people are gonna do, not the violence cops gonna continue to do, if this officer is found not guilty."
Coleman said that Oscar Grant's mother, Wanda Johnson, wants Officer Mesherle convicted of murder in the second degree. "This fits Murder Two." he said.
Also speaking at the press conference were Micheal Walter and Tony Shaw, who reported on their experience attending part of the Mesherle trial in L.A.; Reverend Henry Williams, of the Humanity Baptist Church; and Karissa Cole, of the Gang Prevention Task Force, and the Oakland Community Action Network.
"The police were in there provoking us and saying things to us, acting disorderly, not us, and it ended up with us getting banned from the courtroom," reported Shaw.
Walter said, "we had an awful lot of support between the Oakland coalition for justice for Oscar Grant and the L.A. coalition for Oscar Grant. They really stepped up and played a big part in bringing notoriety to the case down there. Making sure the people in L.A. are standing with us, and fighting with us, to find justice."
"I want to see justice. I want to see something happen for our young people, said Rev. Williams. "We want to teach Black history to our children, because they don't know nothing about who they are and where they came from," he said.
Cole said,"everybody is talking about peace, but we're still waiting on our justice. Jim Crow is still in effect, it never died, it just changed the way it looked...This is bigger than what it seems. We need justice for not only for Oscar Grant, but for all the people of color in Oakland."
For more info. on the gathering and speak-out planned for the day of the verdict:
http://www.oaklandforjustice.org
, or write to
info [at] oaklandforjustice.org
A video of Tony Coleman speaking in front of the Courthouse in Los Angeles prior to commencement of trial of Office Johannes Mehserle, interviewed by Davey D, Davey D TV:
http://www.youtube.com/watch?v=HnjSFfkWKdg
New video released by the Court of the shooting of Oscar Grant, which was taken by a passenger on a BART train stopped at the station:
http://www.youtube.com/watch?v=S0P8TSP2YJU
A copy of the Press Release by Oakland General Assembly for Justice for Oscar Grant is at:
http://www.indybay.org/uploads/2010/06/30/oakland_assembly_press_release_063010.pdf
We are 100% volunteer and depend on your participation to sustain our efforts!
Get Involved
If you'd like to help with maintaining or developing the website, contact us.