From the Open-Publishing Calendar
From the Open-Publishing Newswire
Indybay Feature
Luminalt helps Grace Tabernacle Community Church in the Bayview with solar installation.
Luminalt a San Francisco Solar Company has been working with California Interfaith Power and Light to help churches and other institutions - install SOLAR, and address Climate Change. If all goes well soon hundreds of Churches will have Solar and help reduce the Carbon footprint. Bishop Ernest Jackson and his congregation received a generous donation from a sponsor that approached LUMINALT. One good thing led to another and today California Interfaith Power and Light, LUMINALT - and many women and men of good faith - can praise God for trying to heal Mother Earth and pollute less.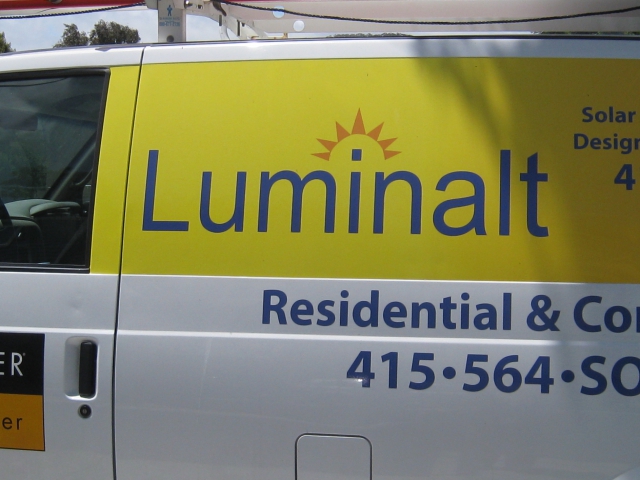 Juneteenth is a special day for African Americans and the congregation at Grace Tabernacle Community Church decided to praise God for all HIS benefits - and this year was especial - because, California Interfaith Power and Light teamed up with LUMINALT - a San Francisco Solar Company to give Grace Tabernacle Community Church - Solar Energy.
When the knob was turned - Pacific Gas and Electricity (PG&E) became history - and what will happen from now on - is that the Grace Tabernacle Church will have surplus energy from the 58 Solar Panels placed to absorb maximum sunlight and generate clean energy.
This gift of God would not have been possible if it were not for Espanola Jackson who is a member of the Grace Tabernacle Church who pushed to make this project happen. She was aided by Rene Gonsalvez, Joshua Arce, and a host of sponsors Southeast Jobs Coalition, Commission for the Environment, Young Community Developers, Brightline Defense, Alpha and Omega Asthama Resource Center, and of course California Interfaith Power and Light.
Bishop Ernest Jackson gave a plaque to the many who helped including Espanola Jackson, Lynne Brown, and owners of LUMINALT, the key person from California Interfaith Power and Light and others that played a key role. Renee Gonsalvez was the Project Manager on this Solar Job at the Grace Tabernacle Community Church.
The Bayview Hunters Point was the first place in the City and County of San Francisco where Solar Panels were installed on 58 homes years ago. Today, many homes and Churches look forward to use the SUN as a means to provide electricity. Grace Tabernacle Community Church is now one more institution that will help reduce pollution and generated Clean Energy.
Some of years ago some of us shut down the PG&E Electric Power Plant and soon we hope shut down the Mirant Plant - both used fossil fuel and pollute the environment.
With the brand new Pittsburg - Potrero TransBay line - that will help this City and County with an additional 400 MegaWatts of Electric - much of the extra energy needed during peak hours - will be met easily.
Right now our total consumption is 960 MegaWatts. We hope and pray that we will use Solar and Wind that we have abundance of - to meet our Energy needs.
For years the Southeast Sector was used as a dumping site for all the City's needs.
The Waste Water Treatment Plant, Fossil Fuel generation of Electricity, the Concrete and Aggregate Companies keep on polluting the environment and will until something is done.
Today, the San Francisco Public Utilities (SFPUC) understands that it is the largest polluter in the Bayview Hunters Point. So, it was nice to see Mr. Ed Harrington the Manager, of the SFPUC who also happens to be a good friend of the community and that of Bishop Ernest Jackson attend the event.
The remarks made by Mr. Ed Harrington were poignant and he too congratulated Grace Tabernacle Church and LUMINALT for a job well done.
The First Lady Doris Jackson prepared some tasty food - and the BBQ was a first class spread that was appreciated and enjoyed by all.
It was a pleasure to see the children and more to see them smile.
Many of the children - comprehend the use of Solar and understand that it is bad to pollute. Espanola Jackson worked hard on this project and so did others - all in all - the Environmentalists present felt good, and the many supporters of the Grace Tabernacle Community Church - better.
Enjoy the photographs:
http://www.flickr.com/photos/franciscodacosta/sets/72157624187653751/show/
Francisco Da Costa
Director
Environmental Justice Advocacy
****************************
****************************
We are 100% volunteer and depend on your participation to sustain our efforts!
Get Involved
If you'd like to help with maintaining or developing the website, contact us.