From the Open-Publishing Calendar
From the Open-Publishing Newswire
Indybay Feature
Jury Set with No African American Jurors, Defense Seeks to Exclude Video in Oscar Grant Trial
Report on jury selection today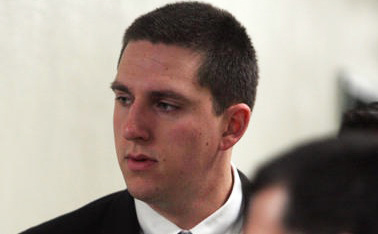 [Photo: Mehserle on trial]


What began as a two-day selection process ended Tuesday afternoon with eight women and four men being sworn in as jurors in the murder trial of Johannes Mehserle. The former transit officer is charged with the New Year's Day 2009 killing of Oscar Grant III, 22, at an Oakland subway station.

The jury, composed of five Latina and three white women and two Latino and two white men, will hear opening statements in the case on Thursday, June 10.

During the selection process, which began at 8:30 a.m. and ran until approximately 4 p.m., three African-Americans were excused by the court and the remaining two African-Americans in today's juror pool were struck by the defense.

Many of today's potential jurors had ties to law enforcement either through friendship, past service or through relatives.

Both the prosecution and the defense were allowed a total of 20 peremptory challenges each for the jurors and six each for the alternates.

Some in the courtroom said they were stunned by the lack of black jurors in the case.

Phyllis Jackson said "it was a chilling day" for Los Angeles.
"Jury selection here banishes all Black people like the recent Equal Justice Initiative report found that southern courts do, while allowing the jury to be stacked with people who have friends, family and businesses involved with law enforcement," she said.

The Southern California college professor came to court to observe the proceedings, which are open to the public.

Tracy Cooper, who came from Oakland to observe the proceedings, agreed.
"Out of the five intelligent Black people they had in that jury pool, I can't believe that not one of them was selected to serve on the jury," she said. "Some of the people they decided to keep, there were too many who favored police officers."

Jack Bryson Sr. said that the judge was giving Mehserle's attorney, Michael Rains, the trial on a platter.
"If (Wednesday's) motions go (Rains') way, there's no hope for justice," he said.

Court will resume at 9:30 a.m. on Wednesday morning to hear three motions submitted by Rains.

Two motions that were filed last week seek to either exclude Sophina Mesa, girlfriend of Oscar Grant and mother of their 4-year old daughter, from testifying or allow Rains to cross-examine her about Oscar Grant's probation and parole status. The other motion seeks to exclude former transit officer Tony Pirone's utterance of a racial slur at Oscar Grant.

A motion filed Monday with the court seeks to exclude the synchronized video of the events of Jan. 1, 2009, submitted by the District Attorney and requests an evidentiary hearing.

Mehserle's defense has also prepared and submitted a synchronized video to the court.

Opening statements in the trial are set for Thursday, June 10.


Follow the Mehserle trial on Twitter @OscarGrantTrial.


Coverage of the Mehserle trial is done in collaboration with partners including New American Media, KALW, Placeblogger and Spot.us.