From the Open-Publishing Calendar
From the Open-Publishing Newswire
Indybay Feature
View other events for the week of

6/ 1/2010
Justice for Oscar Grant Sunset Altar and Candlelight Vigil
Date

Tuesday June 01

Time

8:00 PM

-

10:00 PM

Import this event into your personal calendar.
Location Details
Alameda County District Attorney's office
1225 Fallon Street
12th & Oak Streets, Oakland
Event Type

Vigil/Ritual

Email
info [at] oaklandforjustice.org

WARNING: JUSTICE FOR OSCAR GRANT IN DANGER!

What we do matters. PUT THE COP ON TRIAL, NOT THE VICTIM!!

We are going to remind DA Nancy O'Malley that she believes in the "vigorous protection of victim's rights." Oscar was a murder victim; killed by BART police officer Johannes Mehserle. The killer cop is on trial not Oscar, the victim. The DA must respect Oscar's dignity and humanity as a son, brother, father, fiancé, worker, friend and community member. We are demanding that the DA vigorously prosecute Oscar's killer just as she prosecutes any other member of our community on trial for murder. TO THE PEOPLE OF THE STATE OF CALIFORNIA: COME, BEAR WITNESS, SPEAK OUT!!

Sunset Altar and Candlelight Vigil, 8pm — June 1st — District Attorney's office

Bring candles, pictures, flowers, and mementos to remember Oscar Grant III and remind the DA that Oscar Grant was the victim and has rights to respect and defend. The DA's job is to protect The People of the State of California.

WHAT CAN YOU DO TODAY? Call District Attorney O'Malley and tell her to respect all victims' rights, including Oscar Grant's, prosecute the Mehserle trial vigorously and to the full extent of the law and to prosecute former BART officers Pirone, Dominici and all others in law enforcement involved in the murder of Oscar Grant.

DA's Phone: (510) 272-6222, Fax: (510) 271-5157, Email: askrcd-da@acgov.org
DA's Mailing Address: 1225 Fallon Street, Room 900, Oakland, CA 94612

Added to the calendar on Tuesday May 25th, 2010 8:54 PM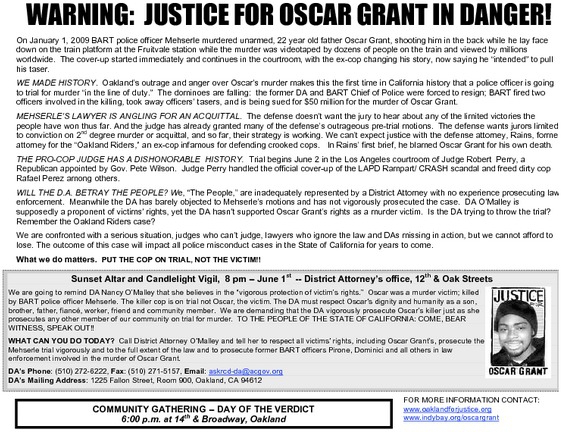 -----FOR IMMEDIATE RELEASE-----
SUNSET ALTAR, CANDLELIGHT VIGIL FOR OSCAR GRANT AND ALL VICTIMS OF POLICE VIOLENCE ON THE EVE OF JOHANNES MEHSERLE'S TRIAL
Tuesday, June 1st, starting at 8 p.m.
12th & Oak Streets, in front of the Oakland District Attorney's Office
In the wee hours of New Year's Day, 2009, on the dawn of Barack Obama's inauguration and amidst murmurings in the media about a "post-racial" America, Oscar Grant, a working-class youth of African descent, was fatally and publicly shot in the back by BART police officer Johannes Mehserle. Oscar, newly a father, was unarmed, compliant, and laying face down when executed. Just seconds before the deadly shots rang out, countless individuals (whose voices were captured via cell phone and immortalized along with the last moments of Oscar's brief life) could be heard loudly protesting the BART police officers' violent treatment of Oscar and his friends.
June 2nd marks the first day of jury selection in Johannes Mehserle's trial for murder -- a trial unprecedented in the history of California and in Oakland. Never before has a police officer in this state been criminally charged murder for a line-of-duty shooting. That the indictment of Mehserle should originate in Oakland -- where the so-called renegade cops known as the Oakland Riders were successfully defended against criminal charges by Mehserle's attorney, Michael Rains, earlier this decade; and where killer-cop Patrick Gonzales continues to terrorize the streets with impunity -- makes the trial all the more unprecedented.
Throughout pre-trial proceedings, Michael Rains has attempted to turn the prosecution of Mehserle, an undisputed killer, into a trial about the victim. No amount of spin or legal maneuvers, however, can change the meaning of the blood-chilling scene that was digitally captured on January 1, 2009 for all of the world to see.
On June 1st, in the aftermath of the brutal killing of seven-year-old Aiyana Jones by the Detroit police, community members in Oakland will participate in a vigil for Oscar Grant and all those whose lives have been cut down by officers sworn to serve and protect. Persons fatally shot by the police in recent memory include Oakland residents Gary King Jr., Jody Woodfox, Caspar Banjo, Jose Luis Buenrostro, Brownie Polk, Cammerin Boyd, Andrew Moppin, and many others; whose communities remain starved for resources while 65+% of the Oakland general fund is allocated to police.
The vigil will take place in front of the office of Oakland District Attorney Nancy O'Malley, who took over as D.A. last autumn after Tom Orloff suddenly resigned from the position. O'Malley is said to represent "The People" and prides herself out as an advocate for victims of violent crime. Yet, in regard to Oscar's victimization, she has yet to press charges against former BART police officers Marysol Domineci and Tony Pirone, who verbally and physically abused Oscar only moments before he was shot in the back (and were only recently fired by BART, after a delay of over a year; this, after both were put paid administrative leave and collected upwards of $100,000 each in salary.) Nor has O'Malley -- or most Oakland officials -- passionately and publicly decried the violation of human dignity, life and the public trust represented by the actions of officers such as Mehserle.
We will not stand by as this status quo is tolerated. Police officers are granted the extraordinary license to use lethal force against members of the public -- a power rife with abuse although this is typically buried in the headlines. The police must be vigorously prosecuted whenever they violate the public trust; moreover, the humanity and dignity of their victims must be respected and zealously guarded.
Further information is available at http://www.oaklandforjustice.org/
We are 100% volunteer and depend on your participation to sustain our efforts!
Get Involved
If you'd like to help with maintaining or developing the website, contact us.