From the Open-Publishing Calendar
From the Open-Publishing Newswire
Indybay Feature
Attorney General Eric Holder Visits East Oakland or "It Was A Misunderstanding"
On Tuesday, May 11th, Eric Holder visited
Youth Uprising
, a youth empowering community center, located along MacArthur Blvd. in East Oakland. Holder was in town to discuss gang violence, and how the federal government may be able to assist local authorities in addressing this problem. [Full audio below.]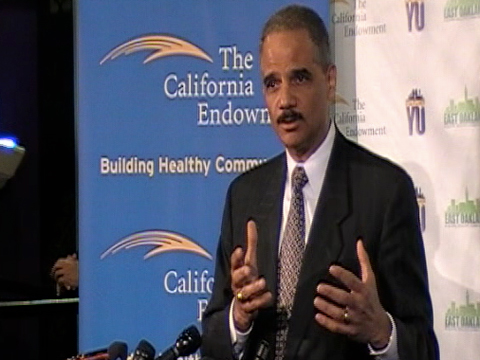 On Tuesday, May 11th, Eric Holder visited
Youth Uprising
, a youth empowering community center, located along MacArthur Blvd. in East Oakland. Holder was in town to discuss gang violence, and how the federal government may be able to assist local authorities in addressing this problem. Holder toured the facility flanked by the director of YU (Olis Simmons) and Oakland Police Chief Anthony Batts. Then a closed-door meeting was held between the Attorney General, Chief Batts, Tony Smith (Superintendent of OUSD), Mayor Ron Dellums, the California Endowment and YU administrators. It wasn't clear what was discussed, however the federal government is offering money to aid in the prevention of gang violence. Once Holder and Oakland City Officials discussed what was "best" for the community of Oakland, the Attorney General held a press conference for the considerable media presence at Youth Uprising. The press conf. was invitation only, and no exceptions were made as a woman from
PUEBLO
was turned away, despite the fact that she has dedicated many hours attempting to address the rampant police brutality plaguing working-class neighborhoods in Oakland. Members of the Coalition Against the Gang Injunction were also turned away. Once the press conf. began Holder answered a handful of questions. He did his best to dance around the questions. He labeled gang injunctions as the need for law enforcement to "creatively address the problem of gang violence." Two questions were asked about the feds stance on the legalization of marijuana. He alleged that the fed. govt. would respect state law and not intervene to curb recreational marijuana use, however, he did say he felt that legalization was "not the way to go" and was a "bridge too far". He answered a question on the recent "terror" plot in Times Square. The final question was based on the recent legislation in Arizona (SB 1070), which Holder felt was "divisive and had the potential to drive a wedge between law enforcement and people they serve." All in all it was typical political theater from the top law enforcement official of this land.
Afterwards the press got a chance to ask questions to a panel of local officials including: Chief Batts, Ron Dellums, Tony Smith, Olis Simmons, two young members of YU - Marcus and Antoinette, a rep. for the California Endowment, and the director of probation in Oakland. Here are some the highlights - OPD Chief Batts addressed the closed door meeting with Holder and stated that more than anything Holder "came to listen" to what local officials, including himself, felt the city of Oakland needed as far as federal resources. Chief Batts alleged that the gang injunction in N. Oakland was designed to "give back the civil rights" of the residents being "terrorized" by this "gang" - and thus allowing gentrification to spread its greedy tentacles - (reporter's embellishment). Batts even had the nerve to claim that everything in this injunction is already part of the law. Batts labeled gang injunctions as unique to N. California, and assured the press that this injunction is designed to "identify the 1% of people that are doing harm to this community." Ron Dellums felt that more federal dollars would mean that local funds could be spent on social programs and services rather than cutting them in favor of more police, and claimed that this "really resonated" with the Attorney General. He was quite impressed with the young woman from YU - Antoinette (Nettie). She addressed the power of the media. She felt that the media has "all the power" and finds it troubling that the media is constantly portraying Oakland in mostly negative ways. When asked about their experiences with police brutality both Marcus and Antoinette did their best to portray the police in positive ways. Nettie alleges that police brutality does happen, but does not happen to those involved with Youth Uprising. Marcus chose to focus on the positive programs being offered by OPD, with CODE 33 being the one he mentioned. Batts and Dellums were also asked about programs like CODE 33. Batts feels that far too often policing focuses on suppression, and a program like CODE 33 is designed for prevention and intervention. Dellums then commented on the balance between law enforcement and the media. He feels the PIES strategy (Prevention Intervention Enforcement and Sustainability) needs to focus more on the 'P I S', and the media needs to stop the "If it bleeds it leads" strategy of media reporting in order to focus on the positives going on in Oakland. Tony Smith, Supt. of OUSD, talked about the restorative justice model being enacted throughout OUSD and how it can potentially assist with the interaction between the police and youth of Oakland. This last question brought an end to the event.
This reporter thought it was ironic that during the entire time Attorney General Holder was touring Youth Uprising and talking about the Obama administration's desire to "rather than get tough on crime - get smart on crime," Oakland police had two young men in handcuffs in the back of police cruisers out front. When asked why he was being detained and/or arrested the young man replied, "it was a misunderstanding". That's about the size of it.
We are 100% volunteer and depend on your participation to sustain our efforts!
Get Involved
If you'd like to help with maintaining or developing the website, contact us.