From the Open-Publishing Calendar
From the Open-Publishing Newswire
Indybay Feature
T4CW May 3rd 2010: Immigration Policy and Border Politics
Over the past few weeks, the teachers have spoken with Ramiro Medrano, a Watsonville Brown Beret, and Shannon Young, a reporter for Free Speech Radio News based in Oaxaca Mexico. The conversations have given a great deal of context to the debate about Immigration reform and border policies. Teachers 4 Class War airs every Monday at 6 PM on Free Radio Santa Cruz 101.1 FM. Ramiro: 1 hr. / Shannon: 54 min. We also discussed the challenges facing FSRN and alternative media in general: 7 min.
The foto is from May Day 2007 in San Jose.
Shannon covered a great deal, asked to speak about recent stories she had reported for FSRN (
http://www.fsrn.org
), including an update on the Cananea Mine, the Merida Initiative (Plan Mexico), the murder of water rights protesters, a near-lynching of police officers, the release of Juan Manuel Martinez Moreno (somehow imprisoned without being charged after being implicated without merit in the murder of Brad Will), an attack on a US dplomatic post in Nuevo Laredo, the ongoing electrical workers struggle, and the state of education...
All this from the perspective of an independent reporter trying to get a little bit of truth past a monolithic media establishment and a simplistic view of drug war chaos that doesn't show the complexity of Mexican politics or civil society.
In short, you can't understand the border unless you understand a bit about *both sides* of said border.
Ramiro Medrano works with local youth, undocumented students in particular, to facilitate the hoop-jumping that makes it even toughter for kids to be the first ones in their family to go to college. Low retention rates, tighened financial aid, stretched counselors, impacted classes, reams of paperwork, resistrictions based on immigration status... This is what Ramiro does for work, in addition to his work for the Brown Berets. We were hoping to talk more with him about that work, and the D.R.E.A.M. Act in particular, but there had been some breaking news and we had a lot to cover.
With the Schumer proposal released (not as a bill but as a "Conceptual Proposal"),
http://www.immigrationforum.org/policy/update-display/democrats-unveil-conceptual-proposal-for-immigration-reform/
we had a bit of policy to discuss, in addition to the Arizona law (SB 1070) already signed by Governer Jan Brewer, and a discussion of state v. federal enforcement, policies being separate from enforcement, and misplaced priorities ensued. We see a 'broken' immigration system and a need for reform, but see mostly unrealistic proposals and measures that are simply unenforceable without devastating consequences that punish the most vulnerable populations.
As Ramiro says, we have to look at other policies (like militarization and foreign policy) before we can have a humane immigration system that works. He mentions NAFTA, CAFTA, and Plan Mexico specifically. This argument is often met with the idea that it's not 'our' responsibility to fix Mexico. As mentioned above and throughoughly explored in the interview with Shannon, people are working hard to "fix" Mexico, where teachers, students, media workers, union workers, human rights advocates, indigenous peoples, feminists, and more are struggling under terrible repression to defend their lives, families, and land.
To illustrate the point we closed by touching on recent violence in San Juan Copala, Oaxaca, where a convoy delivering supplies to a town under seige by paramilitaries was attacked, killing Bety Cariño Trujillo, a human rights organization's [CACTUS] director and Indigenous Community Radio advocate, and Jyri Jaakkola, a Finnish human rights observer.
Listen to all three files below and stay tuned. For more info check out:
http://www.elenemigocomun.net
http://www.narconews.com
http://www.fsrn.org
Thanks for listening.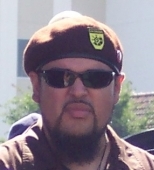 We are 100% volunteer and depend on your participation to sustain our efforts!
Get Involved
If you'd like to help with maintaining or developing the website, contact us.