From the Open-Publishing Calendar
From the Open-Publishing Newswire
Indybay Feature
Related Categories:

Santa Cruz Indymedia | Immigrant Rights | Labor & Workers
Full Rights for Immigrant Workers! Jobs for All!
The following is the Liberation News flyer distributed at the successful May Day Rally for the Rights of Immigrant Workers in Watsonville: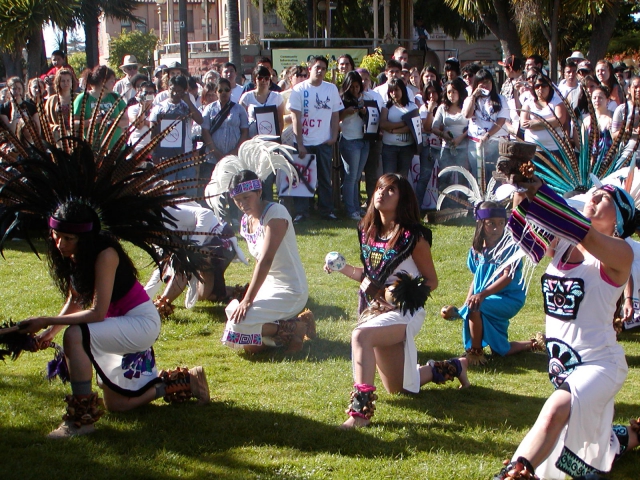 (Photo: May Day Rally for the Rights of Immigrant Workers in Watsonville, Liberation News)
Full Rights for Immigrant Workers! Jobs for All!
U.S. imperialism invaded Mexico to steal much of their land and, after taking that land, overturned Mexico's prohibition of slavery on much of the stolen land. Due in part to land theft (from Native Americans and Mexicans); and due in part to slavery, the United States became a rich and powerful capitalist nation. And after the Spanish American war of 1898 the United States also became an imperialist nation and has remained so ever since.
In Mexico, U.S. imperialism has supported the worst capitalist dictators in order to get cheap resources and cheap labor. In addition, NAFTA has made the situation even worse, getting rid of key gains of the Mexican Revolution like the tortilla subsidy and driving poor peasants off their land and into the city slums of Mexico and the United States.
Mexican immigrants are not criminals; they are fellow workers who are victims of U.S. imperialism, capitalism, and NAFTA. The working class of the United States has common interests with immigrant workers in fighting our common enemies in the U.S. capitalist class for unions and for socialism.
Together with immigrant workers the entire working class should fight to reduce the work week to 30 hours with no cut in pay. This would force the employers to hire more workers and make the ruling rich pay more for the current economic crisis while easing some of the misery of the working class.
The Democrats have no solutions. Under Obama the rate of deportations is about double it was under Bush. Average time in prison before a case is heard is 439 days nationally and 612 in California. The "reforms" being discussed by the Democrats, if they do happen, are bad: undocumented immigrants will be labeled as criminals and the lucky few who are accepted will be forced to wait for years and be forced to pay thousands of dollars in fines and taxes. In addition, they propose a stepped-up militarization of the border, the indentured servitude for temporary "guest" workers, and biometric cards.
Likewise, the Republicans are part of the problem. Arizona's new law scapegoats and hurts immigrants. The law authorizes officers to pull over, question, and detain anyone if they have a "reasonable suspicion" to believe they are in this country without proper documentation. This not only creates a police state for immigrants, it also legalizes racial profiling. While there is a boycott of Arizona that has started as a result of this law, far more effective would be a general strike demanding repeal. To do so will take breaking the unions from the Democrats, to stop squandering our dues on their campaigns and instead put dues into strike funds where we can rely on our own power.
As the capitalist crisis deepens the Democrats and Republicans seek to blame immigrants for rising unemployment and offer the opposite of solutions. The truth is that capitalism and its failures are the cause of unemployment. While the class struggle can win more jobs through a shorter work week with no reduction pay, it is only the socialist system that can guarantee full employment through a planned economy run to meet human and environmental needs instead of profit. Liberation News advocates building a workers' party that fights for working class unity, class struggle methods for change, and a long term outlook of fighting for socialist revolution and workers' democracy in the United States and Mexico.
Subscribe to Liberation News free online:
https://lists.riseup.net/www/info/liberation_news
We are 100% volunteer and depend on your participation to sustain our efforts!
Get Involved
If you'd like to help with maintaining or developing the website, contact us.