From the Open-Publishing Calendar
From the Open-Publishing Newswire
Indybay Feature
T4CW 4.26.10: Reel Work May Day Labor Film about Mexico / 1 de Mayo y la SME (Bilingual)
The Teachers spoke with Rogelio Martinez Saldana, fellow PVFT Teacher, about the film he'll be presenting on Sunday May 2nd as part of the Reel Work Labor Film Festival, "Y Se Hizo la Luz" / L@s Maestr@s hablaron con Rogelio Martinez Saldana, tambien Maestro de la PVFT, acerco de la pelicula que presentara en el Domingo 2 de Mayo como parte del Festival de Cine Dia del Trabajador, "Y Se Hizo la Luz." [56.17 mono MP3, 1st half English / 2o parte Espanol]
We covered a lot in the interview, getting some context about the SME (Electical Workers Union of Mexico) and its place in Mexican Labor History (it's one of the oldest, largest, and "best organized" unions in the Americas), the conflict between the Mexican Government and the Union, culminating in the decertification of the Union (a move timed, according to Rogelio, to take advantage of the distraction of a soccer victory last fall, a la Naomi Klein's 'shock doctrine'), the response of the union (massive mobilizations), and of course the film that will be shown on Sunday. The film shows a perspective not often seen in major media in Mexico, where TV is controlled by the rich and the 'news' is quite biased.
We of course touched as well on the most pressing issue of the day, Arizona's draconian and racist immigration law. As Rogelio points out, the same people profit on both sides of the border and as long as capital flows freely across borders but Labor does not, then workers will be exploited and the bosses will profit on both sides of the border.
This Sunday, May 2 at 7 pm / Domingo 2 de Mayo a las 7 PM
Cabrillo Watsonville Forum, Watsonville
"Watsonville On Strike" (Jon Silver, 1989, 65 min) "Watsonville en Huelga"
"Y Se Hizo La Luz" (canal deiz de julio, 2010, 45 min) Video of current struggle precipitated by the Calderon government's attempt to dissolve the Mexican Electrical Workers Union, SME. Un video documental acerca del conflict entre el Gobierno de Calderon y la SME.
Speakers/Invitados: Jon Silver, filmmaker, Patricia Zavella, UCSC professor; Rogelio Martínez, teacher; Yolanda Navarro, community organizer
Sponsor/Patrocinado por: Pajaro Valley Federation of Teachers, AFT Local 1936
Placticamos en muchas topicas, sobre la historia de la SME, el conflicto con el gobierno Mexicano con la recien desaparacion que paso despues que la victoria sobre El Salvador en futbol, para tomar advantaje de un pueblo destraido, como descubre Naomi Klein en su libro "The Shock Doctrine," la reaccion del sindicato (movilizarse), y por cierto la pelicula que van a presentar en el Domingo, Y Se Hizo la Luz, que muestra una perspectiva que no veas en los medios en Mexico, donde la tele solo presenta una sola perspectiva y las noticias esten bajo control de los ricos.
Tambien tocamos el discurso mas importante, lo de la ley racista de Arizona. Como dice claramente Rogelio, son las mismas, la gente quien gana de la explotacion de obreros en ambos lados, porque cuando la capital puede cruzar la frontera pero el trabajador no, nosotros siempre perdimos.
ROGELIO MARTÍNEZ-SALDANA is a Migrant Education teacher with the Pajaro Valley Unified School District and a member of PVFT 1936. Rogelio has closely followed politics in Mexico and the rest of Latin America. He recently returned from Mexico City where he witnessed and participated in some of the actions of resistance carried out by members of the Mexican Electrical Workers Union (SME) after their union was eliminated by the Mexican Government.
ROGELIO MARTINEZ-SALDANA es un Maestro con Educacion Migrante en el Distrito Valle Pajaro, y integrante de la Union PVFT 1936. Rogelio conoce la politica de su Mexico y de America Latina tambien. Recien se fue a DF, donde ha sido testigo a la resistencia de la SME despues que la desaparacion por el gobierno.
Canal Seis de Julio produced the film Y Se Hizo la Luz:
http://www.canalseisdejulio.com/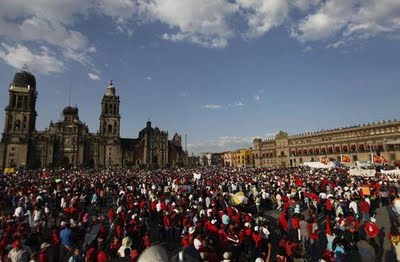 We are 100% volunteer and depend on your participation to sustain our efforts!
Get Involved
If you'd like to help with maintaining or developing the website, contact us.