From the Open-Publishing Calendar
From the Open-Publishing Newswire
Indybay Feature
Queers Say NO Pinkwashing Apartheid
Bay Area LGBT Activists came out on April 8 to say no to a campaign to "rebrand" Israel as a progressive, queer friendly democracy. Despite an aggressive counter-demonstration, a good time was had by all.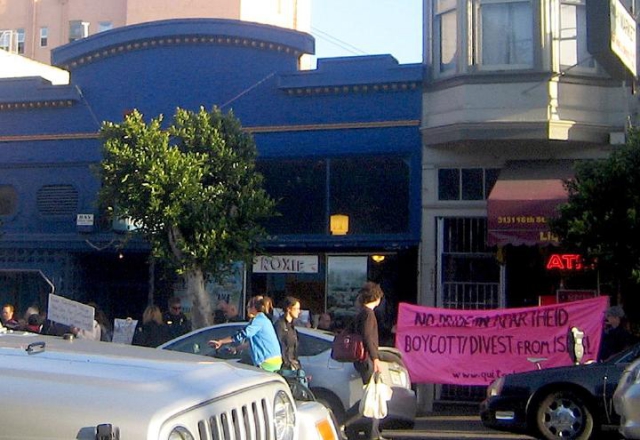 Queers who support human rights protested outside the Roxie Theater on Thursday, April 8, the opening night of the Out In Israel LGBT Cultural Festival. Out in Israel is a marketing event series aimed at convincing LGBT people in the U.S. that Israel is a cool, progressive, gay-friendly country. This is all part of a grand scheme by Israel and its supporters in this country to repair the image tarnished but such atrocities as its massacres in Gaza last year.
A recent report by the Reut Institute, a leading Israeli think tank with roots here in the Bay, alleges that the "deligitimization challenge" to Israel's policies of apartheid and ethnic cleansing radiates out from "hubs," including the Bay Area. Hence, those who support Israeli policies are crafting a strategy "Focusing on the hubs of delegitimization - such as London, Paris, Toronto, Madrid, and the Bay Area -and on undermining its catalysts." Out in Israel is the first salvo in this new propaganda war, and if last week's film night was any indication, it's not having much success. Only about 50 people showed up for the films, cosponsored by the Israeli Consulate, Cong. Shaar Zahav, the Jewish Film Festival, Jewish Community Center and BlueStar PR. Between the queer anti-apartheid activists and the Zionists who came out to counterprotest against them, not to mention the substantial police presence, there were more people outside the theater than going into it.
Queers Undermining Israeli Terrorism (QUIT!) called the action, which featured a skit called "Queer Eye for the Palestinian Village." A couple Queer Guys were called in to give a makeover to a West Bank village so it could be turned into a queer-friendly Jewish settlement. Just rip out those unsightly olive trees, get a Caterpillar bulldozer to get rid of that mosque – so over – and you'll have a perfect view of Tel Aviv and a great square for nude sunbathing. Oh, but you'll need some hot Israeli soldiers to come in and kill all the people who are living there.
Queers all over the world are mobilizing to oppose this campaign of pinkwashing and say, "Our communities are not for sale." We are going to stand up for the rights of all people – queer and straight – and now allow ourselves to be played off against other oppressed people. The Palestinian LGBT groups ASWAT and Al-Qaws released the following statement commending the international queer resistance to the Out in Israel fiasco.
Say NO to 'Out in Israel'
'Out in Israel' is a month-long festival taking place throughout the Bay Area during April 2010. It is a celebration of LGBT Israeli culture that is set to include film series, literary readings, musical performances, dance, and panel discussions on LGBT culture in Israel and from Zionist perspectives.
We, Palestinian Queer activists, living inside Israel and in the Palestinian Occupied Territories, are calling for queer communities in the Bay Area and around the United States to protest against such an event. 'Out in Israel' uses the name and the cause of queers to whitewash the image of Israel's oppression of Palestinians, and to transform the focus from its human rights violations, occupation and war crimes, to the "liberal" and "gay friendly haven" of the Middle East.
We wish to salute the efforts of queer groups that refuse to keep a blind eye and a deaf ear to Israel's double standards and who are loudly reminding the world that Israel's multi-tiered oppression hardly makes a distinction between straight and gay Palestinians.
'Out in Israel' should be out against the multiple forms of oppression that the state of Israel is practicing against Palestinians, including the Palestinian LGBTQI community. 'Out in Israel' should be out against policies of discrimination practiced against all Palestinians, including LGBTQI's. 'Out in Israel' should be a call for the state of Israel to be out of Palestine*.
Say NO to 'Out in Israel'; say NO to Israel's double standards and refute the myth of Gay-friendly Israel. Say No to Israel's propaganda to whitewash its occupying and oppressive image.
For further information about the organizations: alQaws for Sexual and Gender Diversity in Palestinian Society | Aswat: Palestinian Gay Women [*Inspired from the SF Guerilla Street Art: Out Against Apartheid/Israel Out of Palestine]
We are 100% volunteer and depend on your participation to sustain our efforts!
Get Involved
If you'd like to help with maintaining or developing the website, contact us.