From the Open-Publishing Calendar
From the Open-Publishing Newswire
Indybay Feature
4/20: Smoke Out The Globe
CANNABIS CULTURE - Four-Twenty, or 4/20, or April 20th, is the world-recognized international day of celebration for the planet's estimated 250,000,000 members of the cannabis culture.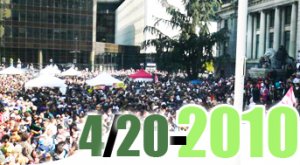 It's time to celebrate our cannabis culture! Share your thoughts, photos, videos, and stories about YOUR 4/20! Check out the Official 4/20 Thread in the CC Forums!
A LITTLE HISTORY
It is interesting that most of the official reports and rumors about the origins of 4/20 trace directly back to 'The Waldos' in San Rafael High School in 1971. 'The Waldos' have many items of date-documented evidence, some from the San Rafael Police department, proving that they would smoke cannabis at the campus statue of Louis Pasteur at 4:20pm everyday. It passed from those high school students, into the 70's Grateful Dead culture where it spread all across the United States.
The students there may have been inspired by an older reference, like H.P. Lovecraft's mention of the time in the story "In the Walls of Eryx", in which a man exploring the planet Venus encounters a "mirage-plant" and begins to see "dancing lights" and "shimmering spectral scenery". After regaining his senses, he realizes it is 4:20.
Over 35 alternative stories, legends, rumors about the origins of 420 are known to circulate, including in the mainstream media, but the simple explanation above is most likely the correct history. Other purported sources for 4/20 are Bob Dylan's song Rainy Day Woman #12 & #35. 12 x 35 = 420. The song is more commonly known as Everybody Must Get Stoned. Written in 1965, it would be the oldest and most compelling of the competing 4/20 legends. Another is the song written by John Lennon for Tim Leary's aborted run for California Governor in 1969, Come Together, is 4 minutes, twenty seconds long.
By the early 1990's, 4:20pm was the toke of the day, with the cannabis siesta at 4:20am. In the late 1990's, spontaneous groups of 10's, dozens, and hundreds of people in cities around the world began a tradition.
The actual 4/20 day, as a celebration taking up all or various parts of the day, started in Vancouver in 1995. The HEMP BC store, Marc Emery's original hemp store in Vancouver, was staffed by Grateful Deadheads. Marc Emery recalls; "I remember my store manager Danna Rozek and an employee named Cindy Lassu came up to me in early April 1995, and said, 'Marc, can we have a 4/20 celebration on April 20th next door in Victory Park?' I responded, 'like, on 4:20 in the afternoon on April 20?' and they said, "No, like all day on April 20?" they replied. "What will we do all day?" I asked, and they said "Smoke pot all day and play music." I replied "We can't just smoke pot all day. That's decadent. No, you can't do it.". So rebuffed, Ms. Rosek then asked "Can we just go ahead and do it anyway even if you don't approve?". So I said yes and the staff organized the first April 20 celebration I ever heard of, at Victory Square/Park next door. 200 people came that April 20, 1995 and it was a lovely time, with music starting at 2.00 pm and going till 7 pm. In 1996, over 500 people came to Victory Park and smoked pot all day with the event starting at noon. It was decided that Victory Square was too small for the 1997 April 20th smoke-fest, so the traditional political rally location of the Vancouver Art Gallery, in downtown Vancouver's financial district, was the site of the 1997 4/20 celebration. Over 1,000 people attended the 1997 Vancouver 4/20 and was widely covered in media and the phenomonon began to spread to other locations across North America.
These days, if the weather is fine, tokers around the globe jam into their main city square, beginning in the early afternoon, finally climaxing with massive simultaneous smoke-outs at 4:20pm every April 20th!
4/20 2010
What's going on in the cannabis culture today near you?
Here is the Cannabis Culture 411 for 4/20:
Ganja get-togethers will be protesting the unjust prohibition of cannabis by proudly promoting and puffing in cities across Canada, the United States and the World.
The 4/20 smoke-outs are a series of cannabis rallies that will demonstrate, as they do every year, the impracticability of enforcing the current marijuana laws. Drug peace activists invite all herb enthusiasts to join them in defiant solidarity. Everyone is invited to publicly show their love of the weed and experience a taste of freedom by doobie demonstrating with activists in your area.
Many well-known tourist's traps have been targeted for toking in North America, from Toronto's Yonge and Dundas Square, to Denver's Civic Center Park, to the Liberty Bell in Philadelphia, all the way to Vancouver's Art Gallery and many more…
If you have any Pot Pictures, Video or Stories from any of the Global 420 celebrations, please forward them to us at cannabisculture.com or POT.TV. Photos can be emailed to: jeremiah@cannabisculture.com
Don't forget to attent a separate event, the Global Marijuana March, 10 days after 4/20 in Toronto (Saturday May 1st 2010).
---
Dates are Tuesday April 20th 2010, unless otherwise noted..
CANADA
Vancouver, British Columbia
Art Gallery, Downtown Vancouver
Celebration starts at 1 p.m., goes to 9.00 p.m.
FREE WEED and extra Prizes for Best Pot Plants and Pot Posters at 4:20
A SMOKE OUT - A 420 CELEBRATION
Victoria, British Columbia
City Hall/Centennial Square
1 Centennial Square
Victoria, BC
Calgary, Alberta
Calgary Meet & Greet
4:00 PM to 5:00 PM
Calgary City Hall:
800 Macleod Trail SE
Second annual 420 FilmFest
Submissions accepted from around the world!
More information http://www.420filmfest.org/
Regina, Saskatchewan
2:00pm-4:20pm
Victoria Park (Downtown Regina)
Free Herbal Aire Vaporizer for best sign,
with lots more prizes for other signs
Winnipeg, Manitoba
Legislative Building
Broadway and Osbourne
Noon - ?
Thunder Bay, Ontario
KUSH Loungue
Live music, competitions, and more!
Must be a Green Scene Productions membership to enter
Email greensceneproductions@gmail.com
Toronto, Ontario
SMOKEOUT hashmob.ca
Yonge & Dundas Square
Gather Near Q107
Protest starts at 2 p.m.
Cannabis Cannon Goes Off at 4:20
Yongesterdam, Toronto
Ottawa, Ontario
Ottawa Major's Hill Park
2:00pm - 5:00pm
and…
Parliament Hill, Ottawa
4:20pm
Hamilton, Ontario
Hamilton Ferguson Station
2:00 pm Smoke Out
Prizes at 4:20pm
Niagara Falls, Ontario
Niagara Falls Hwy 420 & Victoria Ave. Parkette 2 p.m.
Smoke Out then March on Clifton Hill 3:15 p.m.
USA
Denver, Colorado
Smokeout - State Capital in Denver.
Location: Civic Center Park, (intersection of Colfax and Broadway)
The official "Smoke Out" is to occur at 4:20 in the afternoon,
but there will be tons of people hanging out and smoking in the park all day long.
RIP to Ken Gorman, the original organizer of the 4/20 smoke out event in Denver.
Boulder, Colorado
Boulder's Central Park
Corner Broadway & Canyon
Starting at Highnoon we will jam all day to peak at 4:20
Concord, New Hampshire
4:20 PM on April 20, 2010
On the steps of the State House.
116-130 U.S. 3
Concord, NH 03301
Keene, New Hampshire
Central Square,
right in downtown Keene.
Keene, NH 03431
Manchester, New Hampshire
Manchester: SOKE OUT 2pm
Veterans Park, right in downtown Manchester,
or Victory Park, near the N.H. Institute of Art.
Nashua, New Hampshire
Library Hill,
The intersection of Main Street and Amherst Street.
Boston, Massachusetts
April 20, 2010: Dan Gervais will start a long 420 walk, from Boston to Los Angeles. He calls it the War on Lies Walk. Waronlies.net
The Freedom Rally Massachusetts Cannabis Reform Coalition (MASS CANN)
Location across the Common on the Carty Parade Field.
Long Island, New York
420 Party at Creek and the Cave
Location: Long Island City, NY
Event Site: www.thecreekandthecave.com
The party starts @ 4:20. Of course, drink specials.
Brooklyn, New York
Liberty Heights Tap Room
34 Van Dyke St. (corner Dwight St.)
Brooklyn, New York 11231
FREE SHOW!!
San Diego, California
Seedless Clothing 9th Annual 4/20 Party
Event Site: www.seedlessclothing.com
SeedLess Clothing lines Annual Party.....
C-ya there .... Think Green!!!!
Sherman Oaks, California
Faded Smoke Shop's Anniversary
& 4/20 Extraveganza
Huge Raffle
Refreshments and much more
14517 Ventura Blvd.
Sherman Oaks, CA 91403
Los Angeles, California
Sublime with Rome are back again!
The trio will be hitting the stage at The Palladium in Los Angeles, CA
SmokeOut@420
Oakland, California
Solano Patients' Group
Location: Oakland, CA
4:20pm-6:20pm
Oakland: Oaksterdam 420 Party!
Lakeside Park Garden
Fresno, California
4/20 Fest
CSUF NORML is hosting a 4/20 Informational
Rally/Concert at the Free Speech Area on the
campus of California State University, Fresno.
4:00pm - 11pm.
San Franciso, California
Haight and Ashbury
Let's put together the worlds largest 420 celebration ever.
http://www.420sanfrancisco.com
Hollywood, California
Craig X's smoke out
5150 Lankershim in No. Hollywood.
4:00pm
Dallas, Texas
The Green Reefer
Event Site: www.thegreenreefer.com
Location: Green Elephant - Dallas, TX
Event Time: 9PM
NORML 4/20 event party. The Green Reefer will have a vendor booth and enjoy music and drinks with the counterculture.
Sioux Falls, South Dakota
OFFICIAL 4/20 PARTY in Sioux Falls
Event Site: www.myspace.com/thequakercitynighthawks
The Lava Lounge.
Las Vegas, Nevada
Nevada NORML Presents Vegas 420 Music Fest
Event Site: http://nevadanorml.org/
The Ice House
Hosted by Puck of MTV's the Real World
4/20 & 21st @ the Ice House
Phoenix, Arizona
Campaign to Educate II
East Court Building
101 W. Jefferson
Phoenix, AZ 85003
Rain Baker
CAMP420 Meet Up Organizer
In front of the courthouse where Advocate Rex was tried and sentenced like a criminal.
Springfield, Missouri
Remmington's Downtown
Doors at 4:00pm, Show at 8 p.m.
NORML weed raffles and joint-rolling contests.
Philadelphia, Pennsylvania
The Liberty Bell @ Independence Mall
Location: 501 Market Street, Philadelphia, Pennsylvania
Philadelphia , PA 19106
2 Day march, peace vigil and smoke-in
Miami, Florida
Churchill's 420 Festival
5501 NE 2nd Ave
Music and Smoke
4/20 BBQ Smokeout at PS14 - Miami
WORLDWIDE
Dunedin, New Zealand
Location: Dunedin, New Zealand
Members of Otago NORML and some students at Otago University meet every 4:20 under the Walnut tree on the Otago University Union Lawn to smoke cannabis in defiance of New Zealand's cannabis laws.
Auckland, New Zealand
The 420 group meets regularly at the Daktory
A cannabis dispensary and cannabis connoisseur's club located in the suburb of New Lynn, Waitakere City (incorporated in the Auckland metropolitan area), New Zealand.
MORE 420 CELEBRATIONS LISTED AT:
We are 100% volunteer and depend on your participation to sustain our efforts!
Get Involved
If you'd like to help with maintaining or developing the website, contact us.