From the Open-Publishing Calendar
From the Open-Publishing Newswire
Indybay Feature
View other events for the week of

4/16/2010
EMERGENCY RALLY Against Student Repression
Date

Friday April 16

Time

12:00 PM

-

3:00 PM

Import this event into your personal calendar.
Location Details
Quarry Plaza
UCSC
Event Type

Protest

Organizer/Author

In the midst of this budget crisis, the UC administration is recklessly targeting student activists and journalists with obscene and unsubstantiated charges! The UCSC judicial affairs office has demanded dozens of students pay enormous restitution for damages at the Kerr Hall occupation without providing hearings or producing evidence. These charges and sanctions are deeply troubling and serious, yet the students have been provided little to no resources or opportunity to defend themselves as is their right to do so. These cloaked, sham judicial tactics wouldn't stand up in a real court; the administration is abusing their power over students with devastating sanctions. There is no justice in this process, only a blind assault on students' rights.

Students are being charged $944 each; some students are facing even greater consequences including expulsion, barred from entering campus (already in effect), suspension, and being withheld their degrees!

-----------------

MEDIA COVERAGE OF JUDICIAL CHARGES:

*

http://occupyca.wordpress.com/2010/04/09/handful-of-students-given-outrageous-fines-for-ucsc-occupation/

*upcoming article from City on a Hill Press (CHP) this week!

*Old article from February:

http://www.cityonahillpress.com/2010/02/25/45-students-receive-summons-for-kerr-hall-occupation/

*The Santa Cruz Sentinel, April 13

http://www.santacruzsentinel.com/localnews/ci_14872684

Added to the calendar on Tuesday Apr 13th, 2010 11:05 AM
Students are being faced with $944 dollar fines in regards to Kerr Hall. Here are some (not so) fun facts:

- All of these decisions were made behind closed doors.
- No due process was given to any student.
- No conclusive evidence has yet been provided.
- UC has lied about having evidence to scare and intimidate.


THREE THINGS YOU CAN DO TO GET CHARGES DROPPED
1. Invite all of your friends to this event.
2. Announce the rally to your classes.
3. Come to Quarry plaza on Friday at 12!
from the SC Sentinel:

"Reckless, inaccurate, inadequately supported and unjustified claims by the university continue to plague this process, suggesting both their incompetent disregard for students' futures, but also the blatantly political nature of these charges that exist less like a fair legal dispute and more like a tactic of fear," feminist studies professor Bettina Aptheker said Monday.

"A blanket financial charge incorrectly assumes equal fault which speaks less of an administration seeking restitution for damage and more of an administration too embarrassed to admit their inability to manage the university in a state of budgetary crisis," she added.

Also, here is a list of codes all 36 students allegedly broke:

102.04 Theft of, conversion of, or damage to or destruction of, any property of the university or any property of others while on university premises, or possession of any property when the student had knowledge or reasonably should have had knowledge that it was stolen;

102.06 Unauthorized entry to, possession of, receipt of, duplication of, or use of any university services; equipment; resources; or properties, including the university's name, insignia, or seal;

102.08 Conduct, which constitutes: c. a threat to the health or safety of any person;

102.13 Obstruction or disruption of teaching, research, administration, disciplinary procedures, or other university activities;

102.14 Disorderly or lewd conduct;

102.15 Participation in a disturbance of the peace or unlawful assembly;

102.16 Failure to identify oneself to, or comply with directions of, a university official or other public official acting in the performance of their duties while on university property or at official university functions, or resisting or obstructing such university or other public officials in the performance of or the attempt to perform their duties;

102.18 Blocking or impeding ingress to or egress from the campus, buildings or official university functions, including activity on non-university property;

102.33 In addition to the above, all federal, state, and local laws apply on or in university properties and at official university functions. Violators shall be subject to campus discipline procedures as well as any civil or criminal action that may be taken. For information regarding the laws, contact the University Police Department.

102.34 Guest Responsibility. Students are responsible for policy violations committed by their student and non-student guests while on university owned, leased or controlled property, at official university functions, or at organizational events on or off campus.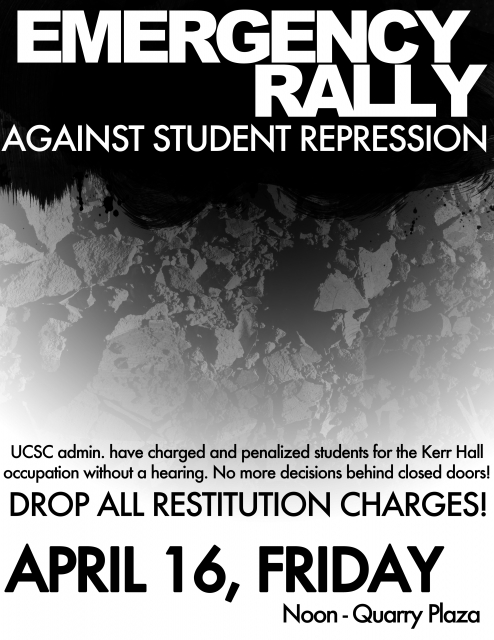 We are 100% volunteer and depend on your participation to sustain our efforts!
Get Involved
If you'd like to help with maintaining or developing the website, contact us.