From the Open-Publishing Calendar
From the Open-Publishing Newswire
Indybay Feature
Related Categories:

Santa Cruz Indymedia | Health, Housing & Public Services | Police State & Prisons
View other events for the week of

4/13/2010
Sinister Street Singer Citation Hits Closed Session of City Council
Date

Tuesday April 13

Time

1:00 PM

-

1:15 PM

Import this event into your personal calendar.
Location Details
809 Center St. in the Courtyard Conference Room (the room behind City Council Chambers at City Hall)
Event Type

Meeting

Organizer/Author
Robert Norse
Email
rnorse3 [at] hotmail.com
Phone
831-423-4833
Address
309 Cedar PMB #14B Santa Cruz 95060

The City Council will be meeting in closed session.

On the agenda is the infraction "Sinister Sidewalk Singsong Citation" case of Becky Johnson, who is accused of singing political songs too loudly downtown on Jan 6th in front of the Bookshop Santa Cruz.

See "Sing a Song, Go to Jail?" for Becky's account at

http://beckyjohnsononewomantalking.blogspot.com/2010/01/sing-song-go-to-jail.html

.

The City Council will be deciding whether to instruct the City Attorney to take the case further or drop it.

Call City Hall at 420-5020 or e-mail them at

citycouncil [at] ci.santa-cruz.ca.us

Urge City Council to drop this time-consuming, $-wasting, politically chilling case.

Also involved are vague "noise" standards, expansive "police discretion", and police-merchant collusion in forcing street performers that residents and merchants don't like to shut down or face $445 fines.

The expansive wording of the "Unreasonably disturbing Noises" law (MC 936.020) however does not give anyone who doesn't like the music a veto, and police are acting as though it does.

Johnson and three others were ticketed during a homeless demonstration. See "City's Big Guns Show Up in Court: Singing Ban Trials Rescheduled to April 6 and April 16" at

http://www.indybay.org/newsitems/2010/03/27/18643083.php

Johnson's lawyer Ed Frey (pronounced "Fry") will be asking for a continuance earlier in the day at 10 AM in Dept. 1 before the hostile judge Ariadne Symons. If he doesn't get it, the trial is scheduled to begin at 10 AM Friday April 16th in Dept. 1

If you want to attend and speak at the closed session supporting the City's not wasting money on this case, be there a little before 1 PM in the room immediately adjacent to City Council chambers towards Locust Street.

Members of the public have the right to speak on any item on the Closed Session agenda in the "open interval" before the Council goes into closed session.

The appearance of an infraction case on the agenda and City Council discussion as to whether to prosecute it is an extreme rarity and has never happened to me or Johnson before.

The public's weighing in on this issue may be important.

If you can't come to the session, please e-mail or call in asking that the case be dropped.

Added to the calendar on Monday Apr 12th, 2010 1:34 PM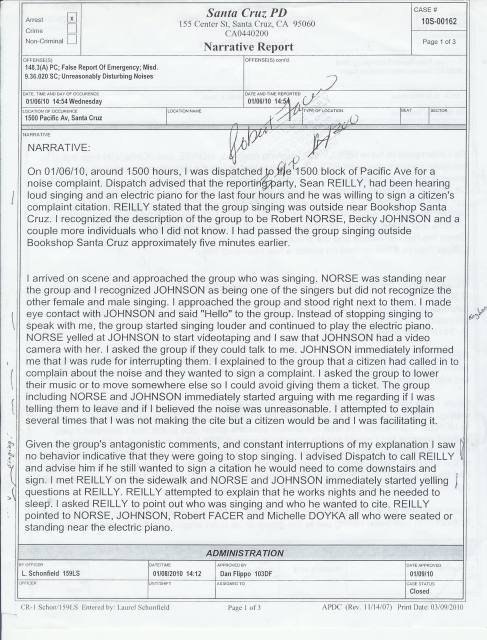 Here's the police report for the 1-6 incident where Officer Schonfield decided there was "reasonable cause" for 4 citations, one of which has already been dropped. 

Shonfield apparently didn't find reasonable cause to accept my citizen's arrest of Sean Riley for "making a false police report".  Even though she claims to be a neutral party simply "facilitating" "citizen complaints".  Some citizens, it seems, are more equal than others.

Schonfield, the "neutral" police officer showed up in court under the wing of city attorney John Barisone on March 26, apparently ready to testify in the Johnson trial. 

Schonfield didn't bother to interview any other witnesses about whether they found our singing "unreasonably disturbing noise", including several people unaffiliated with the protest.  

One specifically spoke to her--Valerie Promise--and somehow escaped mention in the report--perhaps because she asserted repeatedly that she didn't find the music disturbing or even audible. 

Other witnesses included an Amnesty International canvasser on the sidewalk, an elderly resident of El Rio, a restaurant owner, and a city councilmember, to name a few.

Neither she nor the city attorney bothered to ask the flower kiosk worker, nor bookshop santa cruz workers, nor others at the same distance away from us, whether they found our singing "...unreasonably disturbing or physically annoying ... so harsh or so prolonged or unnatural or unusual in thier use, time or place as to cause physical discomfort to any person".  At least no such information shows up in her report.

Schonfield's account omits that she refused to say whether she found the music she heard on approaching in violation of the law and declined to give us any indication of how quietly the singers needed to sing when they agreed to sing more softly. 

It does indicate that she instead informed Reilly "...I saw no behavior indicative that they were going to stop singing.  I advised dispatch to call Reilly and advise him that if he still wanted to sign a citation, he would need to come downstairs and sign."

The more charitable interpretation is that Schonfield misunderstood Becky's willingness to sing more quietly but persistent questions about "how loud would that be?" and then misinformed Reilly that he would have to come down to sign a citation for her to stop singing. In fact, Becky had stopped at the direction of Schonfield and never started again.

The chilling effect was so strong that Becky didn't sing again on Pacific Avenue until the April 9th "Recreate the Crime" protest, where she sang at the same volume in the same place at the same time of day with no complaints.

Since Judge Burdick has now denied Becky and her attorney Ed Frey a continuance, they will be forced to go to trial on Friday April 16th at 10 AM in Dept. 1. When asked "what's the rush?" at today's 10 AM hearing, he said "Judge Symons likes to expedite her calendar and wants it that way." City attorney Barisone showed up opposing the continuance with the news that he was now going to be a regular feature of any Infraction trials that had an attorney on the defense side, at the request of Commissioner Kim Baskett.

Left unrevealed was why he was appearing in "citizen arrest" cases where it was a citizen making the charge and not the city. Except perhaps the Barisone has decided that Becky is a particularly important target.
Officer Schonfield Police Report (2)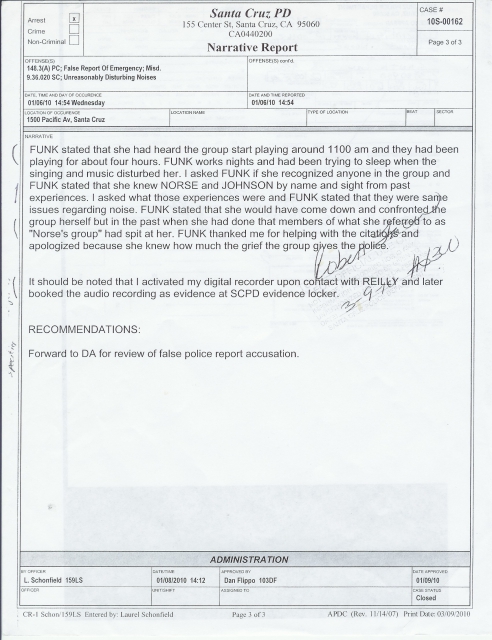 Officer Schonfield Police Report (3)
We are 100% volunteer and depend on your participation to sustain our efforts!
Get Involved
If you'd like to help with maintaining or developing the website, contact us.