From the Open-Publishing Calendar
From the Open-Publishing Newswire
Indybay Feature
Demand Justice from BART April 8th : TAKE ACTION WITH US
Tony Pirone physically and verbally abused Oscar Grant and his friends, then knelt on Oscar's neck, pressing him into the BART platform as fellow BART Cop, Johannes Mehserle shot him in the back. Pirone repeated the words "BITCH ASS NI@@ER" at least twice before the fatal shot was fired. These facts were caught on videotape and have been known to BART for over a year, yet Pirone has not been fired, charged, or even disciplined for his participation in the murder of Oscar Grant. In fact, he's been on full paid leave for over a year now.
We need to step up and do something about this. On April 8th, join us as we occupy the Embarcadero BART station to demand that Tony Pirone be fired and charged — and that BART police be disbanded. Meet ON THE BART PLATFORM at 3:30 PM sharp!
How can I help? — Action Guidelines — Form an Affinity Group — TAKE ACTION WITH US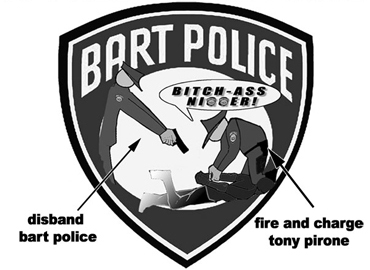 TAKE ACTION WITH US
4 Steps to Participation:
Know Your Risk Level

Since this action will involve civil disobedience, and potentially arrests, it is important to plan ahead as to what risks you are prepared to take. Often roles for direct action are color-coded, based around prior expectations of how likely it is you will get arrested for what you do. There is never any guarantee when you protest, but it is important to us that people give some thought to their risk level prior to participating:

RED

= Very high likelihood of arrest. For our purposes this means you plan on taking civil disobedience and are prepared to be arrested as a result. For example, locking oneself to an object and refusing to move is a "red" action.

YELLOW

= Possibility of arrest. You may not comply with police instructions, you may be obstructive and mobile, but you will try to avoid being arrested. A yellow role in a sit-in might involve blocking an entrance and refusing to move until a final dispersal order was given.

GREEN

= Low risk of arrest. You are going to be exercising your freedom of speech, and supporting those who get arrested, but plan to avoid serious confrontations with law enforcement.



Know the Plan

This action is planned around a "framework". This means we agree upon certain guidelines (which are posted on the website). Within those guidelines, people who participate are able to take action according to their own conscience, risk level, and ability.

We will meet in groups at various BART stations in the Bay Area, ride BART into Embarcadero, and we'll all converge ON THE PLATFORM at Embarcadero.

BRING: a sign or banner to display, a noisemaker, musical instrument, t-shirt, etc, but keep it in a bag until the action starts.

We intend to look indistinguishable from normal commuters as we arrive on the platform. We do not want people singled out before the action begins.

The action will involve sitting-in on the platform. If you choose to sit, you should choose a spot determined by whether you are taking a green, yellow, or red role.

There will be a cue that the action is starting when the last group has arrived on the platform. We're looking to get started around 4 PM... but its important that we all be there by then.

Not everything needs to happen right away, or all at once. Indeed, some of us may delay our civil disobedience or arrest until later on in the evening to prolong the process. Keep this in mind as you plan your participation.

People are encouraged to form affinity groups. An affinity group is a small trusted group of friends who will be sticking together and acting according to their own plan on the day of the action. Since you are doing your own planning, you don't need to wait for instructions from anybody to act. Also, affinity groups are the best place to plan details and specifics of your participation in the sit-in, the public meetings are not a good place to discuss who is planning to do what.

Contingency plan: If embarcadero station is closed for any reason by the BART police, those of us who have not been arrested will leave along with the other passengers in the station, walk to Montgomery station, and start taking action there. If Montgomery is then closed, we'll walk to Powell or back to Embarcadero. Etc.


Pick a Meetup Spot, and Be There on Time!

In addition to gathering at Embarcadero, folks will be riding in from a number of stations in SF and the east bay. You can get yourself to the embarcadero platform, or you can meet up with us ahead of time and ride together. Meetup times are tentative — check back at the oaklandforjustice.org website after 4/5 for exact timing of these groups and more locations.

MacArthur (by the sculptures) at 2:45 pm
Fruitvale (by the ticket machines) at 2:45 pm
Downtown Berkeley (in the plaza by the flagpole) at 2:45 pm
16th St. (in the plaza, in front of the entrance that is closer to valencia street) at 3:00 pm
Embarcadero (in the middle of the platform) at 3:30 pm


Plan, Prepare, and RSVP



DEMAND JUSTICE FOR OSCAR GRANT. THE TIME HAS COME
We are 100% volunteer and depend on your participation to sustain our efforts!
Get Involved
If you'd like to help with maintaining or developing the website, contact us.