From the Open-Publishing Calendar
From the Open-Publishing Newswire
Indybay Feature
Related Categories:

California | Central Valley | East Bay | North Coast | Environment & Forest Defense | Government & Elections
Winnemem Wintu Leaders in New Zealand to Call McCloud Salmon Home
Caleen Sisk-Franco, Winnemem Wintu Chief, says the tribe came to New Zealand on a vision quest based on a higher spiritual calling. "The spirits came into the fire area here and they said 'you've got to get it done'."

Photo of Mark Franco and Caleen Sisk-Franco courtesy of Indigenius Media.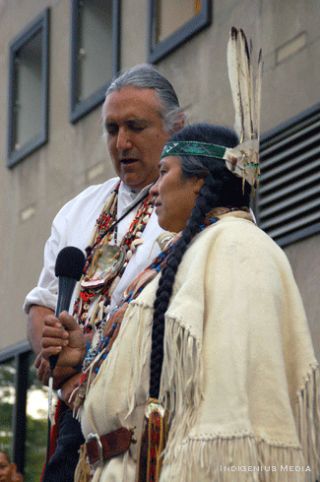 Winnemem Wintu Leaders in New Zealand to Call McCloud Salmon Home
by Dan Bacher
Two dozen members of the Winnemem Wintu Tribe are now on a spiritual mission in New Zealand to ask Chinook salmon native to the McCloud River, a tributary of the Sacramento River, to return home to northern California.
Tribal representatives will gather on the banks of the Rakaia River, in Canterbury, on Sunday, March 28 to apologize to the winter run Chinook salmon - a species that was introduced to the river over 100 years ago. The winter Chinook is also known as "quinnat" in New Zealand.
At the culmination of a four-day ceremony, tribal members will perform the "nur chonas winyupus" or middle water salmon dance, according to a news release from Tourism New Zealand.
In California, the winter run is a listed as an endangered species under state and federal law. Only 4,483 adult winter Chinook returned to spawn in the Sacramento River below Shasta Dam in 2009, down from approximately 120,000 fish in 1969.
The decline has been caused by an array of factors, including massive water exports from the California Delta, unscreened diversions, water pollution and the failure of the state and federal governments to provide fish passage to the fish's original spawning grounds in the McCloud River above Shasta Dam.
The tribal group - who are collaborating with New Zealand Māori leaders of the South Island Ngai Tahu tribe to organise the ceremony - was welcomed to New Zealand yesterday, March 23, with a traditional Māori powhiri, according to the release.
Caleen Sisk-Franco, Winnemem Wintu Chief, says the tribe came to New Zealand on a vision quest based on a higher spiritual calling. "The spirits came into the fire area here and they said 'you've got to get it done'."
The construction of Shasta Dam on the Sacramento River stopped the salmon from ascending the McCloud as they did for thousands and thousands of years, breaking a sacred covenant that the tribe had with the fish, according to the Winnemem. The tribe says that New Zealand salmon are descended from eggs taken from the McCloud and they are hoping to reintroduce eggs from this original stock back into their homeland.
The tribe's journey received national and international attention on March 21 when the New York Times published an outstanding article written by Jesse McKinley about the tribe's trip (
http://www.nytimes.com/2010/03/21/us/21tribes.html?ref=us
).
"The Francos say they intend to ask local fish and game officials if they can bring back some of New Zealand's salmon eggs — once of California stock — back to the McCloud. 'We have to do more than pray,' Ms. Callen Sisk-Franco said. "We have to follow through,'" according to McKinley.
Representatives of the Winnemem scraped together the $60,000 needed for the trip by selling trinkets, soliciting help from wealthier tribes, and through Facebook. For the riverside ceremony, the delegation has brought ceremonial regalia including eagle headgear, a container of sacred water, weapons and a ceremonial drum.
Mark Franco, Winnemem Wintu headman, announced the tribe's plans to go to New Zealand during his keynote speech at the Organic Capital Celebration of Sustainability, sponsored by Organic Sacramento and Friends of the River, in Sacramento on December 9 (
http://www.indybay.org/newsitems/2009/12/18/18633047.php
). He received an award, on behalf of the tribe, for the tribe's many efforts to stop the raising of Shasta Dam, to restore the Delta and bring salmon back to the McCloud River above Shasta Dam.
The tribe's journey comes at crucial time for Central Valley salmon populations. The Sacramento River fall Chinook salmon run, the driver of West Coast salmon fisheries, collapsed from nearly 800,000 fish in 2002, to only 39,500 fish in fall 2009. Endangered winter run and spring run chinook run chinook runs have also crashed, due to massive water exports from the California Delta to corporate agribusiness and southern California, declining water quality and other factors.
Ironically, while salmon populations have declined dramatically in their native California waters, they now thrive in New Zealand rivers and coastal waters. The salmon was introduced into New Zealand waters between 1901 and 1907. The salmon has established spawning runs in the Rangitata, Opihi, Ashburton, Rakaia, Waimakariri, Hurunui and Waiau rivers in Aotearoa, New Zealand.
I strongly urge you to contribute to the tribe's battle to restore McCloud River salmon and their many other efforts on behalf of environmental justice, go to:
http://www.facebook.com/pages/Redding/Winnemem-Wintu-Tribe/96167065518
. All recreational anglers, commercial fishermen, conservationists, tribal members and environmental justice advocates should support the Winnemem Wintu in their campaign to bring the salmon home, defend sacred sites and regain federal recognition.
A copy of the Tourism New Zealand news release about the trip is available at:
http://www.scoop.co.nz/stories/AK1003/S00268.htm
We are 100% volunteer and depend on your participation to sustain our efforts!
Get Involved
If you'd like to help with maintaining or developing the website, contact us.