From the Open-Publishing Calendar
From the Open-Publishing Newswire
Indybay Feature
Desalination and the Alternatives: It's Up to the Community
Santa Cruz Water Dept. and Soquel Creek Water District have embarked on a plan for a desalination plant, a highly energy intensive way to increase the water supply. The greenhouse gases that such a plant would produce have inspired opposition. A forum on March 18 at Live Oak Elementary School features Bill Kocher from the SC Water Department and Debbie Cook, former mayor of Huntington Beach, and author of "Desalination, Energy Down the Drain."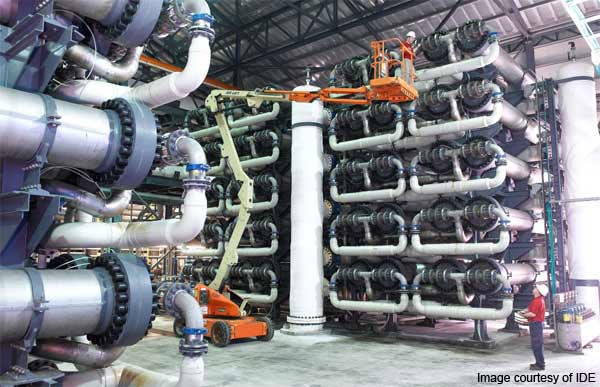 Desalination and the Alternatives: It's Up to the Community
Thursday, March 18, 6:15pm
Live Oak Elementary School, 1916 Captola Rd. at Chanticleer
Event Sponsors: Surfrider Foundation, Save Our Shores, Transition Santa Cruz, WILPF, Ecological Landscaping Association, Central Coast Greywater Alliance, Ecology Action and Live Oak Neighbors
Santa Cruz Water Department and Soquel Creek Water District are planning to build a desalination plant, to serve Santa Cruz and Live Oak residents in dry years, and Soquel District customers in all other years. Soquel District wants to reduce pumping from the aquifer, which they report is in danger of seawater contamination from over-pumping.
It's Up to our Community to decide the desal issue. The sponsoring organizations want to get feedback from people who attend the forum. Sarah Mansergh from the Santa Cruz Chapter of Surfrider Foundation explains, "Turning sea water into fresh water through this energy intensive process could be a significant new step for this community. It's important that people are fully informed of the possibilities." The organizers will poll people who attend on their opinions about the desalination plant as a core component of our local water policy.
Local environmentalist, Rick Longinotti says, "It's important for water customers in Soquel Creek Water District to know that in 2009 the mild restrictions on water use resulted in a 14% cutback in water use. That's almost the amount of conservation needed every year to bring water consumption in line with the sustainable yield of the aquifer. Would Soquel residents rather incur the financial and environmental costs of the desalination plant, or conserve every year like they did last summer?"
The Santa Cruz water supply depends mainly on surface water sources. It plans to use the desalination plant for six months during dry years---averaging one out of six years. Longinotti states, "Most drought events are predicted to require curtailments of below 20%. Do Santa Cruz residents want to incur the expense of a desalination plant? Or would they rather conserve a little every year?"
MORE: Debbie Cook, former Mayor of Huntington Beach, is coming to Santa Cruz to talk about her city's consideration of desalination as a water source. Cook served as one of two elected officials on the state's Desalination Task Force, where she says she got her education about desalination. Her experience led her to serve as president of the board of the Post Carbon Institute, a think tank responding to environmental, energy and economic crises. She has written an article called, Desalination: Energy Down the Drain,
http://www.postcarbon.org/article/40423-desalination-energy-down-the-drain
, in which she writes, "One thing for sure, ocean desalination is not about California's water crisis. We live in a desert and use too much water. Our water needs can be solved if we follow the lead of agencies like Irvine Ranch Water District and take appropriate measures: allocation based rate structures, smart timers, landscaping codes, and conservation…. Ocean desalination is an example of our complete failure to recognize stark realities—water, food, energy, soil, air, and oceans are limited and our population and consumption keeps growing. Once again we are applying a technical fix to an adaptive challenge."
Bill Kocher is the Director of the Santa Cruz Water Department, serving 90,000 people in Santa Cruz and Live Oak. Bill will present the costs and benefits of the proposed desalination plant from the point of view of the City's Integrated Water Plan, approved by the City Council in 2005.
Also on the panel is Heather Cooley, Senior Research Associate with Pacific Institute's Water and Sustainability Program. She co-authored the Pacific Institute's publication, Desalination, With a Grain of Salt, A California Perspective,
http://www.pacinst.org/reports/desalination/index.htm
and the publication, The Impact of Sea-level Rise on the California Coast.
Rounding out the panel is Rick Longinotti, author of the article, Desalination or Living Within Our Water Limits?
http://docs.google.com/fileview?id=0B6hJIWyES6A9ZjcyZGU1MDItOTRlMC00ODllLTk5MTQtNTY2YWZhNDJlYmY0&hl=en
Rick will address drought security, aquifer overdraft, and growth in water demand through conservation-based alternatives to desal. He will also evaluate the proposals under consideration by Santa Cruz and Soquel Creek Water Departments to offset the greenhouse gas impact of the plant.
We are 100% volunteer and depend on your participation to sustain our efforts!
Get Involved
If you'd like to help with maintaining or developing the website, contact us.