From the Open-Publishing Calendar
From the Open-Publishing Newswire
Indybay Feature
Related Categories:

East Bay | Police State & Prisons | Racial Justice
Town Hall on BART Settlement with Oscar Grant's Daughter and Haiti Relief, 1/30/10: audio
At this week's Town Hall, Minister Keith Muhammad is joined by Walter Riley of the Haiti Emergency Relief Fund and Pierre Labossiere of the Haiti Action Committee.
Listen now:
Copy the code below to embed this audio into a web page:
Download Audio (34.7mb)
(audio 1:41:08)
First five minutes of audio missing. Audio starts just after Minister Keith Muhammad discussing Chief gee soliciting funds from BART cops for Mehserle when he was in jail. Minister Keith says that BART has not attempted to bring justice, instead just to weather the storm. Oscar Grant and his friends' history had nothing to do with the events of January 1st, but it does have to do with the history of BART police. BART has continued to attack oscar Grant and his friends. In the recent partial settlement of the civil suit, Wanda Johnson, Oscar's mother, was not consulted on discussions with Sophina Mesa on Tatiana's behalf. BART may feel like it is off the hook, but work yet to be done -- the storm has not passed. Settlement, even partial one, not done deal until judge approves.
Minister Keith notes that Ramona Tascoe has been offering medical services in Haiti and is just returning.
Walter Riley of the Haiti Emergency Relief Fund shows a photo of a Haitian statue of a slave blowing a conch shell and tells that it is a symbol of the Haitian slave rebellion. He says the Western world resents the Haiti rebellion and its descendants throughout South America. The US deposed elected President Jean-Bertrand Aristide in 2004. He describes the events that took place that week and since. Walter Riley talks about his work at HERF to support people in struggle who were politically persecuted and otherwise oppressed (torture, jail, etc) and many were still in jail from 2004 until the earthquake. Up to 90% in jails, some for stealing a goat, were never charged. Aristide's party, Lavalas, was not allowed to participate in recent elections. Aristide asked to return as regular citizen to help after the earthquake but was denied. People in the countryside forced to move to cities to work in sweatshops making U.S. sports equipment were living in housing that was built in haste that collapsed in the earthquake. Haitians and the African Diaspora need a voice in the rebuilding.
Pierre Labossiere of the Haiti Action Committee continues by adding that political prisoners after the 2004 coup were charged with petty crimes to stigmatize them. In the earthquake more than Port-au-Prince was destroyed. Two and a half weeks after the quaked supplies are still stockpiled at the airport with inaccurate claims of road blockages, but roads are open all over (some are blocked) and the United Nations, there since 2004 have helicopters. Food is distributed in ways that create free-for-all conditions for photo ops of desperate people. Merritt College and other Bay Area residents are giving, and Haitians are aware of Oscar Grant and appreciate the generosity. Raise your voice with elected officials that you want your donations to reach the people of Haiti now. Donate at
http://www.HaitiAction.net
. The Haitian revolution was not from Mars, the Haitian revolution is us and we are the revolution. We could be related. The Haitian revolution was a true Pan-African revolution. The conch shell was used as a call to rebellion and to come together. Some of Napoleon's soldiers defected and joined the rebellion. A win in Haiti is a win in Oakland and a win in Oakland is a win in Haiti.
Walter Riley answers questions from those in attendance, including one about Halliburton's role in Haiti now. He says 20,000 people a day are dying due to lack of medical and other supplies.
Minister Keith Muhammad announces that signature gatherers have turned in the required 8,000 signatures towards a recall of Sophie Maxwell in San Francisco for her failure to protect her Bayview constituents from pollution and developers. A report will be forthcoming in a future Town Hall from Ramona Tascoe on her 14-hour days offering medical care to the people of Haiti, serving over 300 people.
Cephus Johnson, Oscar Grant's uncle, speaks briefly about the just-announced $1.5 million settlement with BART for Oscar Grant's daughter Tatiana.
http://www.haitiaction.net/
previous recorded Town Hall on Anniversary Vigil, Mehserle Trial, and Gang Injunctions in Oakland, 1/9/10: audio
http://www.indybay.org/newsitems/2010/01/31/18636713.php
[Town Halls on January 16th and 23rd not recorded. Sorry.]
Town Hall Meetings
Every Saturday 4pm - 6pm
Olivet Institutional Missionary Baptist Church
807 27th Ave, Oakland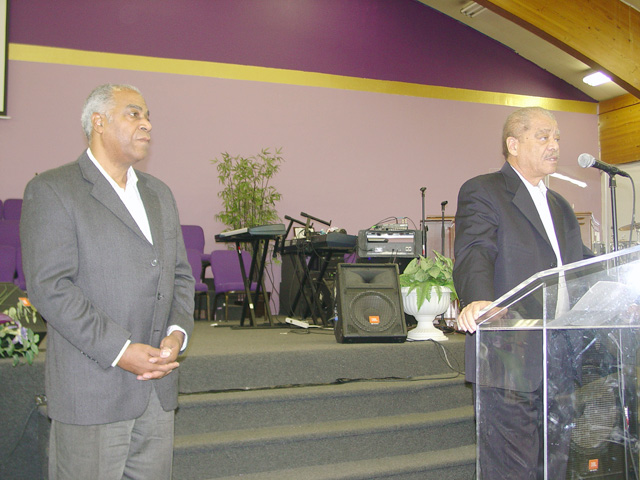 We are 100% volunteer and depend on your participation to sustain our efforts!
Get Involved
If you'd like to help with maintaining or developing the website, contact us.