From the Open-Publishing Calendar
From the Open-Publishing Newswire
Indybay Feature
Related Categories:

Haiti | International
'PIRATAS' SOMALIES DESEAN ENVIAR A HAITI LO CONFISCADO A PAISES RICOS
SOMALI 'PIRATES' WANT TO SEND LOOT CONFISCATED FROM RICH COUNTRIES TO HAITI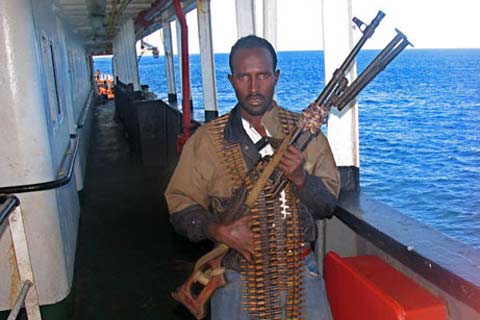 'PIRATAS' SOMALIES DESEAN ENVIAR A HAITI LO CONFISCADO A PAISES RICOS
Por: Agencia Matriz del Sur
Fecha de publicación: 22/01/10
(English translation below)
21 de enero 2010.-Voceros de los denominados "piratas somalíes" expresaron la voluntad de de transferir parte de lo capturado a barcos transnacionales y enviarlo a Haití.
Los líderes de estos grupos han declarado tener a enlaces en diversos lugares del mundo que les ayudarán a garantizar el envío de la ayuda, sin ser detectados por las fuerzas armadas de los gobiernos enemigos.
Los "piratas" redistribuyen normalmente una parte considerable de sus ganancias entre parientes y la población local. En su operatoria, los "piratas" instan a las empresas transnacionales propietarias de la carga confiscada a pagar su devolución en efectivo, ya que los bancos no pueden operar en Somalia.
"La ayuda humanitaria a Haití no puede ser dirigida por los Estados Unidos y los países europeos, no tienen autoridad moral para ello. Son quienes piratean a la humanidad desde hace muchos años", dijo el vocero somalí.
Somalia, está ubicada al extremo oriental de la Península de Somalia colindante con el golfo Adém al Norte y con el Indico al Este, se encuentra en una posición muy importante en la comunicación entre Asia, Africa y Europa y entre el Pacífico.´
-------------------------------------------------------------
SOMALI 'PIRATES' WANT TO SEND LOOT CONFISCATED FROM RICH COUNTRIES TO HAITI
January 21, 2010 – Spokesmen for the so-called "Somali pirates" have expressed willingness to transfer part of their loot captured from transnational boats and send it to Haiti.
Leaders of these groups have declared they have links in various places around the world to help them ensure the delivery of aid without being detected by the armed forces of enemy governments.
The "pirates" typically redistribute a significant portion of their profits among relatives and the local population. In their operations, the "pirates" urge transnational corporations that own the cargo confiscated to pay back in cash as banks can not operate in Somalia.
"The humanitarian aid to Haiti can not be controlled by the United States and European countries; they have no moral authority to do so. They are the ones pirating mankind for many years," said the Somali spokesman.
Somalia, located at the eastern end of the Somalia Penisula adjacent to the Gulf of Aden to the North and with the Indian ocean to the east, is located in a very important position in the communication routes between Asia, Africa and Europe and the Pacific.
----------------------------------
BACKGROUND:
WHO ARE THE REAL PIRATES IN AFRICA'S WATERS?
http://links.org.au/node/1011
SF BAYVIEW ARCHIVES on SOMALI'S so-called PIRATES
http://www.sfbayview.com/?s=Somali+Pirates
We are 100% volunteer and depend on your participation to sustain our efforts!
Get Involved
If you'd like to help with maintaining or developing the website, contact us.