From the Open-Publishing Calendar
From the Open-Publishing Newswire
Indybay Feature
A gathering of supporters and activists opposing City of Fresno anti-homeless policies takes stock of City attempts to remove and block homeless campers from a vacant lot in downtown Fresno.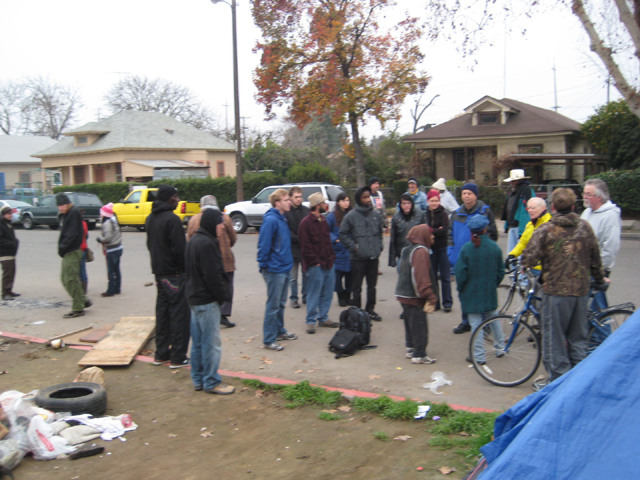 At the southeast corner of F Street and Ventura in downtown Fresno, just east of the Ventura Street exit off of 99, dozens of Fresnans and many more activists from out of the area came to see what the city was up to, this time, in fencing off a vacant lot previously inhabited by numerous homeless citizens. As the posted trespass notices of the planned cleanup chased away most of the encampment that could leave, piles of abandoned belongings and waste remained behind, as well as a dozen or so makeshift tent structures that kept individuals and married couples relatively warm and dry in the cold, wet, foggy weather that Fresnans enjoy every January. In a late night cancellation, the city found itself confronted by legal concerns that took the starch out of their operation. Too late for many who evacuated under the impression that they were about to be cleared out, quite a few campers were still in place. Some simply unable to move, were left to ponder how they would be dealt with by a city in an area that has a long history of neglect and abandonment. Within sight of several unoccupied older high rise apartment and office buildings that make up the Fresno skyline, it was obvious that despite years of battling homeless encampments in that area, they had no interest in solving a problem they wished to banish.

Alan Simon and his newlywed wife, Shirleen, were still situated in their blue tarp tent structure on the undeveloped sidewalk easement facing F street and a row of neighborhood houses. Outside the newly erected cyclone fence posts intended for immediate completion, Alan sat in the doorway of their structure, his right leg encased in bandages and a cast. His recently injured knee and ankle preventing him from being able to move their belongings. Simon spoke of how he had just recently been "voted in" to the tuff shed village at Poverello's compound the same day they ejected his wife Shirleen. He was quite clear in his concern for her safety and welfare, and his own desire only to have a safe place to stay, and an opportunity to earn enough to keep them afloat. With his injured leg he cannot even perform the daily recycling efforts that many homeless citizens utilize for income. One of the sticking points in the City plot to remove trespassing campers was the distinction between private property and public easements. Alan and Shirleen are situated streetside on a dirt stretch that would be paved if the property was developed. This was a different kettle of fish, which was pointed out the day before by ACLU members fighting for the rights of those who would otherwise have them deprived. By late that evening, plans were either postponed or canceled, as the city took stock of a familiar situation.

An ever increasing number of conscientious objectors have gathered ranks in opposition to city policies that have so far cost the City of Fresno taxpayers 2.3 million dollars, in a settlement reached over previous unconstitutional practices within the same revitalization scheme that so far has netted no visible or economic shift in the downtown area. As Reverend Floyd Harris spoke to a crowd of a few dozen people gathered to observe and resist, he mentioned a long list of big ideas that bring the real picture into focus. A history of failed plans to lure corporate chains into downtown, notoriously mishandled attempts by the previous Mayor, Alan Autry, to pass the reins of the Running Horse development into the hands of deserving parties like Donald Trump, all the way to the recent cultural boondoggle of boondoggles, the fifteen million dollars blown on the loans made for the reconstruction of the now shuttered Fresno Metropolitan Museum, only a few blocks from the site of this encampment. Reverend Harris spoke fiercely of the humane care provided to animals by the SPCA, with water, food and sanitation, but nothing for people on the street. He also pointed out the neglect and indifference directed towards citizens of west Fresno, where these sorts of encampments might be found, yet never would they be allowed on the northside of town, where presumably most of the city administration seeks shelter in warm houses payed for in part, at least, by their taxpayer funded salaries. He asked all assembled to pass unto others these points of fact, so they may understand what is going on in this struggle for shelter and safety.

At the end of the concrete sidewalk abutting the vacant lot being cleared, David Loy stood outside his tent and talked about the empty buildings and motels that have been unoccupied for years, while people are left at the mercy of inevitable city cleanups that sometimes consist of erected fences and posted notices that none are welcome. Signs such as the ones posted at Ventura and F Street reference receiving complaints. Neighbors and nearby business owners may be suffering from the impact of such an encampment, but David had only good things to say about the row of houses facing their site. In fact he wanted to do as much as possible to thank them, including the regular street sweeping and cleanups they have performed, not once having seen a street sweeper on that stretch in the last six months. Mr. Loy also referenced the numerous lots and properties in the same area owned by "Poppa Mike" of the Poverello House. Other suggestions by Alan Simon indicated that the campers would be delighted to clean up their own mess given a suitable trash container, such as the ones previously available at the now closed H Street encampment. For lack of simple latrines, a serious sanitation problem is one of the big issues for neighboring businesses and residents. Once again, the simple accomodations made at H Streets closed encampment would have solved the largest problem, but there have been no such measures implemented. Perhaps this is a job for the Sanitation Department, instead of the eviction and removal of personal property, which technically and by law is the sole responsibility of the Fresno Police Department. These distinctions having been made clear to the decision makers in the City of Fresno have given them pause for now. It remains to be seen if they can actually find their way towards working solutions, but past experience is not encouraging.

Al Williams related how a group of city vehicles closed in on him near an area used by homeless in the area of Roeding Park in the last day. He felt that they wanted him present as they told him they would not be removing peoples property, they then proceeded to cut down the bushes and trees which were being used as cover and shelter for the actual belongings.
These sort of actions give a clear vision of what the City of Fresno intends to do in solving the problem of homelessness. It may be up to the citizens themselves, to solve what the City seems only capable of exacerbating.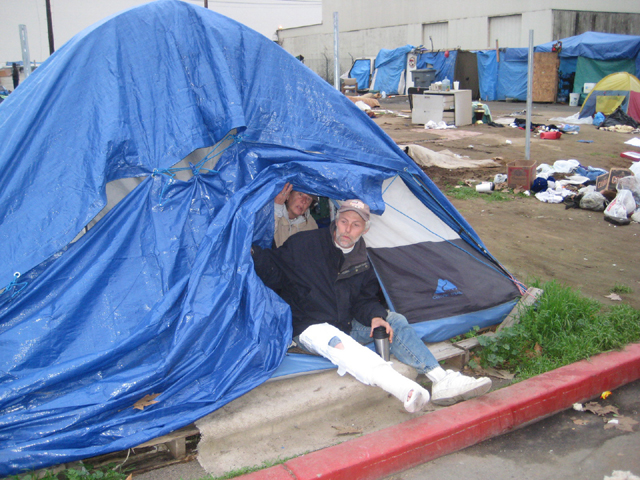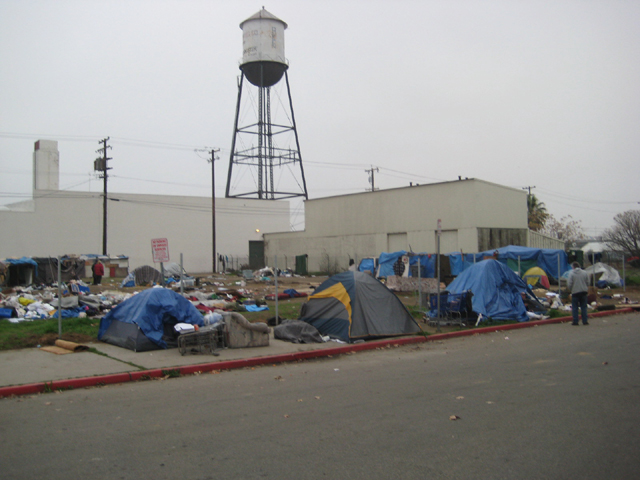 We are 100% volunteer and depend on your participation to sustain our efforts!
Get Involved
If you'd like to help with maintaining or developing the website, contact us.