From the Open-Publishing Calendar
From the Open-Publishing Newswire
Indybay Feature
Obama with Bush and Gates for "Points of Light" at Texas A&M
Every picture tells a story, don't it? On October 16, 2009 Barack Obama joined Robert Gates and George H.W. Bush at the 20th anniversary of the Points of Light Institute, where he was greeted with "Howdies" from the Bush stronghold.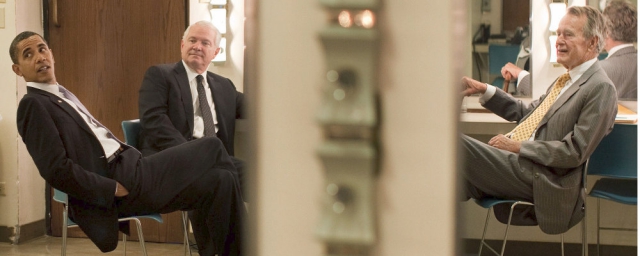 The image above is cropped from a
larger photo
archived at WikiMedia Commons, courtesy of the Official White House Photostream.
THE WHITE HOUSE
Office of the Press Secretary
______________________________________________________________________
October 16, 2009
For Immediate Release
REMARKS BY THE PRESIDENT
AT POINTS OF LIGHT 20TH ANNIVERSARY
Texas A&M University
College Station, Texas
4:39 P.M. CDT
THE PRESIDENT: Thank you. Thank you so much. Thank you. So, howdy, Aggies.
AUDIENCE Howdy!
THE PRESIDENT: It is an honor to be here with all of you today at this
outstanding university. (Applause.)
Now, I was told that if the winds had been different today, President Bush would
have parachuted in to kick things off here. (Applause.) That's the story. But that's
okay, I am still thrilled to be introduced by this man whose vision of service we
celebrate today, and whose life of service is an inspiration to all of us. (Applause.)
And much to his likely embarrassment, I'm going to talk a little more about the
singular nature and impact of that service in a minute. But before I do, I'd like to
recognize several other people joining us today, starting with President Bush's
extraordinary wife, Mrs. Barbara Bush -- (applause) -- where did she go, Madam First
Lady? There she is over there. (Applause.) As we all know, Mrs. Bush has an
impressive record of service herself, particularly her tremendous work to promote
family literacy across this country. So we are very, very grateful for everything that
she's done on behalf of our nation.
We have our Secretary of Defense here, Secretary Bob Gates, who I think you
know a little bit about. (Applause.) He has served for four decades under eight
Presidents with integrity, with candor, with an undying commitment to keep this
nation safe. (Applause.) And I know how much he loved his time as President here
at A&M, which is why he was relieved to hear that this week's game is out at Kansas
State. I didn't want him to be sneaking away to relive his glory days leading yell
practice, never returning to Washington.
But I can tell you -- and I want everybody to understand this -- although it is an
enormous sacrifice for him to have left this institution, he could not be doing a better
job on our behalf, and I want you all to know that I'm very proud to have him as our
Secretary of Defense. (Applause.)
I want to acknowledge former Secretary of State, Jim Baker, who's served this
country for decades as a trusted advisor to Presidents, and more importantly, as a
statesman. (Applause.)
I also want to thank another Texan, Ambassador Ron Kirk, for his terrific work as
our United States Trade Representative. (Applause.) Former Senator Sam Nunn for
his lifetime of service. (Applause.) I want to mention particularly Senator Nunn's
visionary work on nuclear nonproliferation. And we have two outstanding members
of Congress who are here with us today: Chet Edwards and Sheila Jackson Lee.
(Applause.) Where's Chet? Chet is over there.
I want to recognize Melody Barnes, Director of the White House Domestic
Policy Council, for her outstanding work on service and many other issues. Stand up,
Melody. (Applause.)
I want to thank Michelle Nunn, the CEO of Points of Light, as well as Neil Bush,
Chairman of the Board, for their wise leadership. (Applause.)
I want to congratulate Mallory Myers, today's Daily Point of Light Award winner,
and commend her for her tireless work to pulling together the Big Event, which I
know is no easy task. (Applause.)
complete text continues at...
We are 100% volunteer and depend on your participation to sustain our efforts!
Get Involved
If you'd like to help with maintaining or developing the website, contact us.