From the Open-Publishing Calendar
From the Open-Publishing Newswire
Indybay Feature
Related Categories:

Peninsula | Labor & Workers
12/10/2009 Press Conference At World Tesla Headquarters About Injured Workers On Auto Site
On Thursday at 2:00 PM at the world headquarters of the "green" electric car Tesla, injured workers from Downey, California will report on the continuing contamination and dangerous working conditions on the southern California Downey site. Hundreds of movie workers and Kaiser Downey hospital workers have been sickened by the failure of the City and toxic site developer Stuart Lichter have not properly cleaned up the site. Downey city officials have covered up the illnesses at the Downey toxic dump and want to continue to build on a contaminated dump.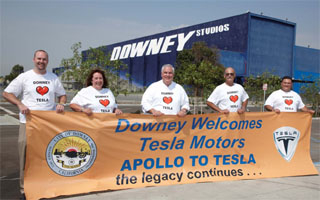 12/10/2009 Press Conference At World Tesla Headquarters About Proposed Federally Funded "Green Auto Plant At Downey Toxic Dump Site
On Thursday December 10, 2009 at 2:00 PM there will be a press conference by injured workers and their advocates at the world headquarters of Tesla Electric Car company.
The world headquarters of Tesla is at 1 Circle Star Way off Industrial Way San Carlos, California 94070
http://maps.google.com/?q=1+Circle+Star+Way+94070
The company has announced plans to possibly build a non-union auto assembly plant in Downey at the Downey toxic dump site where injured workers continue to get ill and sick from the contamination on the site. The workers and their advocates will present a petition by injured Downey IATSE workers and SEIU worker who have been contaminated and are fighting for their health at the same site that the "green" technology company intends to build a new "green" auto plant on.
The California Coalition For Workers Memorial day will also provide testimony from the workers who have been sickened and why the owner of the site IRG toxic site developer Stuart Lichter lost a SLAPP suit against these workers and their advocates.
Some links to this testimony include
http://blip.tv/file/2453925
Press Conference Los Angeles Press Club
http://blip.tv/file/2483914
Testimony by Downey Workers At Downey Kaiser Hospital Site
For further information please contact
CCWMD
http://www.workersmemorialday.org
Former CA-OSHA Doctor Rose's Statement On Development Of Downey Toxic Dump Site
12/4/2009
Statement regarding placing any industries on or near the Downey Studios site:
It is clear that the employees that have worked at the Downey Studios have an unusually high incidence of work site associated illnesses that have not been adequately reviewed in a fact based scientific study. This type of epidemiology study could well be done by a government agency such as NIOSH. Connecting these work place induced illnesses to the length of employment and geographic location on this work site would be an important part of this workplace employee health investigation. Until this investigation is completed there should be no employees working at this work site, and certainly building a new industry before completing this health study would be irresponsible.
Lawrence Rose M.D., M.P.H., Cal/OSHA Senior Public Health Medical Officer for 28 years, recently retired, and an Occupational/Environmental Medicine specialist currently on the faculty at UCSF.
larryrosemd [at] sbcglobal.net
Is Tesla Nuts?
Stop the Tesla Non-union Auto Plant at Downey and The Cover-up Of The Downey Toxic Dump Site's Injured Workers
Defend Injured Biotech Worker David Bell and Call For Criminal Action Against Agraquest owner Pam Marrone!
California Coalition For Workers Memorial Day Statement
http://www.workersmemorialday.org
12/2/2009
In the midst of this deep economic crisis, crooked toxic site propterty developers are developing long time military and commercial radioactive and toxic dumps without properly cleaning them up. One of the most deadly is in Downey, California. At Stuart Lichter owned Downey Studios and Dreamworks which rented the site, workers from IATSE, LIUNA, were sickened by the failure to properly clean it up. Additionally the Kaiser Hospital chain has built a $700 million hospital complex on this same toxic dump site.
http://articles.latimes.com/2009/aug/02/business/fi-ct-downey2
The latest news is that the non-union Tesla Motors may build an "green" electric car assembly plant at the toxic site with a US government DOE energy efficiency loan of $465 million. Their cars will be sold for
$60,000 and more with a large US government subsidy.
http://www.latimes.com/business/la-fi-tesla25-2009nov25
,0,3683681.story
Is this crazy or what? We are using US Federal funds to build a non-union auto plant at a toxic dump site with nearly half a billion dollars. At the same time, the Toyota corporation is closing a unionized modern automobile plant in Fremont, California with thousands of NUMMI UAW 2244 members that produces some of the most efficient and environmentally improved cars in the country because it is a union plant.
http://www.thedailygreen.com/living-green/blogs/cars-transportation/tesla-funding-460609
The injured Downey workers are asking you to support:
*No Federal, State or Local funding for building new businesses on a dangerous toxic dump site where workers are still getting sick. Call your State and Congressional representative to demand the end of the use of Federal funds for Tesla at Downey.
*An immediate NIOSH epidemiological study on all workers and community people who have been on the site or near the Downey site.
*Free medical care and compensation for all Downey workers and members of the community sickened by these sites
*Congressional Hearings on the privatization of Superfund US/Military sites into "Brownfield" sites including testimony from injured workers and people in the Downey community who have been made ill by this site.
*Report from all insurance companies in the United States on their workers compensation and personal insurance claims that have been made by workers and community people at toxic dump sites, the acceptance or rejection of these claims and how many of there workers and people in the community are now having their healthcare costs being paid for by SSI or other US government agencies.
*Criminal prosecution of all insurance companies and employers who have shifted healthcare costs from the Brownfield sites to Local, State and the Federal government.*The elimination of all privatized Brownfield sites nationally and the clean-up by union labor of the sites with community-labor oversight on this clean-up.
We are also asking you support the case of injured biotech Davis Agraquest worker David Bell. The Agraquest plant in Davis was genetically engineering pesticides without proper health and safety protection and when worker David Bell was sickened the owner Pam Marrone and the insurance company Liberty Mutual denied the workplace injuries and committed criminal fraud by forcing SSI and the US government to pay for David Bell's healthcare costs.
http://www.newsreview.com/sacramento/content?oid=870890
The lack of proper Federal regulation of biotech and nanotech industries and the systemic destruction of CA-OSHA with the elimination of nearly all the doctors in California is a national issue that needs to be addressed by organized labor and the US Congress. We also ask you to support the call for a criminal investigation by CA Attorney General Jerry Brown and US attorney general Eric Holder of this Federal and state fraud and the systemic cost shifting by employers and the insurance industry on the Federal government and government agencies. The control by the insurance industry of workers compensation and all healthcare must be eliminated if American's health & safety as well as healthcare are going to be protected.
California Coalition For Workers Memorial Day
http://www.workersmemorialday.org
The US Department of Energy is giving Tesla and $465 million dollar loan to build a "green" car on a toxic dump site called a Brownfield site. These are privatized super fund sites.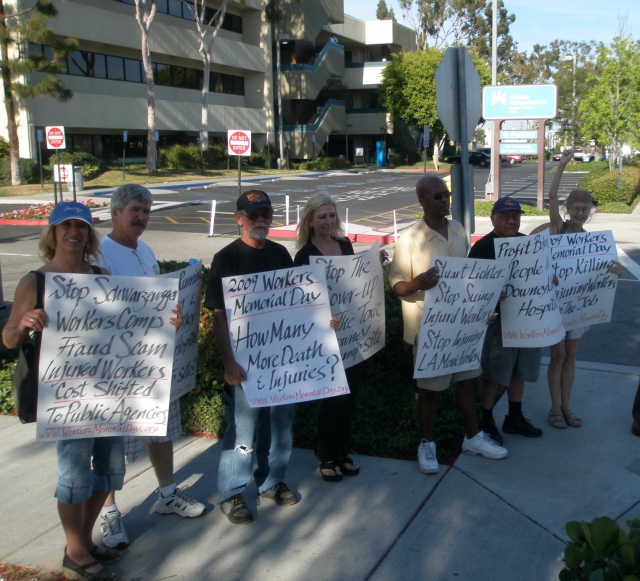 In April 2009, Downey movie and Kaiser workers had a workers memorial day in front of the Downey Kaiser hospital in Downey, California
We are 100% volunteer and depend on your participation to sustain our efforts!
Get Involved
If you'd like to help with maintaining or developing the website, contact us.