From the Open-Publishing Calendar
From the Open-Publishing Newswire
Indybay Feature
Australia: Climate Civil Disobedience on the rise
Two hundred people blockaded the entrance to the Australian Parliament today calling on Prime Minister Kevin Rudd to secure a strong, legally binding treaty at the upcoming international climate negotiations in Copenhagen. Police arrested 130 people, although it is believed none were charged.
The participants, from across Australia and from every walk of life staged a sit-in, blocking the doors of Parliament and refusing to move. The protesters were a mix of elderly, teenagers and mums and dads. They have accused Prime Minister Kevin Rudd of not doing enough to secure a strong climate treaty at Copenhagen. (Climate Civil Disobedience action in Canberra for 40% carbon reduction target)
In Brisbane, in the State of Queensland, two protesters were fined and ordered to pay $3000 in damages to Queensland Bulk Handling Corporation after a protest at the Brisbane coal port in October where they halted coal loading and had to be cut free of port infrastructure. (Coal Protestors appealing damages order over Brisbane Climate Direct Action)
Queensland is the largest coal exporting state in the largest coal exporting country in the world. The protesters, Steve Skitmore (22) and Nathan Elvery (19) from Six Degrees Coal and Climate Campaign pled guilty to charges of trespass and obstructing a police officer and received $300 fines and good behavior bonds. The original damages claim was over $10,000, which the magistrate found "perplexing" and reduced the damages to $3000.
Over 500 people attended the non-violent direct action which resulted in 22 people being arrested at the Hazelwood Coal fired power station in Victoria over 12-13 September. (Switch off Hazelwood coverage
In June 2009 Damien Lawson, National Climate Justice Co-ordinator for Friends of the Earth, spoke at a Climate Emergency Rally in Melbourne on the need for a campaign of popular civil disobedience if politicians continue taking no action or ineffectual action to rapidly decrease carbon emissions. (Watch video on engagemedia.org 8min 41sec)
Calls for climate civil disobedience to close down damaging coal mining and coal fired power stations have come from eminent NASA climate scientist James Hansen and Nobel Peace Prize winner Al Gore.
James Hansen has called for closing down coal fired power stations, if necessary by civil disobedience. He was arrested in an act of civil disobedience in June 2009 in Coal River Valley, West Virginia, campaigning against mountain top removal coal mining. "I am not a politician; I am a scientist and a citizen," said Dr. James Hansen. "Politicians may have to advocate for halfway measures if they choose. But it is our responsibility to make sure our representatives feel the full force of citizens who speak for what is right, not what is politically expedient. Mountaintop removal, providing only a small fraction of our energy, should be abolished." he said.
In 2008 Al Gore stated "If you're a young person looking at the future of this planet and looking at what is being done right now, and not done, I believe we have reached the stage where it is time for civil disobedience to prevent the construction of new coal plants that do not have carbon capture and sequestration," (Reuters)
Most Governments are dragging their feet on emission reduction policies and strategies, heavily under pressure from the fossil fuel conglomerates and their lobbyistsd climate sceptics to water down emission reduction targets.
The Australian Government's proposed Carbon Pollution Reduction Scheme (CPRhlevels by 2020, or up to 25% on 2000 levels by 2020 if other major industrialised countries take similar action. The International Panel on Climate Change (IPCC) 2007 report recommended that to avoid dangerous climate change cuts of 25 to 40% on 1990 levels would be required by 2020 from industrialised countries.
"Australia has to commit to cutting our greenhouse pollution by 40%, we must make a fair contribution to international climate finance and we must make emission cuts at home, not weasel out of them by buying forest offsets internationally. The world will judge whether Rudd is walking his talk, or if it's just empty rhetoric." said Blockade spokeperson Georgina Woods outside Parliament House today.
"There are people here today from every state in Australia, and most of them have never undertaken peaceful civil disobedience before," said Georgina Woods, spokesperson for the demonstration. "We are here today on behalf of every Australian whose children and grandchildren will be affected by the devastation of climate change."
"We're here to issue a moral challenge to Rudd to demonstrate true climate leadership at Copenhagen. While he says a legally binding climate treaty is important, the commitments he has put on the table are drastically weakening the deal."
"The Copenhagen climate talks are the world's best chance to prevent devastating climate change. Prime Minister Rudd has the opportunity to play a role in determining how today's leaders respond to the climate crisis, to leave a courageous legacy for future generations. Rudd needs to go to Copenhagen with an absolute commitment to securing the deal the climate science demands."
The latest global assessment of carbon dioxide emissions from human activities shows emissions still rapidly increasing according to a paper published in Nature Geoscience by 31 authors from the Global Carbon Project. The Climate Treaty is more urgent with Global carbon emissions still increasing. Australia is the highest CO2 emitter on a per capita basis because of its strong reliance on cheaply mined coal for coal fired power stations.
Sources: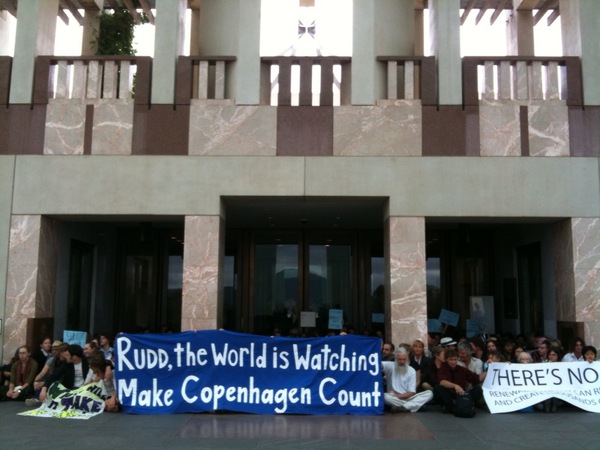 We are 100% volunteer and depend on your participation to sustain our efforts!
Get Involved
If you'd like to help with maintaining or developing the website, contact us.