From the Open-Publishing Calendar
From the Open-Publishing Newswire
Indybay Feature
Hidden in Plain Sight: Media Workers for Social Change, Chapter 1
This is the first of a series of profiles of alternative and activist media workers in the Bay Area, written and photographed by Indybay contributor Peter M. Featured in the first profile is Tracy Rosenberg, the Executive Director of Media Alliance. The story of Media Alliance is key to the history of media activism in the Bay Area. Rosenberg, at right in the picture below, spoke on a megaphone at a Media Alliance rally against hate speech on the radio, held in San Francisco earlier this year.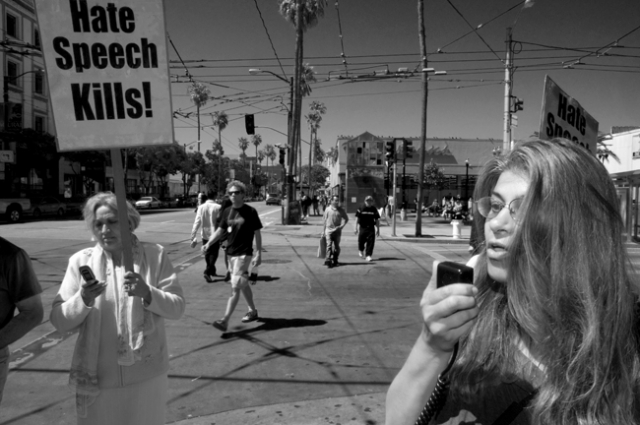 Media Alliance exists in a cramped fifth floor office in downtown Oakland, where I found Executive Director Tracy Rosenberg busy with two volunteers. Adbusters magazine stuck out from a jam-packed periodical bin, and the walls were adorned with various images from Media Alliance's past. We went downstairs to an empty conference room, where she told me about herself and the thirty-three year history of her organization. It is in a way key to the history of media activism in the Bay Area.
Tracy Rosenberg was born and raised in New York City, and started out her college years at Hunter College there. The West Coast had appeal, though, and she came out to San Francisco to finish her degree. She did it working full time and taking classes at night at San Francisco State University, where her major was English. Her final paper was on transcendentalism, the movement of the writers known as the American Romantics. In the late 1980s she began a ten-year stint at a company that fabricated and organized trade shows for large tech companies: at Moscone Center in San Francisco; and in Japan, Argentina, Russia and other exotic places.
She made an effort to get a graduate degree, but it did not pan out. She was married, her husband developed cancer, and his illness took center stage. When she lost him, she took some time out to travel, and then, when she returned to San Francisco, she did not want to be in her old trade show job again. She went to Media Alliance, seeking work as a freelance writer. The Media Alliance staff saw her background in logistics and coordination, and before she knew it, they offered her a job, and then promoted her to administrative director—second-in-command of the operation. That was in 1997.
Media Alliance had already been around for twenty-one years. It had started in the mid-1970s as a means of organizing journalists with an agenda for social change, so they could find work, network amongst themselves, and be connected with social movements. It was the time when Woodward and Bernstein were popular. "It was a time," Rosenberg said, "when journalists felt that if they spoke truth to power they could affect the country; they could change who was in charge; they could rock the system." She added, laughing: "I'm not sure anyone thinks that about journalism any more."
In the late 1970s and into the 80s there was a well-known right-wing backlash, and society contracted from many of the causes that had been fought. The media began to cover the growth of the economy; media interests became more corporate and consolidated. Progressive journalists working within the system hit a wall of disinterest in their issues. An alternative press came about as the only possible solution. Media Alliance began to see nurturing the alternative media as part of its mission. It was to help Indybay get started. And it spearheaded the battle to save KPFA from the destructive efforts of its own national board.
In the 90s and into the twenty-first century, many of Media Alliance's board members, who were for the most part journalists, faded away and were replaced with younger activists, and the organization's agenda broadened some more. Rosenberg said, "No matter how much we picketed in front of the Chronicle and how much we sent angry letters to Clear Channel—and boy did we send angry letters to Clear Channel—really they were not listening!" So rather than trying so much to affect change from the top down, Media Alliance started to look at how it was serving the grassroots. They began to go to marginalized communities with a new message: "We want to be a conduit for you, so you can find a way to tell your story." Low power FM, community access television and the internet are platforms to serve those communities, and Media Alliance has been involved in safeguarding all of them.
Thus, overall, Media Alliance has three main concerns: 1) to support progressive mainstream journalists; 2) to back up alternative media makers; and 3) to help grassroots communities wanting access to the media. "Those are the three threads that I'm always balancing, every day," Rosenberg emphasized.
She became Executive Director of Media Alliance in 2007, when Jeff Perlstein left that position to spend more time with his family and pursue other interests. Rosenberg said Media Alliance is struggling financially, but that such is the fate of media reform organizations across the country. Funding comes from a mix of membership fees and grants, with membership as the priority. She said, "Media Alliance is a wonderful example of an organization that has survived against all odds, and continues to. I love the place with all my heart."
Media Alliance is looking at a new climate for journalism. Rosenberg said, "Much of the work of criticizing the mainstream has really been done for us by the economy and by the next generation. People have voted with their feet and said 'not good enough.'—possibly a lot more effectively than media advocates were able to do. Advertisers have deserted the traditional media, and speculative buyouts have proven to be a failure. People 35 and under have unanimously voted for alternative news on the internet, and removed themselves from the mainstream audience."
Rosenberg sees hope in citizen journalism. "Of course you get opinion muddled with facts," she said, "but I think the mainstream shouldn't be so confident in criticizing citizen journalism because there's plenty of crappy mainstream journalism out there. If some of the professional folk can get themselves into positions of helping to facilitate more citizen journalism, I think that makes a really promising model. And I think that's probably the way were headed, as far as having something that people can be proud of."
On the other hand, there are signs that free citizen access to the internet is endangered. Rosenberg drew a dark picture: "The sharks are circling around the internet. They want to economically benefit from it, and I think set up a system with more control. The question of monetizing the internet hasn't been solved, but it's something on which many of the greatest minds of our generation are ferociously working, and they will find a way, I'm sure."
Media Alliance had success in directing media activists to pressure the Federal Communications Commission. "It's a kind of obscure federal agency that regulates broadcasters that usually nobody pays attention to," Rosenberg said, "and for it to become a political issue is one of the triumphs of the media democracy or media activism movement … we made going to an FCC hearing a political act." When Michael Powell, Colin Powell's son, became FCC Chairman under George W. Bush, he tried to loosen cross-ownership rules for media corporations, which would allow them to control markets across different forms of media; owning, say, daily newspapers and television stations in the same market at the same time. Much to the surprise of the FCC, they got two million letters, emails and phone calls against the move.
After that deluge of protest, and a lawsuit put forward in part by Media Alliance, the FCC decided to hold public hearings on future important rulings, thereby keeping their ear to the ground. They began a series of en banc hearings around the country where the public could address the FCC on key issues.
Media Alliance brought activists to three Bay Area meetings regarding concentration of media ownership, and then, in April, 2008, to one at Stanford University which focused on net neutrality—the right of all internet users to have access to the same internet pipelines, and at the same speed, as everyone else. According to Rosenberg, the Stanford meeting was attended by 850 people, who made 79 public comments over the course of 3½ hours, 90 percent of which were in favor of net neutrality. The issue of net neutrality was carried into the Obama administration, where it is being viewed favorably.
At the conclusion of our interview, Rosenberg spoke forcefully of the importance of the struggle of Media Alliance and other media activist organizations. "The ability of everyone to participate in the internet future, in the journalism future, in the storytelling future is really not negotiable, it's a place where we've got to draw the line … if we lose the fight for it so many of the other fights will just get harder and harder to pursue."
http://media-alliance.org
We are 100% volunteer and depend on your participation to sustain our efforts!
Get Involved
If you'd like to help with maintaining or developing the website, contact us.