From the Open-Publishing Calendar
From the Open-Publishing Newswire
Indybay Feature
Community Groups Want Fresno Police Chief Jerry Dyer to Resign or be Fired
Friday, November 6, 2009 - The Fresno Brown Berets and California Prison Moratorium Project organized a march and rally in protest of what they say is "Fresno Police Chief Jerry Dyer's corrupt and racist administration." They called for his resignation or termination as police chief. 2:13 minute audio report below.
MEDIA ADVISORY FOR IMMEDIATE RELEASE
Date: November 5, 2009
Contact: Ralphy Avitia (559) 977‐4247 or Ashley Fairburn
(559) 908‐9607
PRESS CONFERENCE AND PROTEST AGAINST DYER'S ONGOING ASSAULT ON THE POOR
WHAT:
In light of the several recent officer‐involved shootings, the Fresno Brown Berets and
California Prison Moratorium Project are announcing a call to action regarding Police Chief Jerry
Dyer's corrupt and racist administration. Too long he has justified over‐policing, surveillance, and
even murder within our communities. No matter what Dyer says, drug use and crimes of poverty
do not justify a police officer implementing the death penalty.
WHY
: There have been 9 murders by police this year, 40 since Dyer took office. Every single
one has been deemed justified by Dyer. He and his force consistently resist any calls for
transparency or accountability. If Dyer really was interested in public safety (for all of Fresno, not
just the wealthy and/or white) he would have nothing to hide. More training for the police or an
IPA isn't enough; Dyer's corrupt reign will never change. We as a community must not fooled by
Dyer's rhetoric, there are alternatives to the tactics he promotes and supports among the Fresno
Police Department. There are crisis de‐escalation and non‐lethal tactics, not to mention the best
way to address crime: prevention. The
Fresno Police Department monopolizes 57% of our
city budget in the name of public safety
. Think about all we could do to PREVENT crime if those
funds were invested in schools, housing, treatment, and parks.
Last week there were three separate murders by the hands of Fresno police
, two shootings
and one individual who died in custody, and a fourth officer‐involved shooting took place on
Wednesday. Immediately following both shootings last week Dyer spoke out against the victims,
labeling them criminals, implying these men were expendable. Dyer' supporters likewise
condemn victims of police brutality on account of the victims'supposed or actual drug use. Drug
use is a health issue that needs to be addressed through alternatives to incarceration…
NOT
THROUGH THE DEATH PENALTY AT THE HANDS OF THE POLICE!
Within 24 hours of
murdering unarmed Steven Anthony Vargas, police then murdered John Cooper, a grieving man
crying out for help. In a press conference Dyer states Cooper had been known to have extensive
contacts with police only to admit just after that they were not yet sure who the victim was. That
is two examples of Dyer twisting the facts or bold‐face lying to cover up his officers' "justifiable"
murders, how many other times has Dyer lied to the public?
WHEN:
November 6, 2009 at 4 pm
WHERE:
We will meet at 2323 Mariposa St, Fresno, Ca (downtown FPD/headquarters) and will
march to the Fresno County Jail following our 4:30 pm press conference.
WHO:
The Fresno Brown Berets is a militant, grassroots, organization formed solely for the
service, education, protection, and EMPOWERMENT of communities that have been systematically
pushed to the margins of the political, social, and economical process. The California Prison
Moratorium Project is a grassroots organization that believes that redirecting funds from prisons
and police into education, health care, housing, and other basic human needs is the ONLY effective
way to reduce crime.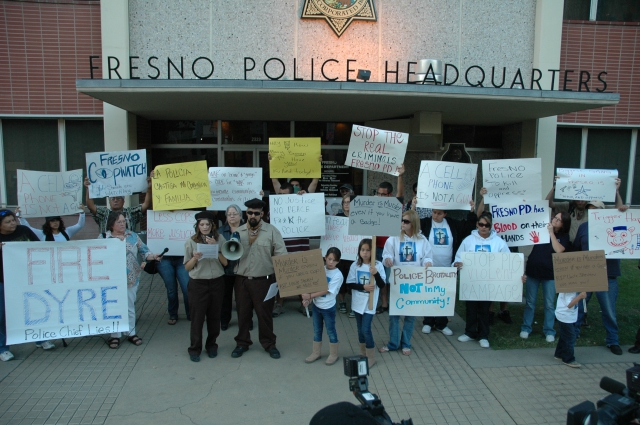 Adriana Becerra, a spokesperson for the Brown Berets, read a statement in front of the Fresno Police Department HQ. Listen to the audio (above) for some of what she had to say.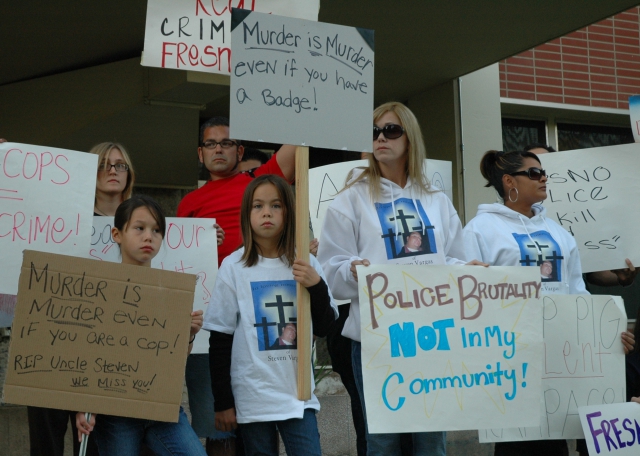 The four people in front are members of Steven Vargas's family. Vargas was shot and killed by Sgt. Mike Palomino, who has been with the Fresno Police Department for 28 years. Vargas had been involved in an automobile accident and did not get out of his vehicle when ordered to by officer Palomino. For more information see:
http://www.indybay.org/newsitems/2009/10/28/18627051.php