From the Open-Publishing Calendar
From the Open-Publishing Newswire
Indybay Feature
Environmental Groups Around State Oppose Scary Legislative Water Package
Like a crowd of brain-eating zombies just in time for Halloween, dangerous Delta and water bond bills have proliferated over the past week in the California Legislature, creating a mind-numbing stench throughout the State Capitol.

Photo: Don't let scary zombie bills like these make the West Coast's largest estuary into "Delta of the Dead."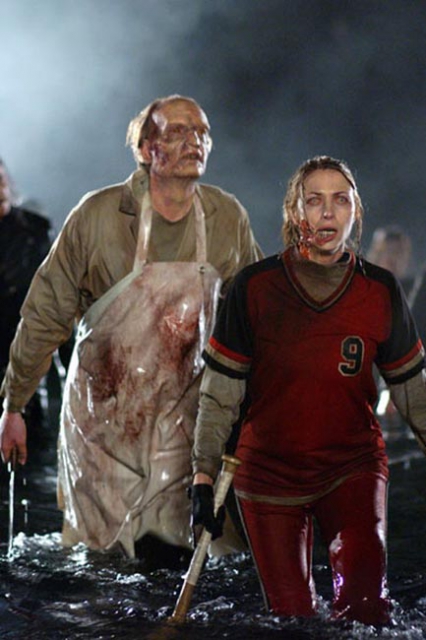 Environmental Groups Around State Oppose Scary Legislative Water Package
Stop Zombie Bills from Creating the 'Delta of the Dead'
by Dan Bacher
Like a crowd of brain-eating zombies just in time for Halloween, dangerous Delta and water bond bills have proliferated over the past week in the California Legislature, creating a mind-numbing stench throughout the State Capitol.
As of Friday, October 30, there were no less than 20 water bills introduced and "few of them are any good for California rivers," said Steve Evans, Conservation Director of Friends of the River. Many of the new bills are over 100 pages long and the Legislature is expected to vote on them by Monday, Nov. 2!
'Leading the pack of scary Halloween-weekend bills is Senator Darrell Steinberg's SB4, a bill that purports to solve California's supposed water crisis," said Evans. "Friends of the River is concerned that the bill will result in the fast-track approval of a large Peripheral Canal capable of diverting fresh water from the Sacramento River around the Delta for export to corporate agribusiness in the southern Central Valley and urban developers in southern California. The bill would also encourage the construction of new or enlarged dams that would harm the Sacramento, San Joaquin, Mokelumne, and Bear Rivers."
Unfortunately, representatives of the Natural Resources Defense Council (NRDC) and other corporate environmental groups who have participated in back door negotiations with Legislative leaders, Westlands Water District and Metropolitan Water District claim that the "environmental community" is behind the proposed water legislation currently being considered at the State Capitol.
However, nothing could be further from the truth, since grassroots environmental organizations, fishing groups and environmental justice organizations throughout the state oppose the deals that the NRDC, Environmental Defense and the Nature Conservancy are making behind closed doors without input from Delta legislators and communities. This water legislation package, rather than "restore" the Delta ecosystem as its proponents contend, clears the path for the construction of a peripheral canal that would result in pushing imperiled Central Valley salmon and Delta fish populations over the abyss of extinction.
Environmental groups from around California weighed in Friday with their opposition to the dangerous proposed water legislation. The Sierra Club California, Planning and Conservation League, Friends of the River and the Butte Environmental Council have all joined Restore the Delta, California Sportfishing Protection Alliance, the California Water Impact Network (C-WIN), California Striped Bass Association, Clean Water Action, the Environmental Justice Coalition for Water, Northern California River Watch, the Public Trust Alliance and the Environmental Protection Information Center in opposing the legislative water package, including the estimated $9 billion general obligation bond.
"Over the past several months, these groups have attended every public hearing to voice their concerns on the proposed water legislation," according to a joint press release. "Unfortunately, over the past month there have been no public meetings and the major decisions on this package were made entirely behind closed doors."
These groups have repeatedly criticized the proposed budget-busting legislation, being pushed by corporate agribusiness and other water exporters, for being financially and economically unsustainable.
Jonas Minton, Water Policy Advisor of the Planning and Conservation League, said, "Unfortunately, the proposal being pushed by those who take water from the Delta would be neither environmentally nor economically sustainable." (San Diego Union Tribune, 10/29/09)
Jim Metropulos, Senior Advocate for Sierra Club California, stated, "They're proposing 19th century solutions for a 20th century problem." He wants lawmakers to put more emphasis on conservation instead. "Sadly the legislature cannot pass a law to get more rain to fall in California. And, we certainly don't know what effects climate change will have on rain patterns...on snow pack storage and melt...but we have to keep that in mind." (Capitol Public Radio 10/26/09)
Steve Evans said, "A $9 billion bond will cost the taxpayers $576 million a year for 30 years. It's just not feasible because the state's debt service on bonds already authorized by the voters will grow to about 10% of the state's budget and will contribute to more state funding cuts for public safety, health, education, and environmental protection have been slashed to the bone." (
http://www.IndyBay.org
, October 15)
These groups recently proposed a set of groundbreaking policy recommendations that would both protect the Bay-Delta ecosystem and move the water debate forward. The recommendations included values driven management, comprehensive reform of existing agencies and sustainable financing that would not drive California deeper into debt.
"These reforms would be cheaper to implement, produce more sustainable outcomes, and would ultimately provide more reliable and resilient water resources to support a healthy California public, environment and economy than the current water package," according to the groups.
There are three actions that you can take in the next couple of days to help stop the environmentally destructive and obscenely costly water package.
First, you can send a letter to your Legislators NOW by going to:
http://www.friendsoftheriver.org/site/R?i=7tvL5wmeLRIaRmUAyFDqTg
Second, you can picket in front of the Capitol at the corner of N & 12th Streets in Sacramento on Monday, November 2 from 7 a.m. to 9 a.m. For more information, call Barbara Daly of Save the Delta at 916-761-4726.
Third, you can attend the Senate and Assembly hearings on Monday, November 2. The hearings are tentatively scheduled for 9 a.m. for the Assembly and 1 p.m. for the Senate, but these hearings have not been confirmed. Go to
http://www.restorethedelta.org
for more information or call 916-761-4726.
We are 100% volunteer and depend on your participation to sustain our efforts!
Get Involved
If you'd like to help with maintaining or developing the website, contact us.