From the Open-Publishing Calendar
From the Open-Publishing Newswire
Indybay Feature
Related Categories:

California | Central Valley | East Bay | Environment & Forest Defense | Government & Elections
Governor Schwarzenegger's Race to Raise the Deficit
There is no doubt the Arnold Schwarzenegger, the worst Governor for fish, people and the environment in California history, is obsessed with building a monument to his "manhood" and gigantic ego, the peripheral canal.

Barbara Barrigan-Parrilla, campaign director of Restore the Delta, reports on Governor Schwarzenegger's mad race to raise the state's deficit by building the peripheral canal.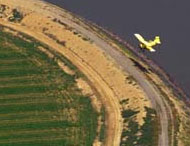 Delta Flows: Restore the Delta Newsletter, October 12, 2009
"That's the scary part. I didn't know if I should smile, crack up, scream or run." ---The Wizard of Oz
Governor Schwarzenegger's Race to Raise the Deficit
Today, Bloomberg News Service reports that a $2.1 billion tax deficit for October, 2009 threatens to unravel California's three-month-old budget. Click here to read the story:
http://www.bloomberg.com/apps/news?pid=newsarchive&sid=aVrXkgPkXqSk
But that doesn't fluster Governor Schwarzenegger and top legislative leaders who according to Governor Schwarzenegger's statement yesterday are close to a deal on a water package. Never mind that the public has no idea at this point what is in the proposed legislation or how much it will cost - that this deal in its latest incarnation has not been seen in print - or that all Delta legislators have been left out of the negotiations process.
Instead, Governor Schwarzenegger declared in his statement regarding a special session on water that he is ready to:
"To consider and act upon legislation to place a general obligation bond and, as necessary, a lease revenue bond on the ballot."
Columnist Mike Fitzgerald from the Record wrote a terrific column this weekend showing the peripheral canal project getting bigger by the minute (Click here to read his column:
http://www.recordnet.com/apps/pbcs.dll/article?AID=/20091011/A_NEWS0803/910110301#STS=g0pm1apb.rot
).
Yes, it's getting bigger and more fantastical in the minds of canal proponents; never mind the pesky deficit is growing in size at the same time. After all, it's so easy to govern say if one ignores reality and manages the Capitol like a movie set.
And while the Governor and DWR Chief Lester Snow continue pushing forward the BDCP (also known as the Big Detrimental Canal Project), water exported from the Delta is for resale. Click here to see Restore the Delta's You Tube clip,
http://www.youtube.com/watch?v=RpEhieTzVHQ
, on where Delta water is going after it leaves the Delta.
As all this water theater plays out in Sacramento with the Governor in his starring role, thousands of people in the Southern San Joaquin Valley, many in the farmworker communities that the Governor likes to make references to in his speeches, do not have clean drinking water, despite numerous legislative efforts, and the passage of previous water bonds.
But that doesn't disturb the Governor. He vetoed AB1242 yesterday - a bill calling for a human right to clean and affordable drinking water. Clearly, in the Governor's mind, California's water, part of the public trust, is not to be managed for equitable human use including the poor, or for protecting Delta fisheries and family farming communities, the middle class. It's a commodity for the profit of a few well off landowners on the Westside of the San Joaquin Valley.
There Are Alternatives for Managing California's Water System
Last Friday, Restore the Delta, along with twenty-three environmental organizations, rolled out California water policy recommendations to Governor Schwarzenegger, Senate President pro Tem Darrell Steinberg, and Assembly Speaker Karen Bass. These groups, representing hundreds of thousands of Californians, are calling for a water package based on sustainability, equity, and sustainable financing, rather than the continued model of big projects that profit a small percentage of California water users. To read our recommendations for a new water paradigm for California's future click here:
http://www.restorethedelta.org/pdfs/New-Paradigm-FINAL.pdf
.
We are 100% volunteer and depend on your participation to sustain our efforts!
Get Involved
If you'd like to help with maintaining or developing the website, contact us.