From the Open-Publishing Calendar
From the Open-Publishing Newswire
Indybay Feature
Related Categories:

Santa Cruz Indymedia | Education & Student Activism | Media Activism & Independent Media
Disorientation Guide to UC Santa Cruz 2009-2010
So you've gotten to the University of California at Santa Cruz. Congratulations! What now? The ideas the University produces about itself construct an ideal image of what awaits you here: an image of fulfillment and understanding, a picture of the life you might build for yourself after you get your degree. So how couldn't you be idealistic and excited? After all, you've arrived at one of the most beautiful places in the world and prepared yourself for the journey of a lifetime.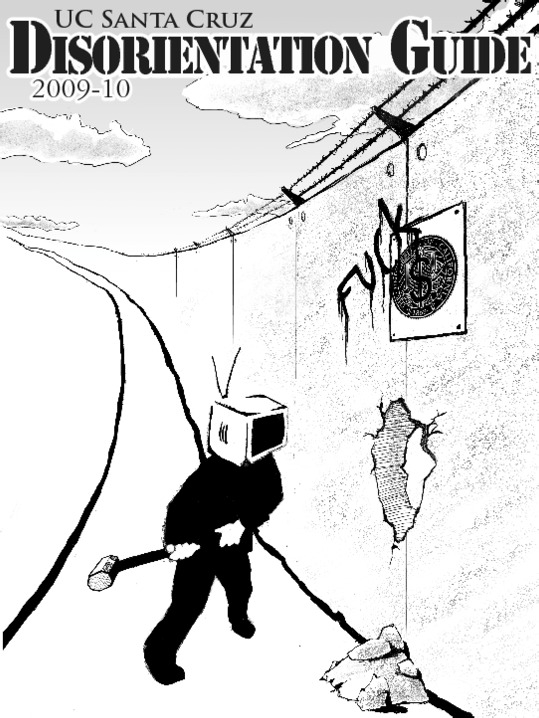 Download PDF (50.9mb)
There's just one problem: The stories the University tells about itself--its dedication to higher knowledge, its liberalism, its openness--are MISLEADING and OPPRESSIVE. Its merits, prestige, positive stereotypes…are LIES.

Throughout the course of this Guide we will do our best to dispel these illusions, to disillusion and disorient you, ultimately opening the way for a stronger, clearer, more independent understanding of yourself, your university and what lies behind this all. We have interrupted these myths by remembering and recording UCSC's decades of empty promises, shady fronts, and projects in the service of mechanical socialization and exploitative capitalism (markets?). Within these pages, you will find the research and analysis, art and humor we have collectively gathered in our efforts to expose the structures of our life and reorient our understanding of them. Some of it has taken years to research; some you can find with five minutes and a wifi connection.

This is free information which we've crafted into a Guide, a framework for navigating the complex of global systems which have created the University as we know it today. These systems are highly interconnected and create a network-- the University--of cuts, exchanges, proposals and external investments, entangling and constructing a range of actors, some of whom sit atop and others who struggle from the bottom. We call this the UC Machine. So, welcome. And prepare for your Dis- and soon-to-be-Re-Orientation to the University of California at Santa Cruz.

DisorientationGuide.wordpress.com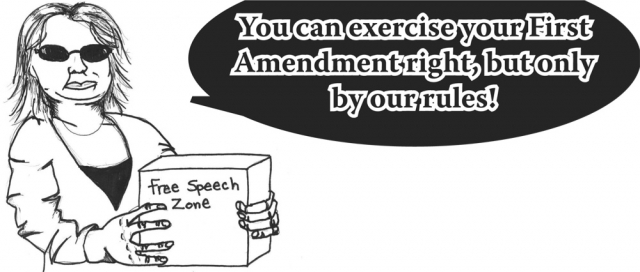 2 Mission Statement
4 Welcome to the Machine
8 Local Histories
9 Santa Cruz City Map
10 Ohlone People
12 Free Skool
13 Hometown Blues
14 Homelessness
15 Herbs & Cannabis
17 Labor Organizing
18 Engaging Education
19 Rainbow
20 SOCC
22 Save the Student Voice!
24 Ethnic Studies
25 The Budget Cuts
30 The UC Corporate Hustle
31 Long Range Development Plan
35 Local Plants
36 Local Animals
37 Along Came a Spider: Tree Sit
38 Environmental Consumerism
41 Composting!
42 ESLP
43 Power & Liberation
44 Lies Military Recruiters Tell
45 Academia & Empire
48 Fuck The Regents
51 Whom Does the Empire Serve
52 Power Map
53 Violence
54 AETA 4
56 Non-Profit Labor
59 Imperialism
62 The Whitest UC
63 Burn Your Textbooks
64 Fuck Prop 8
67 Sexual Consent
70 Sex in Three Parts
71 Fertility Cycles
74 Unisex Restrooms
74 Local Media
75 Student Organizations
76 DIY Santa Cruz
78 Recommendations
79 Dedication & Special Thanks
80 Know Your Rights

Disorientation Guide 2009~10
We are 100% volunteer and depend on your participation to sustain our efforts!
Get Involved
If you'd like to help with maintaining or developing the website, contact us.