From the Open-Publishing Calendar
From the Open-Publishing Newswire
Indybay Feature
SF Biosolids Compost is Safe, Tested and Great for Plants!
San Francisco's biosolids compost is safe, tested and great for plants. It is tested for metals and other contaminants and it meets or exceeds all standards, even EU standards! San Francisco's biosolids compost is high quality and safe.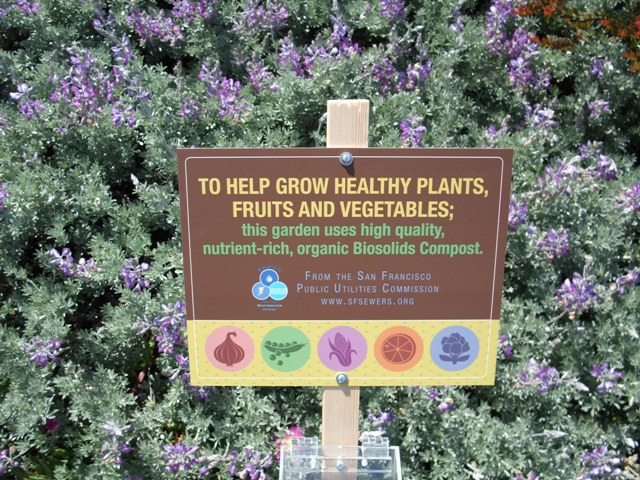 The biosolids compost that the SFPUC gives out at our events is basically what you would find in a gardening store. Our goal with the program is to increase awareness about biosolids and expand our in-city reuse opportunities. The problem with claims by the Center for Food Safety is that they don't really address the fact that we have empirical lab data on the metals and other compounds found in San Francisco's biosolids. Their broad statements really have no foundation in San Francisco, where as with many of our other sustainable programs, we go above and beyond what is required by federal and state laws in testing.

Background: What are Biosolids? What is biosolids compost?

- Biosolids are the treated nutrient-rich solid waste removed from sewage at every wastewater treatment plant. In San Francisco, biosolids treated in an anaerobic environment (in an environment devoid of oxygen) and heated for about 20 days at 95 degrees Fahrenheit in a series of tanks at our treatment plants.

- Biosolids Compost undergoes further aerobic treatment for 3-4 weeks (oxygen-based environment) and kept at temperatures exceeding 131 degrees Fahrenheit at a composting facility in Merced. At the facility the biosolids is mixed in with organic materials like wood chips or paper fiber. This is the process that allows us to designate the biosolids as compost.

- The sustained and serial anaerobic and aerobic treatment substantially reduces many compounds of concern.


Metals Levels / Other compounds of concerns (ie: endocrine disrupters, triclosan, etc)

- Metals - We have very low concentration of metals in our biosolids. Our levels are not only far below the current EPA standards, but below the more stringent European Union standards as well! In fact, if you line up our biosolids compost with the same compost you would purchase at your typical gardening store, the metals concentrations would be about the same, in other words, VERY LOW.

Other compounds of concerns

- Although we aren't required to, the SFPUC has conducted tests on these compounds because we want to ahead of the curve. We have lab reports showing extremely low levels for all of these compounds in our biosolids. One of the few countries in the world that even has limits on endocrine disrupters is Denmark. Our levels of endocrine disrupters fall below what is required to meet even their reuse standards.

- The Center for Food Safety is correct that the EPA doesn't require testing, it doesn't really apply to San Francisco because we have tested.


Why are the metals/other compounds low?

- There are a couple of reasons why:

1) The SFPUC provides drinking water from an enclosed, protected tap water supply. There is no contamination of our water from wastewater dischargers into our water source. We get our great water pretty much from Sierra Nevada snowmelt to our taps.

2) San Franciscans are very educated and environmentally conscious. Part of that is due to the great work of SF Environment and the SFPUC. People know they shouldn't be dumping their motor oil down the drain, or dumping dangerous chemicals down the toilet. After all, where does all that end up - straight to our wastewater treatment plants.

This is also part of the reason the SFPUC puts on the Big Blue Bucket event. We educate people and provide resources for people to do the right thing. At our first event last year, we collected more than 2 tons of old/expired medications for proper disposal. A few months ago SFE started a pilot drug mail-back that has been met with huge success.

The SFPUC also has an aggressive, and award winning water pollution prevention program. In the past 8 years, we've eliminated mercury runoff from dentist's offices and are constantly sampling our major dischargers to make sure they are in compliance.

3) San Francisco is primarily a residential city. There are no major industries in the City that would serve as a large contributor of metals and compounds into the wastewater system.

We are 100% volunteer and depend on your participation to sustain our efforts!
Get Involved
If you'd like to help with maintaining or developing the website, contact us.