From the Open-Publishing Calendar
From the Open-Publishing Newswire
Indybay Feature
Related Categories:

South Bay | Anti-War
Confrontation With Condoleezza Rice in San Jose 9/17
Three CODEPINK activists confronted Condoleezza Rice at a speech inside the Fairmont Hotel in San Jose, CA, calling her a war criminal, responsible for torture and lying the U.S. into a war of occupation in Iraq. They waited until her speech was finished before standing up with "bloody hands" to confront her loudly in front of about 1000 audience members. San Jose Mercury News coverage: http://www.mercurynews.com/breaking-news/ci_13359312
Thursday, Sept. 17, Condoleezza Rice was the keynote speaker at a conference on international technology "solutions" in San Jose, CA. She is currently a scholar at the conservative Hoover Institute at Stanford. She's reportedly writing three books and not teaching this fall. Protests took place outside and inside the hotel, with World Can't Wait, San Jose Peace and Justice, and a veterans' group protesting outside.
Cynthia Papermaster (National Accountability Action Network), Jane Miller (Code Pink), and Susan Harman (Progressive Democrats of America) had registered for the conference, and went inside with no problem. We sat in the third row center, right in front of Condi, who gave quite a good speech and had great rapport with the audience. She assumed that her audience supported the USA's dominance of the world economy, and was bold in her descriptions of other countries' flaws. I was most struck by her derisive characterization of the huge influence of corporations in Russia as "Russia, Inc." I think she missed the irony in her comparison of them with the US.
Her audience was overwhelmingly men in black suits. There was a serious police presence. The three of us had pinned fuschia signs saying "INDICT RICE" to our backs, under our jackets. We sat quietly through her speech, and toward the end, rubbed red paint on our hands. We stood up with the audience for the standing ovation, but didn't sit down. Instead, we took off our jackets so our signs showed, continued standing, and held up our bloody hands, echoing the iconic picture of CODEPINK's Desiree Fairooz confronting Rice in Congress. We told Rice she was a war criminal, having enabled torture, lied the U.S. into an illegal war of occupation, etc. She said, "These people came here to hear me, not you," and some other stuff we didn't catch because she was talking at us while we were talking loudly to her. She definitely heard us, loud and clear.
Four or five police officers hustled us down the aisle and out the door. The suits booed loudly. They were, after all, there to learn how to make more money with Rice's expert advice on the international economy. The police were quite excitable. There was a moment of confusion in the foyer while they tried to decide which direction to take us out. A large man in a black suit calmly took charge and led the way. We asked him who he worked for, and he smiled but said nothing. At the door, before parting, we peered at his tiny lapel pin, which we are pretty sure said Federal Bureau of Investigation. I never thought I'd be glad to see the FBI. Cynthia shook hands with the FBI man, careful not to get red paint on him.
The San Jose Mercury News tech writer interviewed us afterwards, see
http://www.mercurynews.com/breaking-news/ci_13359312
. Cynthia has bolded Rice's comment because she finds it ironic that Rice says the people of Kabul are now free to speak out. Are they? And are they feeling pretty safe there with the unmanned drones flying over their heads?
So. No arrests this time. Just a very satisfying confrontation with Rice. Our one regret is that we didn't have time to throw our bloody rice (which Cynthia had painstakingly made with dry red food coloring) at her!
We urge you to go to CODEPINK4peace.org (Arrest the War Criminals campaign), afterdowningstreet.org, or warcriminalswatch.org to find a war criminal appearing in public near you. Go and protest. We're happy to share tips. These people should not be allowed to appear without confrontation.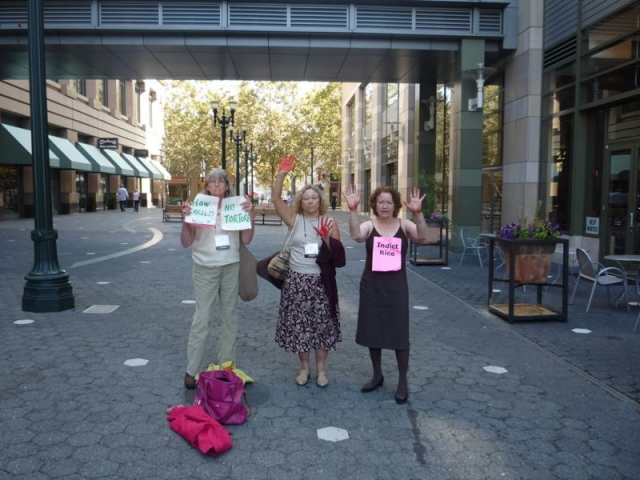 We did it and you too can confront war criminals
Protestors from the National Accountability Action Network, Progressive Democrats of America, and Code Pink let Condi know what they think of war criminals.
We are 100% volunteer and depend on your participation to sustain our efforts!
Get Involved
If you'd like to help with maintaining or developing the website, contact us.