From the Open-Publishing Calendar
From the Open-Publishing Newswire
Indybay Feature
"The Cove" - a documentary about the story of the annual dolphin slaughter in Taiji, Japan
Flipper's trainer, Richard O'Barry, takes you through the lengths required to document the annual bloody slaughter of 23,000 dolphins in Taiji, Japan. A little town with a really big secret. This documentary illustrates what takes place in Taiji, Japan and what the real story is behind modern day captivity of dolphins (think origins to Sea World) and the atrocities associated with the slaughter in a hidden cove in Japan. From copious amounts of mercury, to ruthless techniques in the killings, to media blackouts.

Photo Credit: Shot from Overlook: Shot of the cove. Photos Courtesy of Oceanic Preservation Society.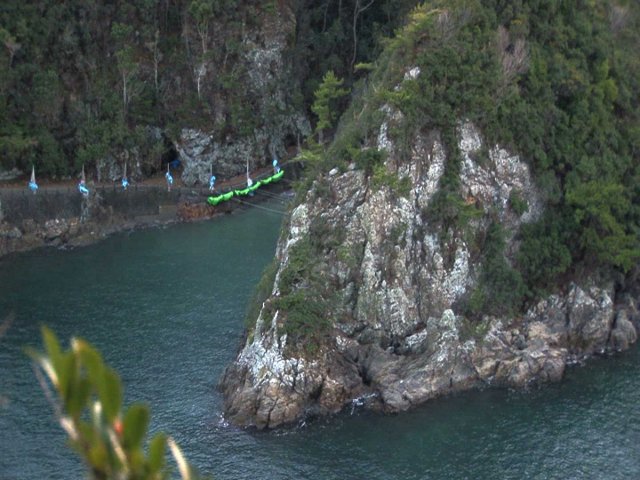 The dolphin slaughter takes place hidden from the public while Japan manipulates their population and the world into thinking everything is fine in Tiaiji, Japan. Guess again and be prepared for a good dose of reality and shock that the Japanese people do not even know about.
It was the Flipper TV series that help to create a multi-billon dollar industry and when Flipper died in Ric O'Barry's arms, he's done everything in his power, to shut down the dolphin captivity programs that exist today. From Sea World to swim with dolphins programs throughout the world, the exploitation and senseless slaughter of these cetaceans is exposed in this film. Ric O'Barry assembled a crack team of individuals and gets disturbing footage of the dolphins being trapped, potential swim with dolphins are sold and the rest are slaughtered. These dolphin captivity programs are partially to blame for this bloody tragedy.
More than 20,000 dolphins and porpoises are being slaughtered each year and their meat, containing toxic levels of mercury, is being sold as food in Japan, often times labeled as whale meat.
Roger Moore of the Orlando Sentinal reported on August 6th, 2009, via The Kansas City Star: "Naomi Rose, senior scientist with the Humane Society of the U.S., also sees a connection between American marine theme parks and the Japanese drive fisheries.
"In my opinion, the Alliance of Marine Mammal Parks and Aquariums and the American Zoo and Aquarium Association, which have all condemned the drives in policy statements, are all talk and no action. They made these policy statements - only after feeling pressure - and then have done nothing else," such as "sanctioning members that buy from the drives."
In "The Cove," O'Barry points to Americans who own Polynesian and Caribbean marine theme parks, and who are founding members of those industry organizations, as among those still buying drive-fisheries animals."
Direct actions O'Barry and others have taken to protect dolphins are given light in this documentary. According to Sea Shepherd's website: "Back in October 2003, Captain Paul Watson sent a team to Taiji, Japan to document the slaughter of the dolphins. The video and photos of that campaign made international headlines and exposed the atrocities of the Japanese dolphin killers to the world.
In November 2003, Sea Shepherd crewmembers Allison Lance of the United States and Alex Cornelissen of the Netherlands cut the nets and freed 15 dolphins, saving them from slaughter. They were both jailed for three weeks before being released and they were both quite happy to trade three weeks of their freedom for the lives of the dolphins.
In response to the freeing of the dolphins and the exposure of the slaughter, the Taiji fishermen erected huge tarp barricades to keep the killing from being documented and it became a crime to wear a Sea Shepherd shirt or hat or to be a member of Sea Shepherd in Taiji.
Sea Shepherd did return in October 2007 along with World champion free surfer Dave Rastovich and celebrities Hayden Panettiere (Heroes) and Isabel Lucas (Transformers Revenge of the Fallen). Sea Shepherd crewmember Simeon Houtman accompanied the surfers and once again the slaughter was given worldwide coverage."
Additional appearances made Mandy-Rae Cruickshank and Kirk Krack, both freedivers, Scott Baker, DNA research scientist and others.
The Cove is a moving film that tells a disturbing story and is put together as a cinematic masterpiece.
See more at:
http://www.kansascity.com/412/story/1368200.html
http://en.wikipedia.org/wiki/Dolphin_drive_hunt
http://www.seashepherd.org/dolphins/
http://www.opsociety.org/
The Cove is being shown in La Jolla at the La Jolla Village Cinema and in Hillcrest at the Hillcrest Cinemas.
http://thecovemovie.com/festivals/upcoming_screenings.htm
We are 100% volunteer and depend on your participation to sustain our efforts!
Get Involved
If you'd like to help with maintaining or developing the website, contact us.