From the Open-Publishing Calendar
From the Open-Publishing Newswire
Indybay Feature
City Admin Dan Lindheim Trying to Kill Civilianization of OPD; We Need You on Tues 6/23!!
Come To The Public Safety Committee And Urge Them To Vote To Accept In Principle The Transfer Of Complaints From Internal Affairs To The Cprb. Email The Mayor's Chief Of Staff:: MARISOL LOPEZ (
mlopez [at] oaklandnet.com
) and tell the Mayor to direct Lindheim to STAND DOWN!
The attached PDF document below is what Lindheim sent to the City Clerk as the basis for discussion on June 23rd at Public Safety Committee meeting.
He omitted our report ALL TOGETHER (also included here), implying that it is the same as the CPRB report, which it is NOT.
We suspected something was up when he did not allow all three parties: CPRB, task force members and OPD to present one report but, instead, directed us to submit three different reports that he would consolidate. His consolidation conveniently omits our report entirely(the Word attachment) but, in his cover letter, mentions our wish for a vote in principle! (of course, he advises against it!).
Lindheim's strategy, as we suspected, is clearly DIVIDE AND CONQUER – emphasize the differences in our reports rather than allow the 90% of consensus to be clear to the Council. We must not let him succeed! (Needless to say, I will make sure that the Council members receive our report directly so they can see what he deliberately withheld from them. Ironically, even the OPD report uses our title which calls for a vote on the resolution.)
Next Tuesday, June 23 at 5:30 PM:
- We must confront Lindheim forcefully and expose his motive: he doesn't want to see this happen, regardless of the Council's wishes.
-
We must convince the Public Safety Committee to vote 'in principle' on this transfer, subject to final approval when the implementation plan, including funding, comes back to them.
- We must convince the Committee to forward to full Council for a vote up or down. Without the Council going on the record to support this transition in principle, we cannot apply for grant funding. (of course, this is the box Lindheim has put us in)
It is time for the community to speak loud and clear on this. We must be as forceful as the supporters of oversight for BART – Oaklanders deserve no less than the riders of BART when it comes to civilian oversight and transparency.
Call out the community --- this can't go on forever! We've got to get a vote on this right now or we will set the stage for them to abolish the CPRB completely, citing budget reasons.
This is the moment: it's time to let our voices be heard. We insist on having civilian oversight of the Oakland Police Department! How will you feel if BART gets civilian oversight, and Oakland loses ours?
COME TO THE PUBLIC SAFETY COMMITTEE AND URGE THEM TO VOTE TO ACCEPT IN PRINCIPLE THE TRANSFER OF COMPLAINTS FROM INTERNAL AFFAIRS TO THE CPRB. EMAIL THE MAYOR'S CHIEF OF STAFF: MARISOL LOPEZ (
mlopez [at] oaklandnet.com
) and tell the Mayor to direct Lindheim to STAND DOWN!
Also see:
Budget May Stall Effort to Reform Internal Affairs
http://www.eastbayexpress.com/news/budget_may_stall_effort_to_reform_internal_affairs/Content?oid=1013321
Victory for Civilian Oversight of Citizen Complaints Against Oakland Police
http://www.indybay.org/newsitems/2009/04/27/18591408.php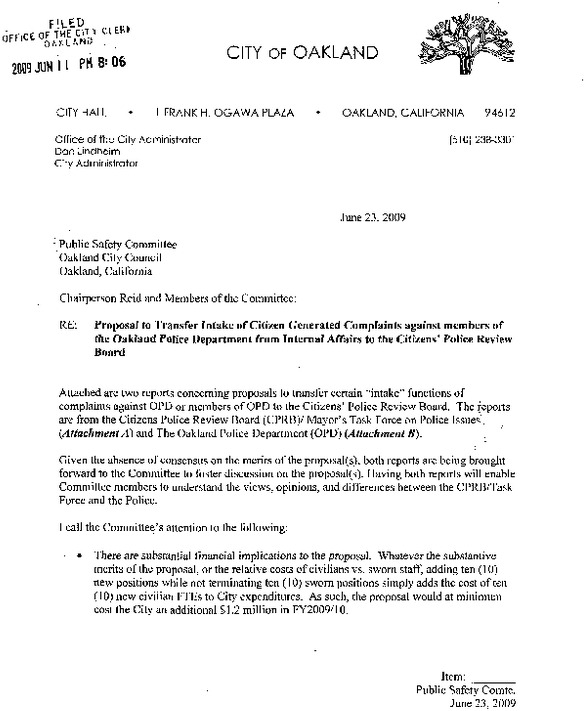 (10-page PDF)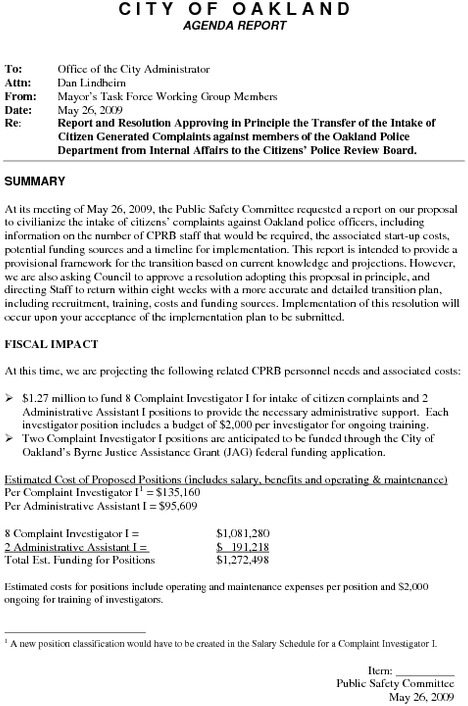 (6-page PDF)
We are 100% volunteer and depend on your participation to sustain our efforts!
Get Involved
If you'd like to help with maintaining or developing the website, contact us.