From the Open-Publishing Calendar
From the Open-Publishing Newswire
Indybay Feature
queer activists disrupt "Stand With Us" IPride, refuse to be a propaganda tool for Israel
On June 11, a group of queer activists from Israel (backed by Palestinian-Israeli LGBTQI co-operative preparation) came to protest the cynical use of gay rights by a right wing American group called "Stand with Us" (SWU). The activists disrupted an event called I-Pride, organized by SWU, exploiting queer issues in order to advance and support Israel's existence as an apartheid state and its occupation over Palestinians. The queer activists have also pointed out SWU collaboration with homophobic organizations such as Christians United For Israel, and homophobic individuals such as Gary Bauer and John Hagee who has stated in the past that Hurricane Katrina happened for the city's "sinful homosexual rally." SWU's presentations of all Palestinians as killers, and Islam as the enemy of the west, were also denounced by the activists in the event, and SWU campaign of defamation against, and pressure to exempt, academics who are critical of Israel.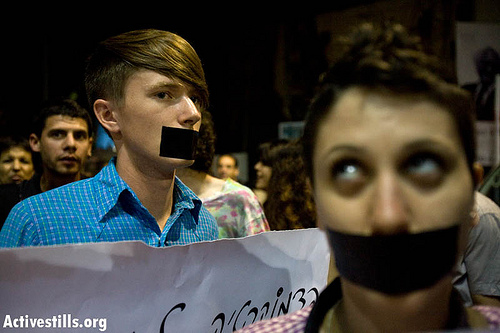 At the event panelists and speakers preferred to focus on liberal issues inside Israel and showed total disregard for human rights violations by Israel. They presented the gay Palestinian community as suffering mostly from the Palestinian society ( not from Israel's brutal occupation) and as being in need of a western salvation embodied in Israel's apartheid regime.

Haneen Maikey, an organizer for Al-Qaws ("Rainbow") - for Sexual and Gender Diversity in Palestinian Society, has commented that "the patronizing and arrogant attitude towards the Palestinan LGBT community, the use of our struggle and speaking in our name are not new phonomena. What is worrying is the easiness in which a right wing and racist pro-Israeli agenda is presented as a celebration pride and rights which is designed to present Israel (in collaboration with local gay Israeli organizations) as an oasis of liberalism and tolerance. This is a cynical use of gay issues for political gain, as human rights violations that are committed by Israel hurts all Palestinians-regardless of gender and sexual preference."

Inna Michaeli, a member of Coalition of Women for Peace, and a feminist lesbian activist stated "I'm not surprised that our struggle for gender and sexual freedom is used as a propaganda tool at the hands of radical right wing groups from America. What is left to ask is where is the shame of gay organizations in Israel who claim to speak in our name, and whether from a total silence on human rights violations, they are moving now to a complete co-operation with the American radical right."

During the I-Pride event the queer activists distributed leaflets, gave interviews to the media, and raised disturbing questions that were responded by even more disturbing answers from the panel, composed of the Israeli gay hegemony- gay Zionist men and the organizers of the event- straight Zionists who are interested in Anti-Arab propaganda.

The event that concentrated on civil marriages and child adoption, and on the equal treatment that gay and lesbians receive in the occupation army, caused one of the queer activists to ask "how come that in the lecture about the history of the gay community, the no. 1 'achievement' this year of gay people serving in the Israeli military was forgotten, namely the murder of 140 LGBT people in Gaza at operation Cast Lead (statistically speaking according to the relative portion of LGBT people in the Palestinians community) ? The question did not receive any answer.

Another member asked "given the oppression of Palestinians by the state of Israel, gay and straight, how would the panelists describe solidarity work with LGBT Palestinians, assuming that they are part of any solidarity work?" The answer given by Mike Hamel, Chairman of the Israeli LGBT association Ha-Aguda, was that he and Ha-Aguda are trying to "save" Palestinian gay people by helping them receive political asylum in Israel, and the reason for the LGBT Palestinian oppression is the Hamas government (obviously, not the Israeli occupation). The patronizing attitude of Hamel, as if LGBT Palestinians need him to save them (and have no political representation and politics of their own ), was directed to appeal to the western ears of his audience, who may accept the racist picture drawn for them.

Another activist asked "how come Palestinian organizations, Al-Qaws and Aswat, or Palestinian LGBT people, are not taking part in this event and panel?" The question has caused one of the I-Pride organizers to grab the microphone and say that it is because gay Palestinian fear to be seen in front of TV cameras. "That's a lie!" one of the activists shouted back. Then one panelist (the only woman on the panel) who was actually rather supportive of the queer activists agenda articulated the reason as she sees it: "there is a Palestinian boycott of the Israeli society by Palestinians, and in addition to that, Palestinians would not feel comfortable sitting in the same room where the Star of David with the rainbow colors is displayed". The I-Pride organizer version is known to be misleading. Invitations to Palestinian LGBT activists were not accepted because they were considered a cynical use of the gay Palestinian community as a propaganda tool for the state of Israel.

We are 100% volunteer and depend on your participation to sustain our efforts!
Get Involved
If you'd like to help with maintaining or developing the website, contact us.