From the Open-Publishing Calendar
From the Open-Publishing Newswire
Indybay Feature
This homeless man, beaten by a Fresno Police Officer, remains in jail. Meanwhile, as a result of an ACLU lawsuit, the names of the officer involved has been released.

The Fresno police department has finally identified the officers who were captured on videotape in the February beating of a homeless man. But the department has been slow in proceeding with its promised investigation of the police beating. Glen Beaty, meantime, remains in jail on charges of violating parole.

On February 9 Beaty, who witnesses say was sleeping under a tree, was awakened by two Fresno Police officers. A video recording of the incident shows one officer holding him on the ground while the other officer repeatedly punched him in the face. The two officers finally have been identified as Jeff Gross, a seven year veteran and Scott Payn, who has 10 years with the police department. Their names were released in response to a lawsuit by the American Civil Liberties Union. ACLU attorney Michael Risher, said "we're glad that the city finally, after three months of illegal delay, released the names of the officers involved in the Beaty incident. But it is unfortunate that it took a lawsuit to get the government to follow the law. It's also unfortunate that the city is still refusing to abandon its illegal policy of refusing to obey the clear deadlines of the Public Records Act. As a result, this lawsuit, which should not have been necessary in the first place, is still far from over."

Meanwhile, Beaty was recently in Fresno Superior Court for a placement hearing to determine what happens to him next. He's been in jail for over three months on charges of allegedly violating parole. Peter Kapetan is Beaty's attorney said "the jail assessment team has determined that Mr. Beaty be held in a secure facility until he is restored to competency. What the court asked is that he is voluntarily willing to take medication and Mr. Beaty will not commit to that until he knows what the medication is. So, the court has appointed a psychiatrist to advise the court as to what psychiatric medications they think Mr. Beaty should be taking."

Beaty was found mentally incompetent to assist his attorney on charges of violating his parole. No charges have been filed against him or the officers in connection with the February 9th police beating. Kapetan, Beaty's attorney laid out what the next likely step is: "well, next the doctor is going to make a recommendation as to what type of psychiatric medication they believe Mr. Beaty should be given and then he will be sent to a secure mental facility where they can actually force the medication on him if he does not voluntarily comply."

An investigation by the Fresno Police Department's Internal Affairs investigation has not yet been completed. Neither has the independent investigation by the District Attorney's office. At a press conference immediately following the release of the video, police chief Jerry Dyer promised that the investigation by the DA's office would be reviewed by the California Attorney General. Dyer is now saying he wants an FBI investigation of the incident.

While these investigations are underway (or not), Glen Beaty waits in jail, his attorney expects him to be sent to a state mental institution, and a civil lawsuit, alleging that excessive force was used by the officers involved, is likely to be filed.

Beaty's next hearing will be Thursday, July 2 at 8:30 a.m. in Fresno Superior Court, department 30.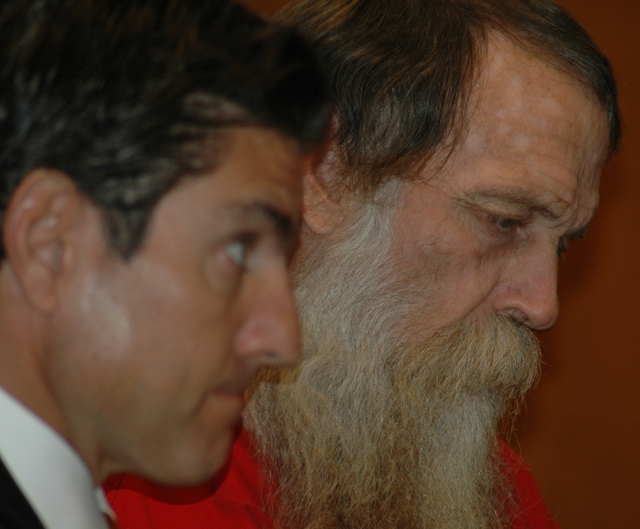 Attorney Peter Kapetan (left) and Glen Beaty (right) were in court on May 28. The court, which previously ruled that Beaty had paranoid schizophrenia, wanted Beaty to agree to voluntarily take medication for his condition. Beaty refused to agree to take the medication, unless the court would tell him what drug was being prescribed. In the meantime, Beaty has been in a cell with 10 other inmates for almost 4 months now. He is allowed 1 hour of exercise a week. That has to be great for his mental health.

While Glen Beaty sits in jail, punished for being the victim of a crime, the authorities now seem to be pushing to have him drugged and sent to a mental hospital. None of the investigations into the incident have been completed, or if they have that information has not been released.

We are 100% volunteer and depend on your participation to sustain our efforts!
Get Involved
If you'd like to help with maintaining or developing the website, contact us.