From the Open-Publishing Calendar
From the Open-Publishing Newswire
Indybay Feature
Second (and Last?) Truly Public BART Meeting on Police Oversight, 5/15/09: audio
Two weeks after holding its
first public meeting related to police oversight
, BART held a second and perhaps its last truly public meeting on oversight of the BART police on Friday, May 15th. While the BART Board of Directors'
BART Police Department Review Committee
has held a few meetings attended by concerned members of the public and likely will hold more to further shape BART police oversight, those meetings are generally held on Mondays at 10am which makes them difficult for most working people to attend -- and therefore they are not considered to be truly open to the public. BART had promised conveniently-scheduled public meetings such as the one on May 2nd and the latest on May 15th as early as January after the BART police murder of Oscar Gran III, yet it wasn't until after public pressure culminated in a
No Justice No Bart takeover of a BART board meeting
in April that BART announced any such meetings. And while BART used the promise that they intended to hold a "series of public meetings" as part of their effort to resist
California Assembly bill AB312
(which would mandate civilian oversight of BART police) in a
letter to state legislators on April 13th
, the second such public meeting on May 15th appears to be the last in the "series." At the conclusion of the May 15th meeting, BART announced that the public could attend the Police Review Committee meetings in the future, although the next one of those is not even scheduled at this point, and made no mention of further meetings related to police oversight to be held on weekends or evenings.
As for the May 15th meeting, it was a follow-up to the one on May 2nd when various models for police oversight were presented and discussed. Since the first public meeting, a subcommittee of the BART Police Department Review Committee drafted a proposal for police oversight based largely on an independent auditor model, whereby a single individual would be primarily responsible for police oversight responsibilities and civilians, or citizens, would play a relatively minor auxiliary role. [See PDF attachment below of BART's draft proposal.] Even the role of the auditor in BART police oversight appears to be limited as proposed in that the auditor is not described as making any recommendations of discipline for rogue officers nor is there any meaningful police accountability to the determinations of the auditor.
Members of the public in attendance were upset with the draft proposal and the minimal role of any civilians in police oversight, as were at least two members of the subcommittee such as BART Board Directors Lynette Sweet and Tom Radulovich. During the public comment period of the meeting, subcommittee members got an earful on the draft for its lack of "teeth" and for completely ignoring the public feedback from the May 2nd meeting that all leaned toward the San Francisco citizen police oversight model which, despite its faults, is one of the stronger models in the Bay Area.
The first piece of audio here features BART's presentation of the draft proposal and an explanation of their current process (or lack thereof) for intaking citizen complaints. Public response to the draft is in the second piece of audio below.
(audio 1:35:16)
A number of arguments were made against the police oversight proposal as outlined.
In addition to the feedback on the proposal, Diana Davis-Marks, godmother to Oscar Grant III, urges as many people as possible to attend the preliminary hearing for Oscar Grant's murderer, former BART police officer Johannes Mesherle, which is scheduled to begin at 8am on Monday, May 18th, but could potentially run through May 22nd. (
http://www.indybay.org/newsitems/2009/05/15/18595039.php
)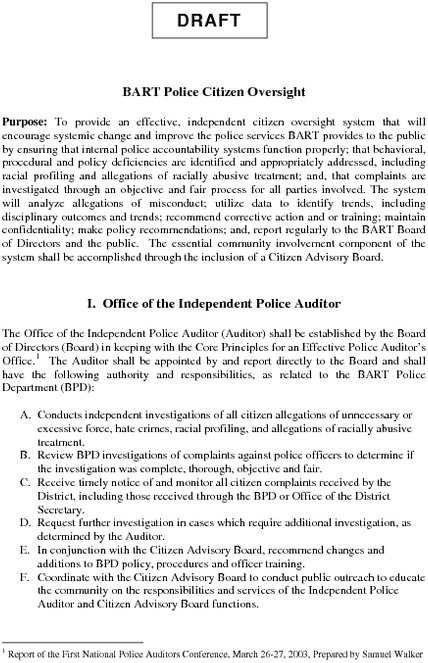 We are 100% volunteer and depend on your participation to sustain our efforts!
Get Involved
If you'd like to help with maintaining or developing the website, contact us.