From the Open-Publishing Calendar
From the Open-Publishing Newswire
Indybay Feature
Related Categories:

South Bay | U.S. | Health, Housing & Public Services | Immigrant Rights
Immigrant Rights Marches Still ON Despite Swine Flu Hysteria
The organizers of an immigrant rights march in the city of San Jose, California are staying in close contact with Santa Clara County health officials. They have confirmed that there is NO BAN on public gatherings. Furthermore it is unlikely that there will BE any such ban anytime soon. The large amount of publicity about Swine Flu right now, right around the time of immigrant rights actions across the nation, raises questions in many minds.

A quick internet search shows that NO immigrant rights marches anywhere in the U.S. have been cancelled at this time.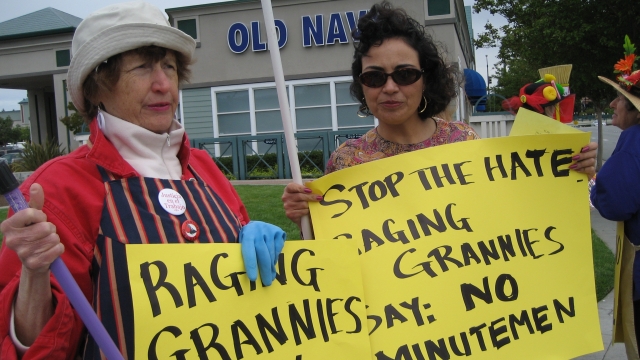 We Raging Grannies have to wonder out loud about the role of right wing media, and certain extremist blogs, that have hyped up concern about immigrant gatherings scheduled for May 1. This would certainly be in line with past cases of motivation based on racism and bigotry. And we know that people who like to blame Mexicans are going to blame them for this outbreak too.

Keep in mind that this is an outbreak that might not have even come to the general public's attention if not for the media hype. This particular outbreak of flu has been monitored by health authorities since December. So the large amount of publicity now, right around the time of immigrant rights actions across the nation, raises questions in our minds. Lou Dobbs of CNN has been on a "immigrants cause health problems" kick for quite some time now.

In the days and weeks ahead, there will be plenty of misinformation and hysteria about this outbreak. To keep things in perspective, remember that malaria kills 3,000 people EVERY DAY, mostly children under 5 years of age, and it's considered a health "problem". Big pharma has no vaccines for malaria that can rake in billions of dollars, so malaria is not a news story.

Raging Grannies are old enough to remember that this is not the first swine flu panic. The last time was in 1976. In that year there was a massive swine flu vaccine campaign in the US.

Now we are all FOR vaccination programs when such programs are warranted. And Grannies are strong supporters of public health measures and health coverage that protects everyone (including undocumented immigrants) like Single-Payer healthcare could be in its best form. But back in the mid-seventies, a misguided effort to vaccinate against swine flu resulted in the rush to a vaccine for a pandemic that never materialized.

A vaccine is in the works for the current outbreak. We hope that the "powers that be" will consider the needs of public health before those of Big Pharma before implementing a vaccination program.


We are 100% volunteer and depend on your participation to sustain our efforts!
Get Involved
If you'd like to help with maintaining or developing the website, contact us.