From the Open-Publishing Calendar
From the Open-Publishing Newswire
Indybay Feature
True Justice for María Isabel Vasquez and Prevention of More Deaths in the Fields!
The Governor, the politicians and all who went along with what are essentially inadequate and toothless heat-illness regulations are also responsible for the death of farmworker María Isabel Vasquez - not just the three labor contractors charged with manslaughter in her death, according to a coalition of labor and human rights groups.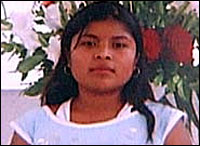 True Justice for María Isabel Vasquez and Prevention of More Deaths in the Fields!

Press Statement: Tuesday, April 28

The Frente de Mexicanos en el Exterior (FME), the Unión Cívica Primero de Mayo, the Organización de Trabajadores Agrícolas de California (OTAC) and El Organizador newspaper -- all of which were among the first to protest the tragic death in Lodi, California(May 16,2008), of farmworker Maria Isabel Vasquez Jimenez, an undocumented 17-year-old girl from the state of Oaxaca who was pregnant when she collapsed in the field from heat exposure -- hereby issue the following statement regarding the announcement on April 23 by the San Joaquin County District Attorney that involuntary manslaughter charges have been brought against three Merced Farm labor contractors:

Eleven months ago, in the immediate aftermath of the May 16, 2008, death of Maria Isabel Vasquez in Lodi, California, the Frente de Mexicanos en el Exterior (FME), the Unión Cívica Primero de Mayo, the Organización de Trabajadores Agrícolas de California (OTAC), and El Organizador newspaper demanded that those responsible for this death be brought to justice.

In that sense we cannot help but feel that the massive public outcry over this death and our continued demands for justice had some effect. Whereas countless other farm injuries and deaths have gone either unreported or unheeded, this tragic death got widespread attention -- which in turn compelled the authorities to take action. This is a good thing.

Yes, the three contractors are responsible and should be brought to justice -- but they are not the only ones. The governor, the politicians and all who went along with what are essentially inadequate and toothless heat-illness regulations are also responsible.

Maria was one of six immigrant workers who died from heat exposure in the agricultural fields of California last summer. The deaths all have a tragic character, but what ties them together is that in every case the sub-contracting agencies, who are responsible for hiring most farmworkers, failed to implement basic health and safety standards.

In 2005, 12 farmworkers died from heat-related illnesses. In 2006, the number of reported deaths was 8. The death toll has continued to rise during Governor Arnold Schwarzenegger's administration. But this is just one aspect of the problem. The total number of farmworker deaths due to accidents on the job in California over the last five years exceeds 700.

After the first four deaths last summer, Schwarzenegger and CAL-OSHA issued a Heat Alert and dispatched a team of 17 labor inspectors across the state to monitor working conditions in the fields. (Sacramento Bee, July 7, 2008)

"What a travesty," our four organizations wrote at the time. "Only 17 inspectors to supervise the 1,400 sub-contracting agencies! The workers are dying before their very own eyes with so few inspectors. What they are proposing is absolutely inadequate. This, of course, is the direct consequence of the budget cuts demanded by the governor and implemented by the politicians in both major parties." (El Organizador, July 8, 2008)

The statewide monitoring process is close to useless -- only 60 seasonal state enforcement officers for a workforce totaling 650,000 farmworkers -- and these officers are only on the job for three weeks of each growi ng season.

Here is another sad truth: Today, one year later, Schwarzenegger insists that the state budget crisis prevents him from creating new positions to monitor and prevent workers' injuries and possible deaths. Who can accept such arguments when workers' lives are at stake? The money exists to protect workers on the job: Tax the rich!

But not only is there insufficient monitoring to prevent further deaths in the fields, the very heat illness-prevention laws instituted under Schwarzenegger are totally inadequate. There are loopholes in them wide enough to drive a tractor-trailer through them.

The heat-illness laws, for example, have no strict enforcement liabilities. Worse still, the legislation allows for "employer self-enforcement." CAL-OSHA does not require a contractor to undergo a state safety-training program to receive certification.

And there is more: A recent law exonerates the large agricultural bosses from all responsibility in the accidents or deaths involving workers in their fields. All responsibility is placed on the sub-contracting farm agencies. And even when the sub-cont racting agencies have their licenses suspended, as occurred with the Merced Farm Labor Contracting Co. after the death of María Isabel Vasquez Jiménez, those licenses are renewed when the agencies re-apply under a new name.

In a statement released on May 28, 2008, Schwarzenegger stated that "Maria's death should have been prevented."

But how could her death have been prevented when California's farm laws are worded intentionally to accommodate the interests of the employers, rather than ensure the protection of the workers?

Governor Schwarzenegger is quoted in the April 24, 2009, issue of La Opinión as saying, "I fought for regulations to be adopted to protect the farmworkers who are toiling in extreme heat conditions in California. All employers and contractors must abide by these regulations, because all workers in California must be valued as such and treated with the greatest dignity." (our translation from the Spanish)

We have dealt above with the false claim that the current laws actually protect farmworkers from illness and possible death in extreme heat conditions. But there is more: How are we to believe a go vernor who calls for agricultural workers to be "treated with the greatest dignity" but who opposes the Employee Free Choice Act -- which enables workers to organize into unions of their choice -- while also supporting the heinous "guest-worker" programs that allow these workers to be treated as semi-indentured slaves.

The only way agricultural workers will be protected on the job and be treated with dignity is if (1) there are enforceable laws that are designed to prevent injuries and deaths, (2) the workers are unionized, with binding collective-bargaining agreements to safeguard their rights and working conditions, and (3) all undocumented immigrants are legalized, with full labor rights for all, and all "guest-worker" programs are abolished.

We are concerned that these three contractors will become the scapegoats for all those who bear responsibility for this death. That is why we reiterate our call for a complete overhaul of the farmworker safety protections, so that they protect workers on the job -- BEFORE there are more tragic injuries and deaths.

And we are concerned about two more things:

First, many of us were UFW organizers in the 1970s, when our strikes were attacked by the authorities in San Joaquin County, with many of our workers and organizers jailed and beaten for standing up for justice. We have little confidence that the DA in San Joaquin County -- an office notorious for siding with the growers -- will prosecute the case as it should be prosecuted, which is why we call for the trial to be moved to another county.

Second, we are deeply disturbed by the current UFW leadership's complicit relationship with the agri-business interests and the governor. Not only did the UFW support the toothless heat-illness prevention legislation, it has lobbied and worked closely with the governor and the bosses as a contracting agency for the "guest-worker" programs.

The UFW leadership, moreover, has consistently failed to invest time and money in organizing and mobilizing the agricultural workers. Were the UFW to do this, it would again be a visible and viable force in the agricultural fields. It would have the strength to compel the agri-business interests to enact laws that ensure the safety protection for all workers.

Farmworkers did not build the UFW to have it join forces with the governor and the agri-business interests to implement anti-worker health and safety legislation and anti-worker "guest-worker" programs. A full discussion is needed among the ranks of the UFW to reclaim the independent and fighting tradition of the movement built by our Brother César Chávez.

signed/

Al Rojas, President,
Frente de Mexicanos en el Exterior (FME),
Labor Council for Latin American Advancement AFL-CIO
former United Farm Workers union organizer (1964-1979),
retired California State Deputy Labor Commissioner
Sacramento, CA

Luis Magaña,
President,
Organización de Trabajadores
Agrícolas de California (OTAC)
Stockton, CA

Páramo Hernández
President,
Union Cívica Primero de Mayo
Sacramento, CA

Alan Benjamin and Rodrigo Ibarra
Co-editors
El Organizador
San Francisco, CA


We are 100% volunteer and depend on your participation to sustain our efforts!
Get Involved
If you'd like to help with maintaining or developing the website, contact us.