From the Open-Publishing Calendar
From the Open-Publishing Newswire
Indybay Feature
Thermitic Pyrotechnics in the WTC Made Simple
As this simplified summary of the findings of the paper, 'Active Thermitic Material Discovered in Dust from the 9/11 World Trade Center Catastrophe,' shows, the distinctive red-gray chips found consistently in dust samples from the destroyed Twin Towers are clearly an advanced engineered pyrotechnic material. It is not even remotely possible that the material could have been formed spontaneously through any random process such as the total destruction of the Twin Towers. Nor is it possible that the material was present in the Towers for some innocent reason. The chips are clearly the unexploded remains of a pyrotechnic material -- likely a high explosive -- that was present in the Twin Towers in large quantities.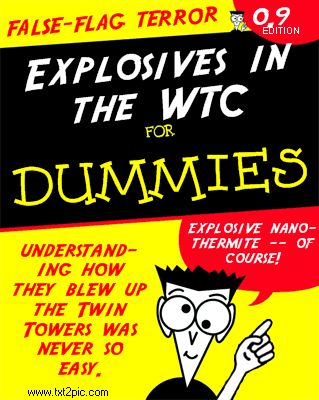 Introduction
The scientific paper Active Thermitic Material Discovered in Dust from the 9/11 World Trade Center Catastrophe provides, quite simply, proof that explosives were used in the destruction of the Twin Towers. Specifically, the paper positively identifies an advanced engineered pyrotechnic material in each of several samples of dust from the destroyed skyscrapers, in the form of tiny chips having red and gray sides and sharing a very specific three-dimensional structure, chemical composition, and ignition behavior.
The basis and validity of this identification can grasped quickly by anyone with a working knowledge of physics and chemistry. They need only read the paper's one-page conlusion, and perhaps its section describing the provenance of the dust samples.
But what of the reader whose strong suit isn't the hard sciences? Does one have to be an expert to understand the findings and evaluate the many claims thrown up by "debunkers" to dismiss those findings?
Fortunately, the answer is no. The central observations of the paper can be understood by any intelligent person with some effort. In this thumbnail summary of the paper's findings, I focus on three easy-to-remember features of the red-gray chips established by the paper -- features that undeniably show that the chips are a high-tech engineered pyrotechnic material. Because my description includes some technical language, I have provided a glossary for the benefit of the non-technical reader.
We are 100% volunteer and depend on your participation to sustain our efforts!
Get Involved
If you'd like to help with maintaining or developing the website, contact us.