From the Open-Publishing Calendar
From the Open-Publishing Newswire
Indybay Feature
Related Categories:

California | Animal Liberation
BEHIND THE WAHL: Exclusive Interview with Ken Wahl, animal activist and actor
Ken Wahl is not just an extremely good looking and talented actor but he's also an animal activist. He and his wife Shane Barbi one of the Barbi twins are ardent animal lovers taking in stray cats and dogs from Los Angeles City animal shelters. They also publicly speak out for animal causes.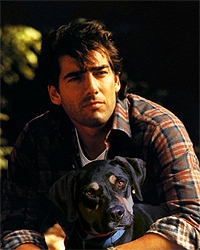 AN INTERVIEW WITH ACTOR/ACTIVIST KEN WAHL WHO TALKS ABOUT THE DOWNSIDE OF STARDOM AND THE UPS AND DOWNS OF LIFE.

A picture says a thousand words, but an interview tells the real story.   The rugged good looks are undeniable—Ken Wahl today is still as handsome and charismatic as we remember him on television, in movies and on magazine covers.  Once voted US magazine's "Sexiest Man," Wahl's acting catapulted him into the A-list crowd and garnered numerous Emmy Award nominations and a Golden Globe win for "Best Actor".

Wahl got the ultimate big break when he walked onto the set of the "Wanderers" as an extra and was discovered by legendary director Phil Kaufman, who recognized his natural acting talent and cast him as the leading man.  With his Elvis good looks and sex appeal, keeping his name in lights was never a problem for Wahl.  Billed as the next John Travolta or Tom Cruise, top agents scrambled to represent him.  Over the years, he starred in many big screen block-busters including "Fort Apache The Bronx", with Paul Newman, "The Favor" with Brad Pitt, "Jinxed" with Bette Midler, "The Dirty Dozen", "Purple Hearts" and many others.  But it was his dynamic role in "Wiseguy", the highly successful television series, that kept his name in the limelight.  So it's easy to see why fans were left wondering when he disappeared from show-business overnight.  Strange, to be sure, for such an accomplished star, but for Wahl, the razzle-dazzle of Hollywood was something he was not all that comfortable with and it was never as interesting to him as it was to his fans.  

­Although Wahl's acting career started out like a Hollywood fairy tale, it didn't end that way.  Tragedy struck at the height of his stardom.  A devastating fall down a marble staircase left him with a broken neck.  Wahl's disappearance from Tinseltown had begun.  Although he did his best to conceal this secret from Hollywood higher-ups so he could return to work, as time went on, he got further and further away from his acting career.  Several botched surgeries resulted in seizures, and chronic debilitating pain from the injury which never healed properly.   Ken claims that one of his managers tried to deny Ken's disability in order to keep the commissions coming in, but after a rigorous investigation by government officials, Ken was declared permanently disabled and told he would never work again.  Making matters worse, says Wahl, those closest to him at the time, including business management professionals, stole from him while he was in the hospital.  What ensued over the next few years was a cumulative financial free fall for Wahl, and he now alleges that he was defrauded out of millions of dollars and left in excessive debt.  

Fast forward to the present where a lawsuit is being filed in California Superior Court by Wahl against all of the perpetrators of the crime. Looking back, Wahl's dream from early on was to become a professional baseball player.  The closest he got was when his dear friend and co-star, Paul Newman wrote a letter to the manager of the White Sox stating, "Ken would rather be a baseball player for the Sox than an actor; though I wish my boy would stick with acting since he is a natural."  The touching letter from Newman is one of Wahl's most prized possessions.  Ironically, Joe DiMaggio once approached him and offered to sign the Yankee baseball hat that the actor was wearing.  As much as Wahl was a fan of the great DiMaggio—it turned out that DiMaggio was a big fan of his.

Plenty of celebrities leave friends and family behind once they reach A-list status.  But that's not Ken Wahl, as those who have been on the receiving end of his generosity can attest.  Even before his rise to Golden Boy status in Hollywood, in the back of his mind was the ongoing welfare of his family back in Chicago.  Once Wahl hit star billing, he was happy that he could give them whatever they needed.  And, Wahl's generous nature didn't stop there.  Many of his friends who hit hard times looked to the star for help.

He says that, the crazy business of Hollywood that he was growing ever more uncomfortable with, was at the same time the financial ticket out of hardships for those he loved.  So his acting continued even though his love for the business did not. 

His first marriage ended in the aftermath of his accident.  Blessed with a handsome son, Ray, he now reflects, "My ex-wife wanted fame and fortune, big houses and movie premieres, but I kept telling her I wasn't that guy."  Known for being under- stated, Wahl was seldom seen at hot spot eateries or wearing expensive designer clothes.  Others may have thrived off his fame and fortune but he explains, "I've always been happy with simple things in life and that never changed." Hollywood glamour and success didn't erode his humble qualities.  When asked to do a cover for TV Guide, titled "Wahl Street" he insisted that the cast be included.  And when Larry King asked why he chose not to do interviews, Wahl said, "It's embarrassing when I don't find myself interesting.  I'm a very boring person."

"I have always regretted doing the few interviews I was obligated to do because I wasalmost alwaysmisquoted and misunderstood," he says.  One article in particular went so far as to say that  Wahl had been "fired" and  attributed this to his untimely disappearance from the Hollywood scene—which wasn't true.  In fact, Wahl didn't even show up on awards night to pick up his Golden Globe at the ceremony.  He explains it wasn't because he was ungrateful… he just felt extremely shy going to Hollywood events.

Wahl vanished from the limelight leaving many opportunities behind.  Today he enjoys his privacy and being away from the glaring lenses of the cameras.  Thankful he was always in high demand, he says, "I'm forever  grateful for all the major producers who offered me numerous opportunities for huge come-backs.  Maybe it's for the best, I just didn't have the personality to be famous and felt out of place in the limelight." 

His rough days continue and he still struggles with pain management.
Ken fights his disability by helping his favorite causes: animal charities and United States military veterans.  His present wife, Shane Barbie, is his full time caretaker and an animal activist as well.  The couple share a rescued cat, "Sweetest" (from Stray Cat Alliance) and a rescued dog from a Los Angeles  city pound called "Mr. Puppy".  Caring for the foster animals they rescue from kill shelters, Wahl and Shane now live in Tucson, Arizona where they continue to help rescue horses from slaughter.

Happiness is not having everything you want, but wanting everything you have," says Wahl.  "I have all of my fingers and all of my toes, so today I am happy."

tags: ken wahl, actor, activist, animals, shane barbi, barbi twins, lawsuit, disability, all around great guy, tmz, screen actors guild, manager
We are 100% volunteer and depend on your participation to sustain our efforts!
Get Involved
If you'd like to help with maintaining or developing the website, contact us.