From the Open-Publishing Calendar
From the Open-Publishing Newswire
Indybay Feature
Related Categories:

East Bay | Police State & Prisons | Racial Justice
Oscar Grant and Other Victims of Police Violence Need You on Thursday March 19th
There are anti-war events going on all over on March 19th and obviously U.S. imperialism abroad is a crucial issue in our time. Rest assured, though, that there will be hundreds if not thousands of other people across Northern California demonstrating against U.S. wars on Thursday, just as we have done for the last seven years since before the war on Iraq even started. There will also be anti-war events you can attend Friday, Saturday, and Sunday depending on where you live. On Saturday in San Francisco, for instance, there will be a large ANSWER rally, and there will be an Anti-Authoritarian Bloc at that march as well. But the war at home against people of color by local police needs you to be one of the few to stand for justice at Rockridge BART on the 19th. If you are not already 110% committed to an anti-imperialism action on Thursday, please seriously consider directing your time and energy to the war at home this one day this week.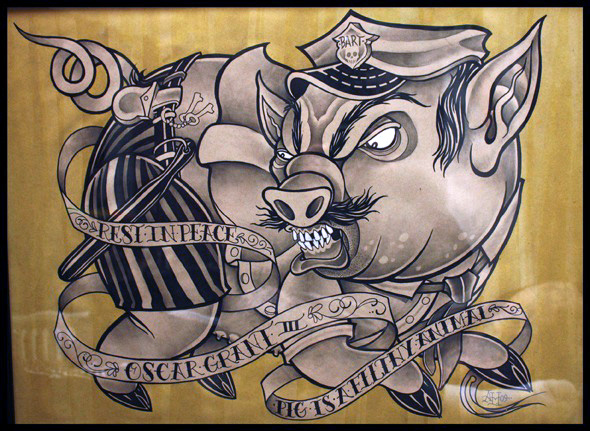 Anita Gay, Casper Banjo, Andrew Moppin, Oscar Grant, the list goes on and on, and those are just the East Bay police murders in the last year. BART itself has murdered three people of color since it began operating. Oakland police have shot 45 people and killed 15 in the last 5 years. Five OPD cops have shot more than one of those people and are still on the payroll. None of the cops in any of those shootings and murders has been disciplined in the slightest way. And of course not a single one of the victims of those police shootings was of European descent.

Standing against the war at home going on in the streets of America is no less important than protesting wars abroad, and the time is right to keep that fight up right here in our very back yard. This violent war by militarized police forces against people of color has been going on as long as this country has existed, but now we find ourselves at a key moment in history where, since January 1st, a new consensus and momentum has converged around seeking justice for the murder of Oscar Grant. Johannes Merhserle was charged, yet the job is very far from done... Tony Pirone struck Oscar Grant several times, on video no less. Not one of the officers on the platform that night even bothered to report a shooting or call for medical help while Oscar Grant lay bleeding on the platform -- they handcuffed him instead. BART Chief Gary Gee has tried to cover it all up since day one, going so far as sending a memo to officers on how to direct money for Mehserle's benefit. And DA Tom Orloff has been less than convincing that he will follow through with a successful conviction of even just Mehserle. All of these cops need to be held to account for their actions, but the only way that will happen is if people like you and me are willing to stand up for justice in a sustained way. It's far too early pat ourselves on the back for Mehserle's arrest and throw in the towel. We have pushed back against the system and gotten a taste of justice. Let's get more.

We cannot afford to let momentum die along with more victims of police violence here in the Bay Area. The nation and the world are watching. The time is right. The time is now. And the only group still standing that is trying to keep the pressure on BART and local officials is No Justice No BART, and they need your help, desperately. They can't go on forever without you. An Oscar Grant event a few days ago was canceled due to lack of turnout, as if the Bay Area can't fight for more than one cause at a time. Direct action gets the goods, as we saw after January 7th, and the time is right to keep up the heat via BART disruptions. If we expect someone else to show up to demand justice, if we bury our anger and outrage over police murders once again, if we become complacent, if we let the charge for justice go silent, well, the police would love nothing more than a return to business as usual. And it's people of color in the Bay Area that will pay the price with their very lives.

There will be plenty of others standing up against U.S. imperialism on March 19th. And you can easily take part in other anti-war events throughout the weekend. On Thursday, though, stand up for justice for Oscar Grant and be there at Rockridge BART at 4pm. Let's fight the war at home too!
We are 100% volunteer and depend on your participation to sustain our efforts!
Get Involved
If you'd like to help with maintaining or developing the website, contact us.