From the Open-Publishing Calendar
From the Open-Publishing Newswire
Indybay Feature
The Criminal Cover-up Of Pam Marrone's Agraquest Operation
The Davis biotech company Agraquest which was owned by Pam Marrone has been engaged in a criminal conspiracy to cover-up it's illegal use of fungus and bacteria without informing California and US oversight agencies being made aware of their use. As a result biotech worker David Bell and other workers have been subject to contamination and sickness from these substances. The Davis community health and safety was also put in jeopardy when the company instructed Bell and other workers to dump these substances on the grounds.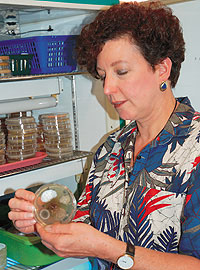 FOR THE FIRST TIME, IN THE NEARLY 10 YEAR STRUGGLE OF DAVID BELL, IT CAN BE PROVEN WHAT THE BIOLOGICAL RESEARCH & DEVELOPMENT COMPANY, AGRAQUEST IS AND HAS BEEN CONCEALING
By AQ finally making the "public statement" about David Bell and his workplace exposure in the October 2008 issue of the California Aggie, "Local biotech employee says health affected by work", it can now be proven what AQ has been withholding and concealing.
The California Aggie's article refers to AQ's product. Serenade as well as Histoplasma:
"A written statement from AgraQuest said that the Bacillus subtilis strain is the only active ingredient in AgraQuest's product Serenade, a project Bell was working on. "It has been tested in accordance with EPA and EU guidelines for microbial pesticides and poses no significant risk to handlers or the environment used according to label instructions," the report says."
Serenade's active ingredient is the bacterium, Bacillus subtilis strain, QST 713 (formerly QRD 713), which was discovered by AQ scientist, Sherry Heins in a peach orchard in Fresno, California.
•All of the AQ products on the market which contain Bacillus subtilis ARE the strain QST 713.
What was not disclosed in the written statement from AQ is that David was not only exposed to AQ's product Serenade, Bacillus Subtilis Strain QST 713, but numerous strains of bacteria and fungi., specifically bacillus subtilis strain - AQ 153, which was also being tested at AQ.
•The Bacillus subtilis strain AQ 153 was discovered by George Vandemark (not with AQ) and was deposited with the American Type Culture Collection as ATCC 55614 by Agritope in Oregon.
•Bacillus subtilis AQ 153 is a different strain of bacillus subtilis than the strain of Bacillus Subtilis used by AQ in their Serenade product, (QST 713).
The application that Agraquest founder and CEO, Pam Marrone filed with the United States Patent Office for the registration of United States Patent 6,004,774 on 11/25/1998 (listing the four AQ scientists as inventors) lists Bacillus Subtilis strain AQ153 [ATCC 55614] (ACTIVE INGREDIENT) is the only bacillus subtilis strain listed. This is the same patent which says, "to treat human fungal diseases", "disseminated disease" and "for example, Aspergillus sp, Histoplasma sp, and Tinea sp."
Further, only 4 days after David first sought emergency medical care all four scientists from AQ started signing over their interest rights to U.S. Patent 6,004,774.
Agraquest does not make these well documented facts public.
[Histoplasma was detected in David's blood serum as well as he tested HIGH POITIVE in test for IgG Anitiodies to Aspergillus (showing levels of exposure and antibiodies his body had built up as a defense against it)]
It should be noted; histoplasma IS NOT endemic to the valley in which David lived or worked and in fact is found in dry and humid climates.
The Fungus and Bacteria of Deregulation and Biotech Worker David Bell
http://www.workersmemorialday.org/documents/fungus.htm
http://biotechawareness.com/
BIO-TECHNOLOGY AWARENESS
Is Biotechnology used in Agriculture Really that Safe?
Bio-Tech Awareness
Welcome to Bio-Tech Awareness
Friday, 05 December 2008 20:50 administrator