From the Open-Publishing Calendar
From the Open-Publishing Newswire
Indybay Feature
Emily Jacir, "Where We Come From", Showing at the SF MOMA
In a small room in the SF MOMA museum, as part of an exhibit about passages and memory, photographs from Palestine are presented. The title of the photo display is "where we come from" and it's a representation of interviews the artist Emily Jacir did with Palestinians in the Diaspora and Palestine. Jacir asked her interviewers to answer the question "if I could do anything for you, anywhere in Palestine, what would it be?"
The wishes are mixed and Jacir follows them and takes pictures of the objects of their desire. In one she is asked to water a tree in village that had been demolished in the Nakba of 1948. In another she is asked by a Palestinian refugee to light a candle in Haifa, the town from which the person's family was exiled. Some requests do not stop at a symbolic act, and the subject asks Jacir to do basic things such as paying the gas bill or visiting a love one; things that are impossible for those living under the Israeli apartheid rule.
Jacir photo-essay breaks away from the very abstract notion of "memory and passages", and in general from the rest of the exhibit. Unlike other art display surrounding "where we come from", this show cannot attempt to evoke a personal experience that everyone can sense. None of the visitors at that weekend showing had ever been to Palestine, and none have ever felt what it means to be disposed, uprooted, and to have ones mobility confined. Jacir's show deepens the understanding of memory and passages in its very personal and traumatic stories of the Palestinian Diaspora (and Palestinians in general). However, despite people's inability to experience the oppression of the subjects, by evoking the simple requests of those who are oppressed, Jacir allows the viewer to relate and overcome this contradiction.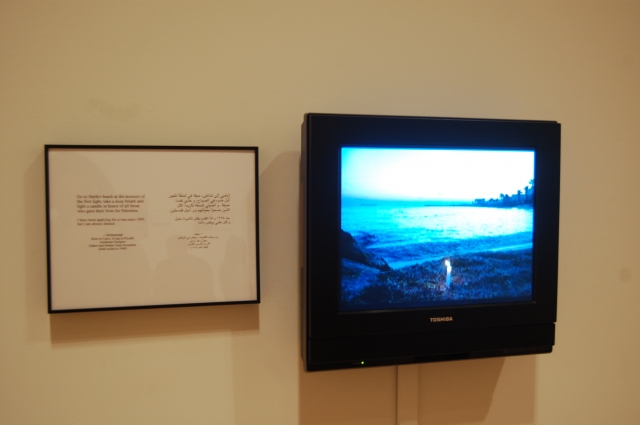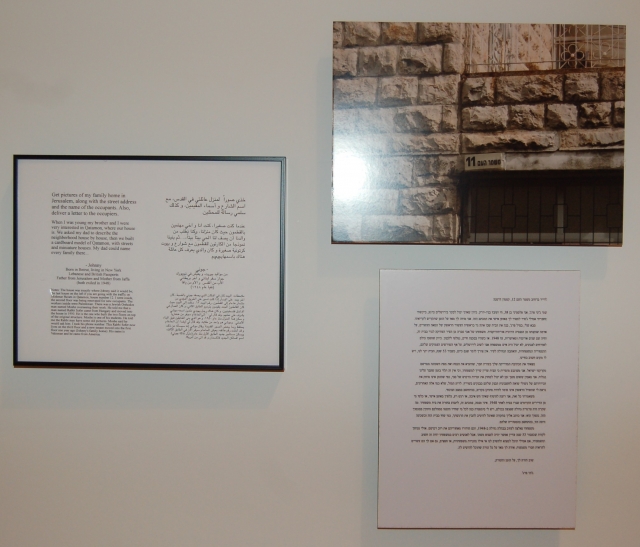 In one of the pieces (shown above) Jacir is asked to carry a letter to the people who are now living in a house that used to belong to the person's family. The family was exiled in 1948 by the Israeli army to Lebanon. The neighborhood is called Old Qatamon. The letter is written in Hebrew and I could not find any translations to it in the exhibit, which I assume is because it is directed at the Israelis who come to SF on vacations, or to the broader Jewish community. I added a translation to it here (im not a very good translator).


"to the person who is living in Mishmar Haam St. Old Qatamon.
My name is Joni Phargh and I am a 38 year old Palestinian who lives and works in New York. Since I cannot visit Jerusalem, I have asked my friend Emily Jacir to give this letter to you personally. I thank you for the time that you are willing to give in reading it.
My grandpa, Basil Fregh built the house that you are living in, at the start of the century, on land that was bought from the Creek Orthodox Church. My father's family moved to live in this house from Jerusalem's Old City, and lived a very long and happy life there until 1948. In 1948 they were under a life threatening situation and had to escape to Lebanon. Since they all become Lebanese citizens, none of my father family could come back to Jerusalem, despite their deep roots in the city, the family history, and the love for the city. Needless to say, even after 53 years the house is important to us and it has a central place in our lives.
I found the address with the help of a friend who has found the house thanks to a government map. I'm morally convinced that the house still belongs to our family, and that this is not erased by the time we spent in the Diaspora. I believe that time cannot erase my father's property rights, just as time cannot erase the right of holocaust survivors to their bank accounts in Swiss banks. Unfortunately, unlike the latter, I believe that my family injustice will not be fixed very soon, considering the current situation.
After saying all of this I would like to add that I do not feel any hatred or bad feeling towards you on a personal level, or towards anyone who lived in the house after 1948. In this letter I am not trying to demand that the house of my family be given back to us. What happened was a big tragedy that hurt everyone, and took everyone's life off its normal path. On the contrary: I'm writing to you in an attempt to understand your feelings as someone who has been living in this house and neighborhood for a while.
My family had to leave in a big rush and fear and they had to leave behind most of their property. It might be silly to hope that after 53 years their might be a chance of finding something, but for the people in my family it would be important and meaningful if you can find some of our personal belongings, even if to you they might seem meaningless. I will thank you for any help that you can offer.
Again thank you for the time and effort,
Joni Phragh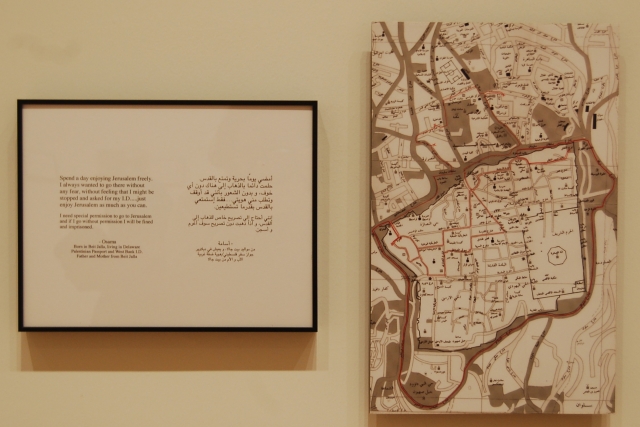 We are 100% volunteer and depend on your participation to sustain our efforts!
Get Involved
If you'd like to help with maintaining or developing the website, contact us.