From the Open-Publishing Calendar
From the Open-Publishing Newswire
Indybay Feature
View other events for the week of

1/21/2009
SF Presidio Slide Presentation & Discussion: The Philippine-American War in Political Cartoons
Date

Wednesday January 21

Time

7:00 PM

-

8:00 PM

Import this event into your personal calendar.
Location Details
Presidio Officers' Club
50 Moraga Avenue
San Francisco

Event Type

Other

Organizer/Author
Philippine US History

A special video presentation of "The Forbidden Book" will take place at the SF Presidio Officer's Club on January 21, 2009 at 7:00 PM. The Presidio is presenting a significant exhibition on the role of US imperialism in the Philippines and the resistance by the Filipino people and the US anti-imperialist league which included Mark Twain

1/21/2009 SF Presidio Slide Presentation And Discussion of The Making Of The Forbiddent Book:The Philippine-American War In Political Cartoons

The Making of The Forbidden Book: The Philippine-American War in Political Cartoons

Wednesday, January 21, 2009, 7 – 8 pm

Presidio Officers' Club

A slide presentation by authors Abraham Ignacio and Jorge Emmanuel. A book signing will follow the talk

http://www.tibolipub.com/filam/forbidnbook.htm

The Forbidden Book: Color Black and White

Edited by Abe Ignacio, Enrique De La Cruz, Jorge Emmanuel

and Helen Toribio

ISBN 1-887764-61-5,

186 Pages,

12 X 9 Full Color

(Softbound $24.95; Case Bound $65.00)

The brutal war waged by the United States against the Filipino people at the turn of the century has been shrouded in darkness for a long time, the truth concealed from generations of Americans.

THE FORBIDDEN BOOK brings that shameful episode in our history out in the open, with a wonderful combination of crystal-clear text and extraordinary cartoons.

http://www.ourownvoice.com/books/2005forbidden.shtml

The Forbidden Book: The Philippine American War in Political Cartoons

by Abe Ignacio, Enrique de la Cruz, Jorge Emmanuel, Helen Toribio

T'Boli Publishing and Distributor

P.O. Box 347147, San Francisco

CA 94134

Phone: 415-337-5550

E-mail:

tiboli [at] comcast.net

In January 1900, the Chicago Chronicle published a political cartoon called "The Forbidden Book." It showed President William McKinley refusing to give Uncle Sam the key to a padlocked book entitled "True History of the War in the Philippines." Shortly thereafter, a war that saw the deployment of 127,000 U.S. troops to the Philippines and the deaths of hundreds of thousands of Filipinos between 1899 to 1902 was relegated to the footnotes of history. The authors of a new book on the Philippine American War use some 200 political cartoons as a means to unlock the history of that war.

Eighty-eight colored cartoons are taken from the pages of popular magazines like Puck and Judge. About 133 black-and-white political cartoons are reprinted from newspapers including the San Francisco Evening Post, New York World, Washington Post, Boston Globe, Philadelphia Inquirer, New Orleans Times-Democrat, Minnesota Journal, St. Louis Republic, Detroit News, Denver Evening Post, Los Angeles Times, etc. as well as journals such as Life, Harper's and Collier's Weekly. Twenty-seven historical photographs are added to compare with the cartoons' stereotypical depictions.

The Introduction discusses America's economic transformation after the Civil War, Manifest Destiny, the conditions facing the "other" America (immigrant labor, native Americans, Blacks, and Chinese), the Philippine Revolution for independence from Spain, Cuba and the Spanish American War, the decision to annex the Philippines, the start of the Philippine American War, and opposition by the Anti-Imperialist League. The cartoons are divided into nine major themes and introduced by essays at the beginning of each chapter. The Epilogue describes how the Philippine American War came to be forgotten and the aftermath of the U.S. conquest of the Philippines. Readers will find striking similarities between a U.S. war fought more than a century ago and the events of today.

About the authors: Abe Ignacio is an avid collector of Filipiniana materials from the Philippine American War and received his BA in ethnic studies from the University of California at Berkeley. Enrique de la Cruz is professor of Asian American studies at California State University at Northridge and received his doctorate in philosophy from the University of California, Los Angeles. Jorge Emmanuel is president of a research firm and received his Ph.D. in chemical engineering from the University of Michigan where he was also an associate of the Center for South and Southeast Asian Studies. Helen Toribio is Lecturer in Asian American Studies at City College of San Francisco and San Francisco State University, and received her MPA from California State University at Hayward and MFA from University of San Francisco.

The brutal war waged by the United States against the Filipino people at the turn of the century has been shrouded in darkness for a long time, the truth concealed from generations of Americans. THE FORBIDDEN BOOK brings that shameful episode in our history out in the open, with a wonderful combination of crystal-clear text and extraordinary cartoons. The book deserves wide circulation.

—Howard Zinn, Professor Emeritus, Boston University; author of A People's History of the United States

Brimming with insights into the beginnings of American imperial policy overseas, this book reconstructs an era that was to shape and refine U.S. intervention in the modern world. Through political cartoons in an era when the colonizer itself worked to hide the truth from the American people about the forgotten war a century ago, this book restores for the present generation a past marred by misinformation, racism, blind patriotism and outright lies. A thought-provoking education about the miseducation of the American people by arrogant imperial leaders whose successors never seem to learn the lessons of history. A particularly relevant book which makes it essential reading for the present generation of Filipinos and other colonial subjects of the modern PAX AMERICANA.

—Roland G. Simbulan, Professor of Development Studies & Public Management, and Vice Chancellor, University of the Philippines

In this extraordinary collection of political cartoons from the period of the Philippine-American War and subsequent colonization, frank visual satire and caricature vibrate with 'forgotten' histories from the turn of the 19th century: they link U.S. imperial conquests in the Pacific to those in the Caribbean, refract American perceptions of Filipinos through its devastating treatments of blacks and native peoples, explicitly admit U.S. ambitions to employ not only war, but education and culture, to surpass the reach and power of the European empires by the end of the 20th century. These 'forbidden' images are windows onto an earlier moment in the history of American empire, a history in which we still live and struggle today.

—Lisa Lowe, Professor of Comparative Literature, University of California, San Diego; author of Immigrant Acts.

http://www.presidio.gov/calendar/war.htm

War and Dissent: U.S. in the Philippines 1898-1915

Goldsworthy at the Presidio Exhibit

Water+Color: California Watercolor Association 40th Annual National Exhibition

Visit Arion Press

Page Content

WAR AND DISSENT: U.S. IN THE PHILIPPINES 1898-1915

October 22, 2008 to February 22, 2009

War and Dissent:

U.S. in the Philippines 1898-1915

October 22, 2008 - February 22, 2009

Wednesday to Sunday, 11 am to 5 pm

Presidio Officers' Club

50 Moraga Avenue

FREE

(closed Christmas Day and New Year's Day)

The Spanish-American War of 1898 -- and the Philippine War that immediately followed it -- were turning points in the United States' role in the world and had a great impact on the Presidio of San Francisco. The war in the Philippines also triggered strong dissent within the United States as the nation changed from a republic based on the consent of the governed to the possessor of a colonial empire.

This mixed media exhibit of photographs, San Francisco monuments, diaries, letters, political cartoons, recordings, maps, and flags looks at the Spanish-American and Philippine Wars from several points of view, including Filipino points of view, in nine themed galleries.

FREE EXHIBIT PROGRAMS

SPECIAL EVENTS

Shadows of War Performance: The Lopez Family in the Philippines 1901

Thursday, December 4, 7-8 pm

Thursday, January 8, 7-8 pm

Thursday, February 5, 7-8 pm

Presidio Officers' Club, 50 Moraga Avenue

Produced by San Francisco's Bindlestiff Studio, this multi-media dramatic production inspired by the exhibition will feature Filipino-American actors and live music.

Filipino Jazz Fusion Concert performed by Little Brown Brother

Friday, December 19, 7-9 pm

Presidio Officers' Club, 50 Moraga Avenue

Rich African-American traditions of jazz and blues are at the core, but there are many other influences that add flavor to the mix. There is a definite worldbeat texture and attitude to the music – borrowing from the indigenous Filipino music and instruments and the heavily Spanish influenced traditional Filipino music of the Philippines.

The Making of The Forbidden Book: The Philippine-American War in Political Cartoons

Wednesday, January 21, 2009, 7 – 8 pm

Presidio Officers' Club

A slide presentation by authors Abraham Ignacio and Jorge Emmanuel. A book signing will follow the talk.

TEACHERS!

Plan a field trip to the Presidio to visit the exhibit with your class, or download a free War & Dissent teacher resource guide at

http://www.presidio.gov/teachers

. The exhibit is geared toward 8th, 10th and 11th grades and addresses the California History/Social Science Standards covering imperialism and the role of the U.S. as a world power in the twentieth century. The exhibit combines primary documents and multimedia to analyze the racial, economic, and political implications of U.S. involvement in the Philippines. Limited transportation is available at no cost. For more information or to schedule a visit, contact Lisa at

lhillstrom [at] presidiotrust.gov

or visit

http://www.presidio.gov/teachers

.

RANGER WALKS

National Park Service Rangers and Docents will lead weekly walks in the Presidio on the themes of the Spanish-American War, the Philippine War, and the Buffalo Soldiers. For more information or to RSVP, please call (415) 561-4323. All walks begin at the Presidio Officers' Club.

Saturday, December13, Little War, Big Impact, 1-2:30 pm

Sunday, December 14, Buffalo Soldiers in a Jim Crow Army, 1-3 pm

Saturday, January 10, Little War, Big Impact, 1-2:30 pm

Sunday, January 11, Buffalo Soldiers in a Jim Crow Army, 1-3 pm

Sunday, January 18, Little War, Big Impact, 1-2:30 pm

Sunday, February 15, Buffalo Soldiers in a Jim Crow Army, 1-3 pm

Saturday, February 7, Little War, Big Impact, 1-2:30 pm

Sunday, February 22, Little War, Big Impact, 1-2:30 pm

BE A VOLUNTEER DOCENT

Share your enthusiasm for history and the Presidio by volunteering as a gallery docent. Trainings will be led by Presidio Trust Historian and Exhibit Curator Dr. Randolph Delehanty. For more information, email Mira Bieler at

mbieler [at] presidiotrust.gov

or call (415) 561-4007.

http://www.sfgate.com/cgi-bin/article.cgi?f=/c/a/2008/11/14/BAUL143BEH.DTL

U.S. war with Philippines told in Presidio exhibit

Carl Nolte, Chronicle Staff Writer

Friday, November 14, 2008

A new exhibit in one of San Francisco's oldest buildings tells the story of America's nearly forgotten war in the Philippines, a struggle with heroes, atrocities, tragedies, and a strong anti-war movement in the United States.

San Francisco was a major port of embarkation and staging area for the war, and reminders of the battles in the Philippines are all over the city - including the magnificent Dewey monument in Union Square commemorating the American naval victory at Manila Bay in 1898.

"Monuments without memories," historian Randolph Delehanty calls the city's reminders of the Philippine war. He is the curator of a free exhibit in the Presidio on the Philippine-American War that dragged on for close to 17 years and is virtually ignored in the history books.

"Americans know nothing about this war," Delehanty said. "This is not another exhibit about the Civil War."

Delehanty's exhibit, "War and Dissent," fills nine galleries at the Presidio's Officers' Club, a building that dates to the days when the Spanish ruled not only the Philippines, but California as well.

The war started with a glorious victory over the Spanish fleet on May 1, 1898, when Commodore George Dewey gave a laconic order to the captain of the cruiser Olympia. "You may fire when ready, Gridley." Dewey said. Gridley did and the Spanish fleet in the Philippines was annihilated.

The Olympia was built at a San Francisco shipyard, and the monument to Dewey's famous victory is the centerpiece of Union Square. The Spanish-American War also helped make the United States a power in the Pacific - and produced an economic boom in San Francisco.

The colonial yoke

It began with the aim of helping rebels in Cuba free themselves from what was described as the cruel Spanish colonial yoke. But while President William McKinley backed giving Cuba its independence, he decided that the United States should keep the Philippines for itself. The other spoils of the Spanish-American War: Puerto Rico and Guam.

The Filipinos resisted trading one colonial master for another. After a tense standoff between the American army of occupation and Filipino insurgents, shooting broke out near Manila, and a long and bitter war followed.

It began as a setpiece war, with armies facing each other, and then evolved into a guerrilla struggle all over the Philippines. It didn't end until 1915, when Muslims in the southern Philippines finally gave up.

More than 4,300 U.S. troops died in the war, about the same number who have died in the war in Iraq. Filipino forces lost an estimated 16,000 to 20,000. There were many more civilian deaths.

San Francisco was a center of the war effort. American troops, mostly volunteers and later some Regular Army soldiers, came to San Francisco to be trained and shipped to the Philippines - at first to fight the Spanish and occupy the islands. Later, they fought the Filipinos.

The troops lived in tent cities in what is now the city's Richmond District. The Presidio, says Delehanty, was transformed into a major military post. More than 100,000 U.S. soldiers served in the Philippine war.

One of them, Sgt. Hiram Harlow of the 51st Iowa Volunteers, was shipped to San Francisco and later to the Philippines, where he saw combat against Filipino insurgent troops.

He kept a diary. Years later, his grandson, Allan Harlan, who lives in Sacramento, found the diary and 80-year-old photographs. He wrote to Presidio historians. "He wanted to know why his grandfather had been in the Philippines," Delehanty said.

Sgt. Harlow's old pictures - showing American troops moving in a skirmish line, scenes from villages and towns, soldiers and rebels - are the heart of the exhibition.

There are also excerpts from a book about the Lopez family, wealthy Filipino planters who had conflicting views about the war with the United States.

Some of the family's men were rebel army officers, and some urged cooperation with the Americans. "It was a complex war," Delehanty said.

There were heroes: Frederick Funston, an American general, captured Emilio Auguinaldo, the Philippine president, by a combination of guile and bravery. There was tragedy: the infant Philippine republic was torn by internal divisions, which led to its defeat.

There were also atrocities. Some were committed by Filipino troops when the war went into a guerrilla stage, but others were committed by American forces determined to fight guerrilla tactics. Anti-war forces seized on the atrocities to make a point that the war was a battle unworthy of American principles.

One congressional hearing heard evidence about American use of torture, including a method called "the water cure."

The most infamous incident involved an order by U.S. Army Gen. Jacob Smith to a Marine officer. He told him to make the island of Samar "a howling wilderness."

"I want no prisoners," Smith said. "I wish you to kill and burn and the more you kill and burn the better it will please me. I want all persons killed who are capable of bearing arms."

By this, Smith said, he meant all males over the age of 10.

These reports from a long-ago war sound familiar, and so does the reaction in the United States.

The anti-war movement

One whole gallery in the exhibit is full of material from the anti-war and anti-annexation movement in America. Opposition to the war was formidable, both on the grounds that the United States should not be a colonial power and outrage over the conduct of the war by U.S. forces in the Philippines.

Among the foes were Mark Twain, San Francisco columnist Ambrose Bierce, David Starr Jordan, the president of Stanford University, and Andrew Carnegie, the industrialist.

"We have crushed and deceived a confiding people," Mark Twain wrote. "We have turned against the weak and friendless who trusted us, we have stamped out a just and intelligent and well-ordered republic ... we have debouched America's honor."

The Democrats ran on an anti-war plank in the election of 1900, denouncing annexation of the Philippines in "an unnecessary war" that sacrificed American lives and placed the United States in the "un-American position of crushing with military force the efforts of our former allies to achieve liberty and self-government."

But the turn of the 19th century was the high tide of colonialism. The United States won the war after a long struggle, kept the Philippines, and poured resources into the islands and promised eventual independence.

The United States lost the Philippines again after the Japanese invasion in World War II, but nearly all the Filipino people stayed loyal to the American cause until American forces returned in 1944.

The United States granted Philippine independence on July 4, 1946, but the Philippine government now celebrates June 12 as its independence day, in honor of the 1898 declaration of independence that led to war with the United States.

What might have happened had the anti-war side won in the United States, and the first Philippine republic not been crushed by the United States?

"I don't know," Delehanty said. "I'm a historian, not a soothsayer. I can only tell you what did happen."

'War and Dissent'

The exhibit "War and Dissent," on the Philippine-American War, is open from 11 a.m. to 5 p.m. Wednesday through Sunday through February at the Officers' Club in the Presidio. Free admission.

In addition, at 7 p.m. Thursday , Bindlestiff Studio, a local theater group, presents a dramatic production on the Lopez family in the Philippines during the Philippine-American War. The program will be repeated Dec. 4 and Jan. 8.

The National Park Service is offering walks in the Presidio to see sites from the Philippine-American War this Saturday, Sunday, Wednesday and Thursday. Call (415) 561-4323 for information.

E-mail Carl Nolte at

cnolte [at] sfchronicle.com

.

Shadows of War Performance: The Lopez Family in the Philippines 1901

Four Thursday Performances from 7 to 8 pm: November 6, December 4, January 8, and February 5.

Presidio Officers' Club

Produced by San Francisco's Bindlestiff Studio, this multi-media dramatic production inspired by the exhibition will feature Filipino-American actors and live music.

.

Added to the calendar on Wednesday Dec 24th, 2008 5:59 PM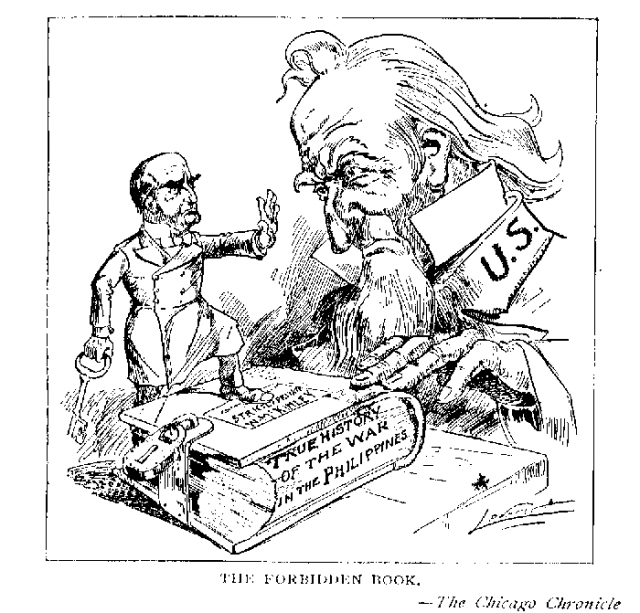 Pres Mckinley worked to prevent the history of war crimes against the Filipino people.
The bloody hands of US imperialism goes back over 100 years and this history is unknown by most US people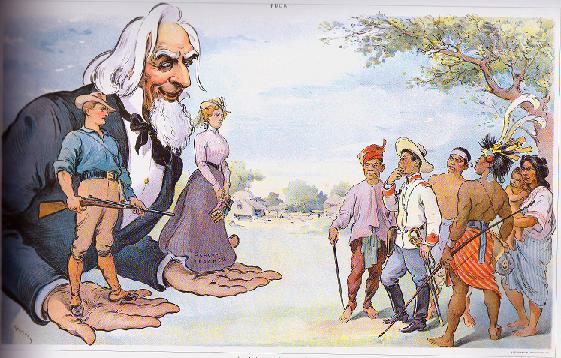 Picture From The Forbidden Book
We are 100% volunteer and depend on your participation to sustain our efforts!
Get Involved
If you'd like to help with maintaining or developing the website, contact us.