From the Open-Publishing Calendar
From the Open-Publishing Newswire
Indybay Feature
Thousands raid Barrick's North Mara mine, destroy $15 million in equipment
Why would "criminals" set fire to millions worth in mine equipment? How was it that these "intruders" had an estimated 3,000 people backing them up? In what appears to be a spontaneous civilian movement against Barrick Gold, the world's largest gold miner, thousands of people invaded Barrick`s North Mara Gold Mine this week in Tarime District and destroyed equipment worth $15 million. (photo of a "boma," or series of huts, in the Nyamongo village where the Mwita family lives. credit: Allan Cedillo Lissner, SomeoneElsesTreasure.blogspot.com)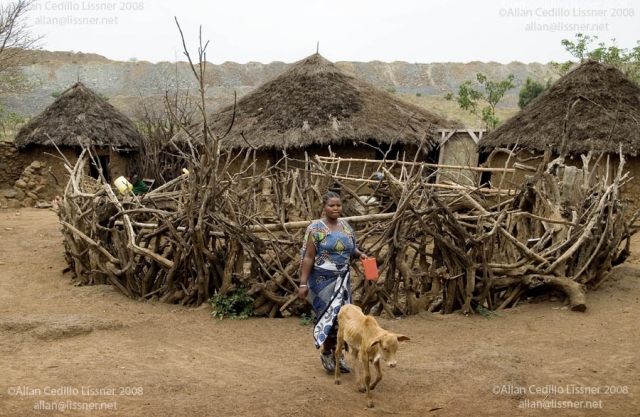 Why would "
criminals
" set fire to millions worth in mine equipment?
How was it that these "
intruders
" had an estimated 3,000 people backing them up?
In what appears to be a spontaneous civilian movement against Barrick Gold, the world's largest gold miner,
thousands of people invaded Barrick`s North Mara Gold Mine this week in Tarime District and destroyed equipment worth 15 million. According to a Barrick Public Relations officer (as reported by the Tanzanian Guardian newspaper),
"the intruders stoned the security personnel relentlessly until they overpowered them. The guards abandoned their posts and retreated to safety."
While Barrick implies that "high levels of crime" are the cause of this recent outbreak, recent reports suggest a different picture.
Allan Cedillos Lissner, a photojournalist who recently
documented
mine life near the North Mara mine, explains:
Ongoing conflict between the mine and local communities have created a climate of fear for those who live nearby. Since the mine opened in 2002, the Mwita family say that they live in a state of constant anxiety because they have been repeatedly harassed and intimidated by the mine's private security forces and by government police.  There have been several deadly confrontations in the area and every time there are problems at the mine, the Mwita family say their compound is the first place the police come looking. During police operations the family scatters in fear to hide in the bush, "like fugitives," for weeks at a time waiting for the situation to calm down. They used to farm and raise livestock, "but now there are no pastures because the mine has almost taken the whole land ... we have no sources of income and we are living only through God's wishes. ... We had never experienced poverty before the mine came here." They say they would like to be relocated, but the application process has been complicated, and they feel the amount of compensation they have been offered is "candy."

Evans Rubara, an investigative journalist from Tanzania, blames this action on angry locals from the North Mara area who are opposed to Barrick's presence there. "This comes one week after Barrick threatened to leave the country based on claims that they weren't making profit," comments Evans after explaining that Barrick does not report profit to avoid taxes in the country. "This is a sign to both the government of Tanzania and the International community (especially Canada) that Poor and Marginalised people also get tired of oppression, and that they would like Barrick to leave."
Allan also recalls hearing stories of violent confrontation against the company. "One journalist in the North Mara area told me a story about a Barrick helicopter being struck down by a group of kids who threw rocks at it."
One thing is sure, these reports of hundreds attacking mine infrastructure – a move that allegedly
took the life
of one civilian – reflects a resentment that goes beyond mere criminal action. And this surge in violence should be examined in the context of the on-going exploitation and repressive environment surrounding the mine.
We are 100% volunteer and depend on your participation to sustain our efforts!
Get Involved
If you'd like to help with maintaining or developing the website, contact us.