From the Open-Publishing Calendar
From the Open-Publishing Newswire
Indybay Feature
Related Categories:

California | Animal Liberation
Bay Area Groups Rescue 650 Hens
Animal protection groups from the Bay Area are now helping to place hundreds of rescued laying hens into permanent homes.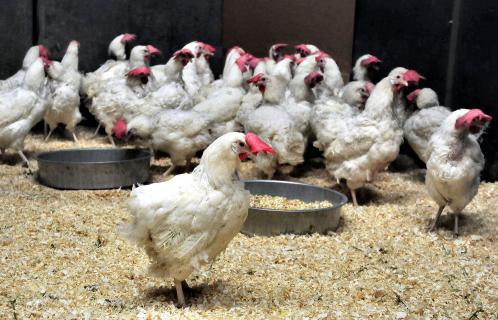 A rescue effort by local animal protection groups has saved 650 hens from a California egg farm. The hens were rescued on Friday and Saturday from battery cages and will soon be placed in permanent homes.
Coordinating the effort was Animal Place, a farmed-animal sanctuary and education center in Vacaville, about 45 miles northeast of San Francisco. Kim Sturla, Animal Place's director, is working with other local organizations to find homes for the hens. Sturla says these groups include Marin Humane Society, Sacramento SPCA and Sonoma Humane Society.
Although California voters recently approved a measure that will phase out battery cages and other intensive-confinement devices, that law will not take effect until 2015. Meanwhile, nearly 19 million hens languish in battery cages in California, making these 650 hens especially lucky.
All the birds rescued were considered "spent" hens. The egg industry deems a hen "spent" when her egg production has dropped and it's no longer economically viable to continue feeding her, typically after two years. (Today's hens are bred and raised to lay 260 eggs a year -- many times more than what is natural for them.)
The cages the hens were removed from typically house six or seven birds. All the hens had endured a standard industry practice called debeaking in which a hot blade is used to sear off the tips of their beaks in an effort to prevent them from harming one another amid the stressful, confined conditions. No painkiller is used during this procedure, which leaves the hen unable to eat or groom properly, and it is just one of the many miseries hens suffer in the egg industry. Not able to venture outdoors to enjoy the ground and sunshine and spending almost their entire lives packed into cages so tightly they could not spread a single wing, these hens were denied every natural instinct.
Not even death for egg-laying hens is humane. While federal laws and the California Humane Slaughter Act govern the methods to slaughter animals, these regulations do not apply to spent hens or small game birds. Thus, when spent hens go to slaughter, they are packed into a crate even more tightly confined than their battery cage. Assuming they survive the trip to the processing plant, each hen is then hung upside down and her head is dipped into an electrified tank of water intended to immobilize her. This method does not render every hen unconscious, however, and others simply hold their heads above the water. The birds continue to move along a conveyor belt system where, immobilized or not, their throats are cut. (Although it is not required in California, most processing plants make an attempt to stun the hens.)
Sturla describes the hens, who previously spent every moment in confinement, as relishing the open space, fresh air and sunshine. "After two years crammed into cages in a darkened shed, the hens weren't sure about things at first," she says. "But pretty soon they were basking in the sun and enjoying their first dust baths. It's wonderful for all of us at the sanctuary to watch them just be hens!"
Anyone interested in adopting the hens can contact:
Animal Place, (707) 449-4814;
http://www.animalplace.org
Animal Place is a nonprofit sanctuary for abused and discarded farmed animals located in Vacaville, California. Since 1989, Animal Place has been taking in animals who have been abused or neglected and have no place else to go. Animals rescued from auctions and stockyards and animals used in research also make up the many animals who share 60 acres of forest, meadow, pasture, hills and a small lake, peacefully living out the remainder of their lives. In addition to providing the day-to-day care of animals, Animal Place is an advocacy organization offering farm tours, volunteer training and outreach activities. More information on the sanctuary can be found online at
http://www.animalplace.org
.
We are 100% volunteer and depend on your participation to sustain our efforts!
Get Involved
If you'd like to help with maintaining or developing the website, contact us.