From the Open-Publishing Calendar
From the Open-Publishing Newswire
Indybay Feature
Standing With Neighbors Against Greed: The Foreclosure Crisis
The middle-class are victims too. They thought they were playing by the rules. Only our nation's notions of work hard, support your family, build equity in your job and retire in dignity, have long since been usurped by the greed of a corporate owned economy. Average Americans have awoke this day, to find their twin towers of economic promise and security in flames. Their homes, their families, their very future, held hostage by thugs and crooks who stroll boardrooms, bank offices and investment firms. While most families go quietly in the night, without a whimper, internalizing their fall from economic grace, alone, isolated, helpless; June and Fred Reyno remain defiant.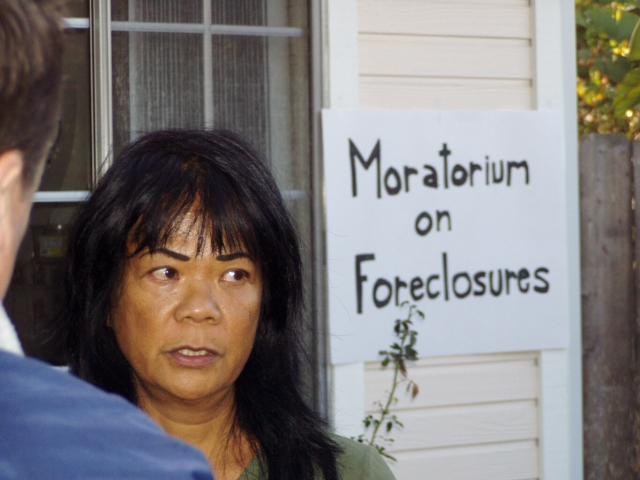 San Diego, Oct. 26, 2008. As I shut off the engine on my little truck; hushed, damp darkness compresses my view. Yet, my taunt senses tell me I am once again in the belly of the monster.

The night lamps, through misty glass, staggered porch lights, here and there, motion sensors, atop garages, tripped by swaying branches, the one lamp post at the end of the street; all illuminate snatches of the beast. It is 5:30 a.m., nothing moves; parked on a cul-de-sac, I look out at the labyrinth of streets that run off in a dozen different directions. Houses, two by two, exact replicas, the chimneys butting up against one another, forming sets of ears. The garages, on the far side of each house, the doors with small windows, seem like jeering eyes.

How many decades since I last sat in this deadly wasteland? Walking, breathing, cadavers trapped in stucco tombs, their personal infernos, physical and discarnate, matching the enormous damage of their public covetousness and waste. Both place and perception: I escaped both with the divorce. She got the chaining cards of credit, the bank account, the equity; I, the kid from the other side of the tracks, my permanent freedom from economic bondage. Beauty and the beast; she stayed in suburbia.

So why the hell, am I plopped down in this hell-hole of suburbia on a cold drizzly morning, waiting for men with guns to arrive? As director of the San Diego Renters Union I have seen it all too often. Families forcibly removed from their apartments, children traumatized, elders terrorized, by police officers protecting the unregulated greed of landlords. Private property over public welfare, wealth to the few, de-funding the social; 1000 San Diegans a month are evicted because of obscene rent costs. Fifty seniors hit city streets, homeless, each month. The poor and working-class have been struggling for years to expose the inequity and unfairness of an economic system, backed by laws and guns, which oppress and crush the human personhood.

So, here I sit, doing sentry duty, not, as usual, near some run-down tenement building or clapboard shack, but in the heart of all I once hated. The middle-class, ensconced in suburbia, awash with guaranteed credit, covenanted with bread and electronic circuses, given just enough power so as not to be concerned with who really holds the power and wealth; always seemed to me to be the real threat to our planet and its millions of poor inhabitants. Spoon fed the American Dream of too much space for their fat asses; the Reagan retrogression, which made a virtue of selfishness, converging to create an illusion of security in these vast tracts of mendacity.

Before the end of the day, meeting the Reynos, standing with them in solidarity amid their home, worth almost a half-million dollars; my class-consciousness, its depersonalized anger and narrow vision, was transcended by an understanding that the middle-class are victims too. They thought they were playing by the rules. Only our nation's notions of work hard, support your family, build equity in your job and retire in dignity, have long since been usurped by the greed of a corporate owned economy.

Like crazed cannibals, corporate CEO's and Wall Street gamblers have begun to chew at the middle-class. "Give us public money" they chant, "or we will destroy the new heartland." Average Americans have awoke this day, to find their twin towers of economic promise and security in flames. Their homes, their families, their very future, held hostage by thugs and crooks who stroll boardrooms, bank offices and investment firms.

Manipulating the System to Steal a Home!

"America is choking to death," June Reyno exclaims, "and it's our governmental system that's doing the choking." Standing next to her well-tended front garden that stretches to the curb of the sidewalk, she tells supporters and members of the news media, her great sadness and anger of being displaced from her Mira Mesa home of almost 20 years.

Half-expecting sheriff troopers to storm up her drive-way, she constantly peers over the shoulders of the camera men; it is the eighteenth and last day of the moving period, burned into the vacate order pasted on her front door. While most go quietly in the night, without a whimper, internalizing the fall from economic grace, alone, isolated, helpless; June and Fred Reyno remain defiant.

They hope their plight as victims of predatory lending and an out of control speculative economy will embolden others to fight for their rights. June Reyno spoke to a magazine reporter that she hoped her pledge to chain herself to the front porch would "mobilize people." As I look around the u-haul truck in the driveway which protects their valuables, at the lines of track homes stretching as far as the eye can see; I wonder, if indeed, will these turtles come from under their stucco shells and fight for their neighbors?

For most of their 19 years at the Mira Mesa home, they paid a few thousand a month on the mortgage; before Bush de-regulated the speculative gambling of financial institutions. Joining the frenzy, like stray dogs in heat, banks began jumping on mortgages, both good and sub-prime. The debt note on their home was sold over and over again, each time jacking up the interest rate, until their monthly mortgage payment reached $5,800 a month.

Falling behind after June had an injury, they desperately tried to re-negotiate the loan with the present holder, Residential Funding Company. The corporate CEO's, salivating at the $100,000 they will make on a quick sale, have refused to talk with the Reynos, even though a lender has stepped forth to buy their note. Instead, Residential hired a property management company, Excel of San Diego, to do the dirty work; the eviction process and securing police guns to throw out the Reynos.

"It's all about greed," June Reyno exclaims as she touches the shiny lock sheriff deputies attached to her metal front security screen, "it's all about the profit they will make when we are forced to walk away from our home." Nervous, exhausted from no sleep, the visible toil of the anguish bubbles near the surface; tears, anger, frustration and a sense of the incredulous vacillate forth between talking her five dogs next door for safety and talking to Fox News.

Reyno, who works in health and human services, understood her solidarity with her neighbors. She talked of the over 700 other targets of foreclosure within the Mira Mesa neighborhood as well as the 9,000 homes under foreclosure proceedings in San Diego County. Nationwide 30,000 families a month face foreclosure and eviction.

Foreclosures, Evictions and the Third World-izing of the United States

It is ironic that the last day of the grace period for the Reynos, before men with guns come; was on the last day of the Oct. 24-26th nationally coordinated "Local Days of Action Week-end" which called for a moratorium on foreclosures and evictions nationwide.

Organized by the Ad Hoc National Network to Stop Foreclosures and Evictions, the theme was "bail out the people, not the bankers." Calling attention to the injustice of trillions of public funds going to the richest 1 percent of the population as so called "bail-outs," while working folks suffer; the Network designated the week-end for marches and demonstrations in front of banks and government offices.

The Ad Hoc group released a letter sent to Congress last week-end that reminded the legislators that there is precedent for a national moratorium on foreclosures. In the areas affected by Hurricane Gustav, an original 90-day foreclosure halt, has been extended indefinitely.

Considering that the Federal Government through its take-over of Fannie Mae and Freddie Mac, now holds or insures the majority of the country's mortgages; all that the Department of Housing and Urban Development (HUD) would have to do is declare a state of housing emergency to institute a moratorium.

Earlier in the month, on October 9th, a courageous and sympathetic, Tom Dart, Sheriff of Cook County, Illinois, ordered his deputies to stop evicting people from their homes until a more humane, equitable process was developed. Meanwhile, the Sheriff in Philadelphia is leading an effort for a moratorium on foreclosure sales.

As June Reyno stands ready to chain herself to the front of her home; she understands the desperation and terror that led 90 year-old Addie Polk to shot herself on October 2nd when faced with eviction from her Ohio home, where she had lived for 38 years. Because of shark lenders and unscrupulous bankers; Polk, living on a fixed income, found that an improvement loan on her home had grown in four years to twice the value of the house.

More than four million homeowners with a mortgage are at least one month behind on their payments, according to the Mortgage Bankers Association. More than one million homes in the U.S. are in some form of foreclosure.

In San Diego, It's Smoke and Mirrors, As Usual

At the Reyno home vigil, supporters included several members of the Affordable Housing Coalition of San Diego County.
Gregg Robinson, Co-Chair of the Coalition, spoke of a recent retreat and think-tank day which focused on the foreclosure crisis that was attended by several area officials, including Assemblywoman Lori Saldana. He lamented that too many politicians, both Republicans and Democrats have strong ties, through lobbyists, to the very financial institutions that are perpetuating the greedy behavior.

Robinson also mentioned City Attorney Michael Aguirre's attempt to get the San Diego City Council to declare a "foreclosure crisis." Aguirre, in submitting his late August proposal, noted "the city of San Diego is experiencing a crisis in the real estate market fueled by an unprecedented number of foreclosures in the wake of lending institutions' predatory lending practice and wide-spread use of sub-prime loans." The City Attorney also warned that "foreclosures in the city are up 213 percent, the highest number in the history of the city."

Aguirre, who is fighting for his political life against the very Oligarchic power bankers and real estate interests that are part of the problem, however, didn't give any teeth to his proposal. He merely suggested a "resolution" by the City Council that asks the fat cats to "voluntarily" suspend evictions and implement a moratorium on foreclosures. Yeh, right; that's like asking a hyena to drop its prey from its claws and wait patiently by the river.

Other San Diegans, like Faith Bautista, executive director of the Mabuhay Alliance, have asked state Attorney General Jerry Brown to intercede with injunctions against foreclosures by the worst offenders of predatory lending practices in the San Diego region, particularly corporate jackals like Countywide Financial Corporation, which was recently bought by Bank of America.

The San Diego Renters Union has put forth several areas for action by concerned citizens:

1. We are calling on the San Diego City Council to not only declare a "housing foreclosure emergency' but to create an emergency ordinance that mandates all foreclosure actions in the city first go before the City Attorney's office to determine if there was full disclosure of all terms, sub-sales, transfers and add-on fees and interest rates.

2. We are urging the City Council to create an eviction process (a.) which allows the homeowner 60 days to secure alternative financing and (b) protects renters who live on foreclosed property with a 90-day moving period and help with moving expenses and a return of their deposits.

3. While the City of San Diego doesn't have the police power to unilaterally declare a moratorium on evictions, it can require that potential evictors must come before a neighborhood enforcement component and make some arrangement about the upkeep and security of the property. Keeping the family in the home would be the priority; against the decay of the neighborhood.

4. Urge our state representatives in Sacramento to create a "home ownership corporation," similar to the depression era New Deal program, which had the money and flexible authority to work out individual finance plans that allowed people to stay in their homes.

Economist Dean Baker has estimated the middle-class loss on inflated housing prices to be around $5 trillion. Thirty years ago, American homeowners held 70 percent equity in their homes. Today it is below 50 percent and falling rapidly. College funds, retirement guarantees, jobs, the safety of our streets are at stake. We are all in this together.

Now that the middle-class are being criminalized along with the rest of us poor saps; June Reyno said the sheriff's deputy, plastering the eviction notice to her door called her a "squatter" in her own home and promised to arrest her if she was not out in 18 days, perhaps we can finally rise above the organized greed of a corporate owned world. And like the Great Depression era, begin to look out for our neighbors; creating a society of which our children and grand-children can take pride.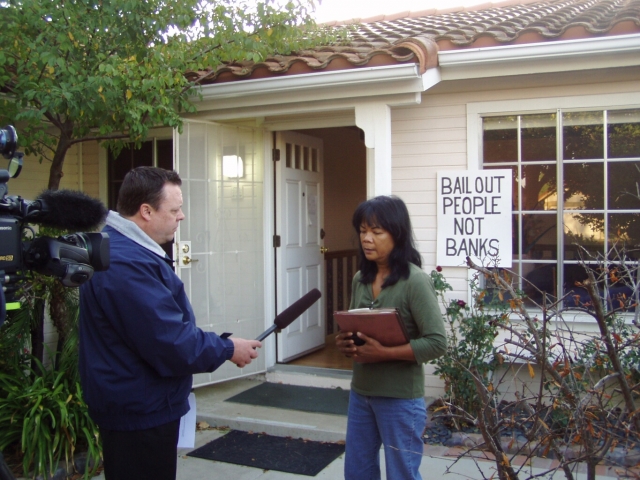 June Reyno talks to Channel 10 reporter, vowing to chain herself to the front of her home when Sheriff deputies arrive.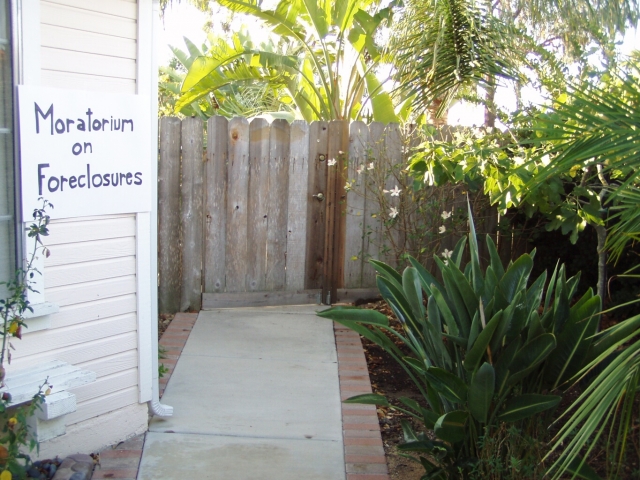 Being evicted from their home after 19 years, the Reynos are fighting back, vowing to stay no matter what.
We are 100% volunteer and depend on your participation to sustain our efforts!
Get Involved
If you'd like to help with maintaining or developing the website, contact us.