From the Open-Publishing Calendar
From the Open-Publishing Newswire
Indybay Feature
Cindy Sheehan gets 40 Seconds to speak to Nancy Pelosi
Having refused to be a guest on KQED´s public affairs program Forum because she was not allowed equal time, America´s leading peace activist Cindy Sheehan audaciously called in to the program this morning to get a chance to address House Speaker Nancy Pelosi. Upon stating that Nancy Pelosi has ducked her responsibility of meeting with her San Francisco constituents since 2006, the impatient program host, Michael Krasny, interrupted Cindy to prod her to ask the question his call screeners had agreed to. In all, Cindy Sheehan was granted less than 40 seconds to speak, and was not allowed to respond to Nancy Pelosi´s answer. Cindy Sheehan is running against Nancy Pelosi for California´s District 8 Congressional Seat in the U.S. House of Representatives.
Cindy Sheehan gets 40 Seconds to speak to Nancy Pelosi


San Francisco, California
October 29, 2008
Robert B. Livingston

According to the Wikipedia, KQED 88.5 FM is the the most listened to NPR station in the United States. Between 9 and 11 AM weekdays, tens of thousands of the San Francisco Bay Area´s more civic-minded residents tune in when the radio station broadcasts Forum, a public affairs call-in program.

This morning in a nod to democracy, Forum devoted the hour from 10 to 11 to giving its listening public a chance to get to know the candidates in this year´s District 8 Congressional race.

District 8 represents the greater part of San Francisco-- and it has an especially noteworthy race this year because America´s leading peace activist Cindy Sheehan is in the race as an independent candidate.

As has been largely its custom in past major political races, Forum gave the bulk of its program (the first half of the program´s hour) to the sitting incumbent, in this case, House speaker Nancy Pelosi.

Forum allocated the second half of the program to two of her challengers, the Republican Party candidate Dana Walsh and the Libertarian Party candidate Philip Berg.

Cindy Sheehan, although invited to share the second half-hour with Walsh and Berg, had refused to attend on principle: because the program´s time was divided unfairly among all the candidates.

Nevertheless, Cindy took advantage of the opportunity Forum dangles to all its listeners to have a say, and managed to call in to the station and address Nancy Pelosi shortly before the Speaker´s time ran out.

¨I just want to know why you haven´t represented the people of your district and why you haven´t impeached George Bush and Dick Cheney?¨ Cindy was able to ask Pelosi.

Nancy Pelosi thanked Cindy for her call and expressed her admiration for her courage.

¨If I honestly believed that the president had violated the Constitution of the United States, and if my colleagues believed that, I think you would have seen the president impeached,¨ she answered.

As an independent appealing to voters in all parties, Cindy Sheehan has been significantly endorsed by the Green Party whose members have out-polled Republicans in San Francisco in recent years.

Many keen political observers can only guess at how election results may differ if real debates between incumbents and challengers were allowed in public-- or on the airwaves.

Cindy Sheehan has repeatedly challenged Nancy Pelosi to a debate, but Pelosi has always refused.

Since before becoming the powerful Speaker of the House of Representatives, Nancy Pelosi has neither met with local anti-war activists nor held a public town-hall meeting to address her constituents´ concerns.

Here is a transcript of this morning´s brief exchange between Cindy Sheehan, Forum host Michael Krasny, and Nancy Pelosi:


[Nancy Pelosi finishes answering another caller´s question.]

Krasny: Well, we´ve got a caller here who I think maybe... familiar to you Speaker Pelosi. It´s Cindy Sheehan on the line....

Pelosi: Good morning Cindy.

Sheehen: Good morning Ms. Pelosi.

Pelosi: Good morning to you.

Sheehan: It´s nice to talk to you.

Pelosi: My pleasure.

Sheehan: Um. Well first you answer the question about the debate which I think that you-- if you really cared about the voters in San Francisco you could find an hour to debate your opponents, because you do have some opponents here in San Francisco. You haven´t had a town hall meeting...

Krasny interrupts: ´Scuse me, Cindy Sheehan, you had a question you wanted to ask the Speaker?

Sheehan: I do. I do. Over 60% of this district in 2006 voted for an impeachment resolution and I just want to know why you haven´t represented the people of your district and why you haven´t impeached George Bush and Dick Cheney. And you still have time.

Krasny: Alright, thank you for that direct question.

Pelosi: Thank you Cindy. First may I commend Cindy for her race for congress and again express the respect that I have for her for her courage in speaking out in what she believes in, so articulately.

The issue of impeachment is a very controversial one in my own caucus and certainly in the country. The idea that if we disagree with the president we should begin impeachment proceedings is one, that is again, controversial. There are those who believe they have the evidence that the president would be convicted if impeached. Um. I don´t know that we have seen that. I have said that the people who would like to see the president impeached the most are the Republicans. They should love to see the Democrats, as soon as we took power, go down the path of impeaching the president, dividing the country, and neglecting what we wanted to do on minimum wage, and children´s health, and veterans´ benefits and the rest of that, because it would totally consume the congress. It is, again, again, controversial, but if I honestly believed that the president had violated the Constitution of the United States, and if my colleagues believed that, I think you would have seen the president impeached.

Krasny: Let me see if we can get a quick other call in here. Brian go ahead. You´re on.

Brian: Hi. I´m Brian. I´m very interested in....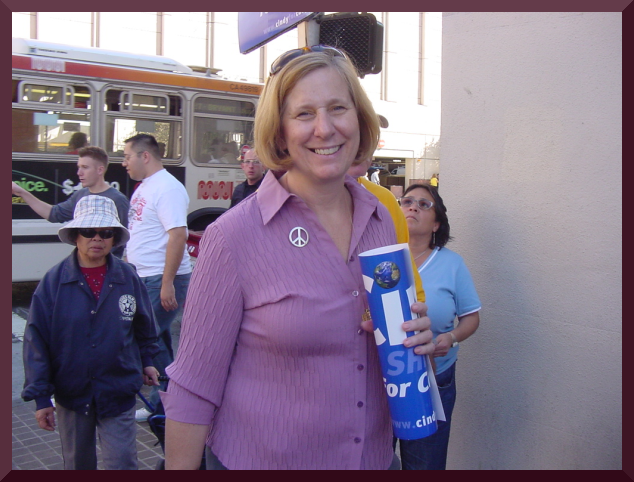 This photo was taken last week in front of the San Francisco Chronicle where activists protested its censorship of news about impeachment and Cindy Sheehan´s independent congressional campaign.
... and Nancy Pelosi´s answer.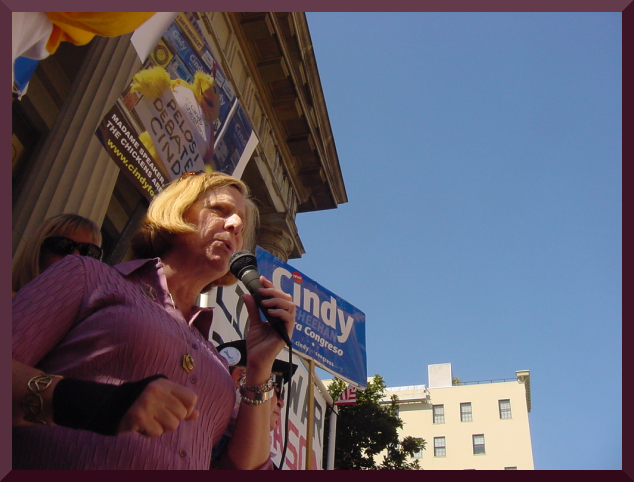 Last week, on the steps of the Mint building in front of the San Francisco Chronicle building, Cindy Sheehan gave a speech against the establishment media which ignores the interests of the people in favor of corporate interests.
We are 100% volunteer and depend on your participation to sustain our efforts!
Get Involved
If you'd like to help with maintaining or developing the website, contact us.