From the Open-Publishing Calendar
From the Open-Publishing Newswire
Indybay Feature
Voter Caging in Northern Cali?
The Republican National Committee has sent non-republican voters in Northern California, a letter identifying them as Republicans. The letters include a registration card with a fake voter ID number and a do not forward stamp on the outside of the envelope. Voting rights activists say the letters are part of a voter caging campaign and an attempt to undermine non-republican voters in the November election.

Peggy McCloud has voted democrat all her life. In past years, she campaigned for Bill Clinton, and California's congress member Mike Thompson. And she served in local office, as a Lake County Planning Commissioner. So when McCloud recently received a letter from the Republican Party, indicating that she was a Republican, she contacted the Lake County Registrar's office about it.

"What caught my eye was it said that I was a registered Republican. And it said in it, 'I have sent you a copy of your RNC file card for confirmation,' and there's no way they would have a Republican National Committee file card for me. Back to the envelope, when it said do not forward, that also caught my eye, why would they not want this to be forwarded?
CA-"It says John McCain right on the envelope"
McCloud-"And on the back of it, it says the Republican National Committee, Voter Identification Division, it has the address in Washington DC."

The Republican National Committee did not respond to numerous requests for an interview. Although the letters referred to a Voter Identification Division, RNC personnel said they had no such department. Voting rights advocates say the letter is the first step of voter caging-a voter suppression tactic. Janie Sheppard is an attorney in Mendocino County, and a voting rights advocate. She's worked the polls for over a decade.

"Let's say you are a Republican and you don't want Democrats to vote. You send out official looking notices to the democrats that you don't want to vote. On the envelope on the outside will say do not forward. So, if it gets returned, the republicans will go to the polls, they'll have challengers there who will challenge that persons right to vote. Unless the person can prove they live where they are registered to vote, they will end up having to vote provisionally, which is a whole lot of paper work, and it's a matter of record that 50% of provisional votes are not counted."

The letter also includes an RNC voter registration card, with a voter identification number. Lake County registrar Diane Fridley says that number did not match McClouds real voter ID number.

"There were ID numbers in the letter, but I have no idea what the numbers stand for because they have nothing to do with the registration here in Lake County."
CA-"What has your sense been of people who have called, have they been confused, are they concerned?"
Fridley-"They're concerned about their political affiliation, and where that information came from, as well as what those ID numbers meant to this office or to them."
CA-"And nobody seems to quite know."
Fridley-"No."

Fridley says she received a handful of calls from voters who received the same mailer. Non-republican voters in Napa County, California have also received mailers from the Republican National Committee, according to the Weekly Calistogan. And the voting advocacy group Black Box Voting reports voters in Florida have also received mailers from the RNC.

Meanwhile McCloud says she wants to know where the Republican Party got her information. Chair of the Lake County Republican Central Committee says that he was unaware of the letter from the RNC. Sheppard says the mailers are part of a larger voter suppression effort.

"Caging is really only just a part of a wider voter suppression movement in the this country, and I just have to say this, it's all driven by Republicans who are using various ways to suppress the democratic vote. They're not interested in suppressing their own vote." 22 seconds

Other voting caging tactics have occurred in Ohio, where elections officials have sent mailers to registered voters, and in Michigan where Republicans were trying to use foreclosure to reject voters at the polls. Election protection watchdogs say tactics like these are attempts at curbing American Democracy. Again Sheppard.

"It's pretty horrifying that in a democracy there are people who don't want your vote to be counted. I mean you kind a think of this as happening I some kid of dictatorship in Latin America or one of the Russian satellite countries. But, no it's happening right here in this country."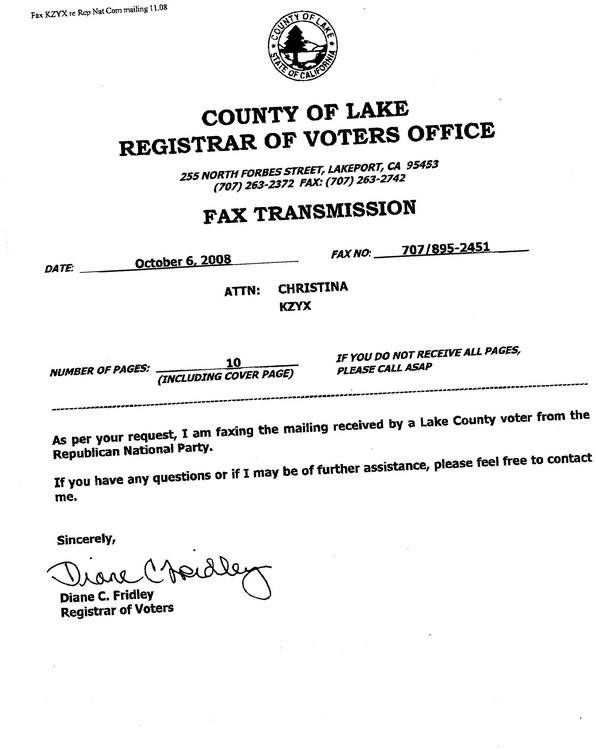 We are 100% volunteer and depend on your participation to sustain our efforts!
Get Involved
If you'd like to help with maintaining or developing the website, contact us.