From the Open-Publishing Calendar
From the Open-Publishing Newswire
Indybay Feature
Protest Landlords and Realtors who are trying to buy the election. Save Rent Control!
Join us next Thursday in the streets when we picket Realtors and Landlords who are trying to buy the election. Save Rent Control in San Francisco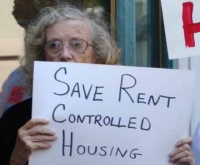 Landlords & Realtors Are Trying To Buy This Election!
Protest & Picket at Board of Realtors, 301 Grove St. (corner of Franklin & Grove Streets), October 23 (a week from Thursday) 5:30 PM
This November, whether the Board of Supervisors remains pro-tenant, pro-labor, and progressive will be determined by what happens in the swing Supervisors Districts of 1, 3 and 11. These districts are open with current Sups. McGoldrick, Peskin & Sandoval termed out. These are moderate districts which could go either way—if we want to maintain our majority on the Board we can't afford to lose even one (see analysis below). Rent control is at stake here—our rent control law is just a local ordinance which could be weakened or ended by a 6-5 vote of the Board of Supervisors!
Landlords & Realtors know this too. They're spending hundred of thousands of dollars against the pro-tenant candidate in District 1 (Eric Mar), District 3 (David Chiu) and District 11 (John Avalos) trying to buy this election for their candidates: Sue Lee in D1, Joseph Alioto in D3 and Aasha Safai in D11.
Join us next Thursday, 10/23 as we protest & picket the realtors and landlords who are trying to subvert democracy. Gather at Board of Realtor at corner of Franklin & Grove Streets at 5:30 PM.
See the excellent article and chart in the Bay Guardian showing how this election is being bought.
http://www.sfbg.com/entry.php?entry_id=7308&catid=&volume_id=398&issue_id=401&volume_num=43&issue_num=03
Analysis of district races from Tenant Times
With 3 Swing Districts Open This Fall, Board of Supervisors Could Turn Against Tenants, Endangering Rent Control & Other Renter Protections; Districts 1, 3 & 11 Key to Our Future Here
Having soundly defeated Prop 98 in June, we've all felt comfortable that rent control is safe. But an equally serious threat looms ahead. Rent control is simply a local ordinance, not a state law. As such it can be amended or repealed by a simple vote of the Board of Supervisors. A simple 6-5 vote would do it. For many years, tenants have enjoyed a pro-tenant majority on the Board, even if at times a slim majority. Right now, we can consistently count on 6 votes, can usually get 7 votes and can occasionally get 8 votes.
This November, 3 of our consistent Supervisors are termed out: Jake McGoldrick in District 1, Aaron Peskin in 3 and G Gerardo Sandoval in 11. It wouldn't be such a big deal except that these three all represent "swing" districts which include a mixture of tenants and homeowners and high and low incomes and all analysis concludes that these districts (1 is the Richmond, 3 includes Russian Hill, Chinatown & North Beach and 11 is the Excelsior) could easily elect either a pro-tenant or pro-landlord Supervisor in any given year.
When District elections were brought back in 2000, tenants won a clean sweep of these 3 seats. But that was due largely to strong backlash against Willie Brown and his aggressive development policies. There is no similar dynamic this year so these seats are considered wide open. In each of the three, there are 2 candidates—one strongly backed by tenants (and labor and the Democratic Party) and one strongly backed by landlords, realtors & developers—who are running first and second in the polls (well ahead of any other candidates) so come November these seats will remain pro-tenants or radically change to pro-landlord.
Remembering that rent control can be amended (i.e. weakened) or even repealed, the stakes are really high and the pressure is on to win all three seats. Losing just one would be bad, losing two would be very, very bad and losing all three would be disastrous:
•If we lose just one seat, our majority on the Board becomes tenuous or disappears. We would have 5 solid votes and could sometimes muster up 6 or 7. We'd never be able to get enough to override a Mayoral veto and landlords would occasionally be able to pass measures weakening protections or raising rents.
•If we lose two seats landlords would have a solid majority. Tenants would have just 4 solid votes and probably could usually get 5 votes. Landlords would have 5 solid votes and would usually be able to get 6 votes and sometimes 7.
•If we lost all three seats, rent control as we know it would be gone. Tenants would then have just 3 solid votes and would usually get 4. Landlords would have 6 solid votes and would usually have 7 votes. Though a total repeal of rent control is probably unlikely, with such a strong majority it's certain that there would be a major overhaul of rent control at City Hall and higher rent increases and easier evictions being the most certain outcomes.
The 3 key races:
District 1–The pro-tenant candidate is School Board Member Eric Mar, while real estate interests are backing Sue Lee. Mar has solid name recognition and of the three key races he's probably in the best shape, though polls show he has just a slim lead (and this before a barrage of negative mailers and phone calls hit the district. The Richmond District is almost 50-50 tenants-homeowners and on tenant ballot measures usually votes pro-tenant by a slim majority.
District 3–David Chiu is backed by tenants while landlords are backing Joseph Alioto III. District 3 is a very diverse district in many ways with some parts of it similar to the Tenderloin while other parts are more like Pacific Heights & the Marina. Its neighborhoods include North Beach, Russian Hill, Polk Gulch & Chinatown; parts of the district are very pro-tenant and progressive while other parts are very conservative so there's a real fight here. Alioto-Chiu are 1, 2 in the polls with all others far behind. What's particularly scary about District 3: Joseph Alioto is Michaela Alioto's brother and we all know how rabidly anti-tenant she is. This sister-brother team on the Supervisors would be deadly for tenants.
District 11–The candidate backed by tenants, labor and progressives is John Avalos while real estate interests are backing Aasha Safai; once again these two are 1-2 in the polls well ahead of all others. District 11, largely the Excelsior, is the toughest district from a tenant perspective as it is largely a homeowner district. It's a working-class neighborhood and labor unions (who all endorse Avalos too) have much influence here.
Unsurprisingly, landlords, realtors and developers have been funneling thousands of dollars into these three districts trying to swing the election their way.
Get involved in these campaigns (even if you don't live in these districts) if you want to keep ret control safe and spread the word about these key races.
Eric Mar for Supervisor
4328 Geary Blvd., SF, CA 94118
415/505.2961
http://ericmar.com/
David Chiu for Supervisor
1323 Polk Street, SF CA 94109
415-441-8393
http://votedavidchiu.org/
John Avalos for Supervisor
4802 Mission/Onondaga, SF, CA 94112.
415 585 3916
http://www.avalos08.com/
We are 100% volunteer and depend on your participation to sustain our efforts!
Get Involved
If you'd like to help with maintaining or developing the website, contact us.