From the Open-Publishing Calendar
From the Open-Publishing Newswire
Indybay Feature
Celebration for "Pomona Envisions the Future" mural in Pomona, California
On Saturday, October 4, 2008 starting at 3:00 p.m. the City of Pomona will be honoring the artists who created the "Pomona envisions the future" mural. The ceremony will take place in front of the mural at Second and Thomas Streets in the Thomas Plaza in Downtown Pomona. Pomona Mayor and Council members are expected to present a bronze plaque honoring the artists who created the mural. The event is free to the public.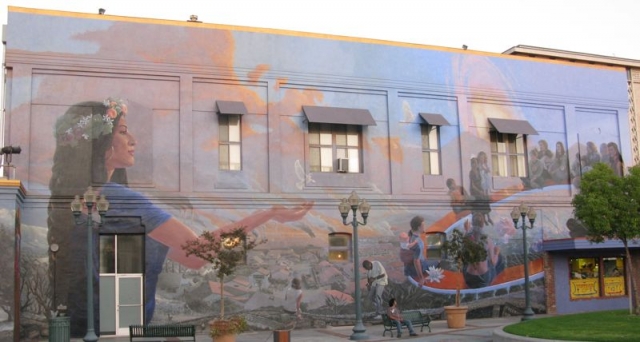 Pomona Mayor Norma Torres, Councilmembers George Hunter, Freddie Rodriguez, Cristina Carrizosa, Paula Lantz, Elliott Rothman, Stephen Atchley, artist Dexter Frankel are expected to attend along with the artists which created the mural and their supporters.
This celebration and reunion is scheduled to acknowledge the artists that designed and executed the mural as a gift to the City of Pomona. It is the result of a community-based project, "Envisioning the Future," that took place in the Pomona Arts Colony 2002 – 2004; facilitated by renowned artist Judy Chicago, photographer Donald Woodman and Cal Poly Pomona. The mural has become a favorite icon for the City and the celebration is long overdue.
The plaque is one of attribution to the following artists:
Envisioning the Future Artists: Kevin Stewart-Magee, Lead Artist, Lief Frederick, Sandra Gallegos, Cori Griffin-Ruiz, Rupert Hernandez, Lynne Kumra, Yolanda Londono, Amy Runyen, Chris Toovey, Mary Kay Wilson
Community Artists: Erin Campbell, Athena Hahn, Joy McAllister, Fred Stewart-Magee
For more information contact Cheryl Bookout, Project Coordinator at (714) 287-9143,
jcheryl [at] jcbookout.com
To learn more about the mural, click here
http://www.pomonaenvisionsthefuture.com