From the Open-Publishing Calendar
From the Open-Publishing Newswire
Indybay Feature
Was neuroscientist Dr. Aafia Siddiqui raped and tortured at US Bagram prison?
It appear that the Bush Administration may have another "Abu Ghraib Prison" type torture scandal in its hands that it is desperately attempting to cover up. The disturbing human rights case involves a Massachusetts Institute of Technology and Brandeis University educated Pakistani national that mysteriously disappeared, along with her three children, in Afghanistan in 2003. Last month the seriously injured, bleeding, frail, traumatized and confused Dr. Siddiqui re-appeared in a wheel chair in a New York federal court accused of terrorism and to face charges that she attempted to kill FBI and US soldiers in Afghanistan.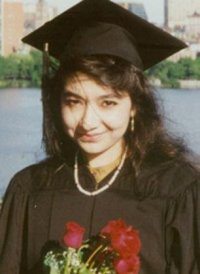 No one would have known about what some Pakistanis are calling "one of the most deplorable crimes against womanhood" if it had not been for human rights organizations speaking out against the rape and torture of "Prisoner 650" that was being held at the US Bagram Theater Internment Facility, a miserable prison that was previously utilized as air base hangers by the Russians during their occupation of Afghanistan. The British Broadcasting Corporation (BBC) just recently picked up the story and the Bush Administration seems to be acting quickly to cover up what many consider to be a war crime.
On Tuesday, they chose their front man, Brian Ross of ABC News, to begin propagandizing against Dr. Aafia Siddiqui in order to justify to the American people the gruesome treatment of the Pakistani neuroscientist at the hands of US authorities in Afghanistan and their lackey Pervez Musharraf in Pakistan. Many of you may remember that Brian Ross was also the Neocon front man in the national news concerning the Anthrax Terrorist Attacks in 2001. He was reporting that the anthrax sent to U.S. political and media figures was linked to Saddam Hussein's biological weapons program. That was a lie. No tests ever revealed any such thing. Like Colin Powell, he was attempting to create the perception in the public's mind that Iraq was behind the anthrax attacks and that it possessed weapons of mass destruction.
Tortured Dr. Siddique at US courtThe FBI has accused Dr. Siddiqui of being an al-Qaida terrorist. Her father was educated as a doctor in Britain. Her brother is an architect from Houston and her sister is a Harvard University-trained neurologist. Because Dr. Aafia Siddiqui is a Muslim, the FBI started investigating her as far back as 2001when she lived in Boston.
The FBI harassment of Dr. Siddiqui and her family prompted her to return to Pakistan around 2002. Soon after, the FBI issued a "Wanted Poster" on Dr. Siddiqui and alerted the Pakistani Pervez Musharraf's regime. After her picture appeared on the FBI "Wanted Poster", Dr. Siddiqui was picked up by alleged US/Musharraf operatives in 2003 while she was visiting, along with her three children, in Afghanistan and imprisoned in the notorious Bagram prison. Dr. Siddiqui, according to human rights organizations became "Prisoner 650" and for 5 years suffered repeated rapes, water boarding and other forms of torture.
Soon after the horrific story surfaced in the international media, it appears that the alleged torturers moved quickly to cover up their crime. There are serious allegations that Dr. Siddiqui was "framed" in order to justify the abominable human rights violations against her. Credible human rights sources, including her US attorneys, are claiming that the Bagram prison torturers, temporarily released the traumatized and confused victim, planted evidence on her and re-arrested her on charges of terrorism in July of this year. They then set up a situation inside the prison to accuse her of attempting to kill FBI agents and US soldiers. The alleged torturers are saying that as she was about to be questioned by the FBI and US soldiers in a room in the Afghan prison, that she picked up an M4 rifle and fired at a US soldier. Another soldier fired at her with a pistol and wounded her in the abdomen. An Amnesty International official said "It seems extraordinary to imagine that four U.S. agents who'd gone to pick her up — two military, two FBI — along with at least two Afghan translators, were somehow surprised by this woman, who overpowered them, grabbed a gun, flipped the safety, fired off a couple of shots, and then could only be subdued by shots to the torso."
There is no information about what may have occurred to two of Dr. Aafia Siddiqui's three children; one son was returned to Pakistan last week.
The Horrendous Case of Aafia Siddiqui
http://www.counterpunch.org/mariner09102008.html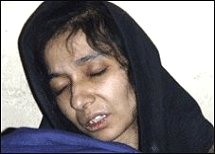 We are 100% volunteer and depend on your participation to sustain our efforts!
Get Involved
If you'd like to help with maintaining or developing the website, contact us.