From the Open-Publishing Calendar
From the Open-Publishing Newswire
Indybay Feature
Fresno's 10 Year Plan to End Homelessness Approved
The City and County of Fresno voted to adopt a 10 Year Plan to End Homelessness. At the start of the hearing before the Fresno City Council, mayor Alan Autry (photo below) apologized for the suffering he has caused the homeless in this community.
Fresno's 10 Year Plan to End Homelessness Approved
By Mike Rhodes
The City and County of Fresno approved the final draft of a ten year plan to end homelessness in this community. The plan was the product of a city/county Task Force which was mandated with the goal of eliminating homelessness. Attending today's meeting was Philip Mangano, the executive director of the Bush administration's Interagency Council on Homelessness. Mangano said "your goal in this 10 year plan is that your children will have to go to a museum someday to see what homelessness once was." Mangano urged both the City Council and the Board of Supervisors to support the Task Force plan to end homelessness.
Fresno mayor Alan Autry, speaking before the City Council, said that he made a decision last December to move his homelessness policy in a new direction. Autry said "I have been a miserable failure in terms of the homeless issue in this community. I didn't know it at the time, I felt that we were doing pretty much all that we could. . . there was a feeling that it would never get better, let's make their (homeless people's) inevitable passing a little more comfortable. That is not only wrong but it's immoral" Autry urged the City Council to pass the 10 year plan.
Mangano explained that by shifting from a policy that maintained/managed homelessness (such as the Rescue Mission, Poverello House, etc) to a Housing First model, Fresno could not only end chronic homelessness, but save money too. According to Mangano, the current method of addressing homelessness costs between $35,000 - $150,000 per year per homeless person. The cost is high because of emergency medical services, police intervention, and the money that goes to social service providers. In contrast, Mangano says that for between $13,000 and $25,000, this community could provide the homeless with descent affordable housing and get them on the way to living a more productive life. He encouraged the Task Force to write a cost benefit analysis, showing what Fresno could save by switching to a Housing First model.
Mangano, who works for the Bush administration, said that the Federal Government was spending record amounts of money on homelessness. He said that "the 2009 budget has $5 billion targeted to homeless people. That has been good for Fresno. More than $25 million has come to Fresno over the last five years. You have received increased resources for the last two years and in 3 of the last 4 years Fresno has received record resources from Washington and just very recently, a new award of HUD housing vouchers plus veterans affairs support services have come to Fresno."
Al Williams, a Task Force member, veteran, and homeless man, said he would like to know where that money has gone. Williams, speaking moments after Mangano's presentation, said "too much money has come here that is not accounted for. Mangano said that $25 million has come to Fresno. Well, how many people are still homeless on the street? Where did the money go? It is in somebody's pocket, I guess. I think these social service providers should be held accountable for their spending." Williams has in the past referred to parasitic social service providers as "Poverty Pimps," because of their ability to benefit from the suffering of the homeless.
For an alternative view of the Federal Governments role on the homelessness issue, see:
http://wraphome.org/wh_press_kit/Without_Housing_20061114.pdf
. Western Regional Advocacy Project (WRAP), a coalition of west coast social justice-based homelessness organizations, says that it has been policies of the Federal Government that has exacerbated homelessness. Some key findings in their 2006 study are that:
* HUD's budget has dropped 65% since 1978, from over $83 billion to $29 billion in 2006.
* The Emergency Shelter phenomenon was born the same year that HUD funding was at a drastic low point. In 1983, HUD's budget was only $18 billion, the same year that general public emergency shelters began opening in cities nationwide.
* HUD has spent $0 on new public housing, while more than 100,000 public housing units have been lost to demolition, sale, or other removal in the last ten years.
*Federal housing subsidies are going to the wealthy. In 2004, 61 percent of these subsidies went to households earning more than $54,788, while only 27 percent went to households earning under $34,398.
* More than 600,000 identified homeless students went to public schools in the 2003-2004 school year, according to the US Department of Education. (Fresno Unified School District recently identified 3,000 homeless students in their district)
* Federal support helps homeowners instead of poor people. In 2005, federal homeowner subsidies totaled more than $122 billion, while HUD outlays were only $31 billion - a difference of more than $91 billion.
According to Paul Boden, executive director of WRAP, "The Administration's current 'Chronic Homeless Initiative' is just the latest in a series of inadequate flavor-of-the-month distractions from the real problem. It does nothing to address the huge cuts to federal affordable housing funding that caused mass homelessness. Housing is a human right, which a democracy should advance, not restrict."
Several speakers, including Al Williams, questioned the 10 Year Plans accuracy and the number of homeless people they say are living in Fresno. The Task Force claims there are only 4,247 homeless people in Fresno. This is down from an estimated 8,824 homeless people listed in the City of Fresno Consolidated Plan, just a few years ago. The numbers in the Consolidated Plan were themselves a large reduction in what previous studies had found. A report from the Fresno/Madera Continuum of Care in 2002 put the number at about 16,000.
Since the homeless are extremely hard to count in a street survey, most communities across the country estimate that 1 - 2% of the residents are homeless. 1 - 2% is the national average. Communities with more unemployment and a poor economy will be on the high end of that estimate - in the 2% range of homeless people in their city. The 2002 estimate assumed that because of our chronic double digit unemployment, poor economy, and the highest concentration of poverty in the country, Fresno's number of homeless was closer to 2%. The Task Force instead, relied on a "Point in Time" survey recently conducted by the Continuum of Care that found the number of homeless in Fresno was well below the national average - .05%.
Most observers believe that number is too low and will lead to gross underestimates of the help homeless people need in this community. For example, the Task Force was told to come up with a plan that would end chronic homelessness in 10 years. The national average of the chronically homeless to the general homeless population is 22%, therefore (according to the Task Force) there are only 941 chronically homeless people in Fresno. Their Task Force plan is to provide 100 units of housing a year for 10 years and Viola!, the homelessness problem in Fresno will be gone.
There are enormous pressures on the City and County of Fresno to successfully confront the homelessness issue in this community. The financial burden alone is motivating local government - if they can spend $20,000 instead of $100,000 per homeless person per year, that would save millions of dollars that could be better spent. Business people, developers, and builders in the downtown area are demanding a change. In order to commercially develop and revitalize downtown, homelessness must be eliminated or at least dramatically reduced. Those two powerful economic forces, an alliance of business and government, have led to the 10 year plan to end homelessness.
Homeless advocates, the homeless themselves, and many people in Fresno want to see an end to homelessness because they know our community can do more for those who are living on the streets. But, will this convergence of forces be enough for the 10 year plan to succeed? Homelessness is now on the political radar screen in this community, there are powerful forces in support of the plan, and those forces have a great deal of motivation to end homelessness. Both the City Council and Board of Supervisors think the plan will succeed - they both unanimously approved the 10 Year Plan today.
The challenge ahead is for local government to shift policy from the current system of managing homelessness to providing housing. There will likely be opposition from the social service providers (Al Williams would call them Poverty Pimps) that have something to loose in this transition. The Rescue Mission, for example, has built a formidable empire by providing services to the homeless. They are not going to support a paradigm change that dries up their funding sources and they have significant friends and allies in local government.
Housing First, the model outlined in the 10 Year Plan, will take chronically homeless people and give them descent, affordable housing. The program will provide them with housing even if they have a drinking problem, need job training, or have a disability. Housing First will put homeless people in housing, the housing will stabilize their lives, and give them an opportunity to address whatever issue(s) they need to work on to live happier and more productive lives.
Does Fresno have the ability to make the 10 Year Plan work? That will be determined by who the City/County put in charge, how much authority that person or group has, and their skill at bringing deep and institutional change to an entrenched bureaucracy.
For a list of articles and documents about the struggle for civil liberties for homeless people in Fresno, see:
http://www.fresnoalliance.com/home/homelessness.htm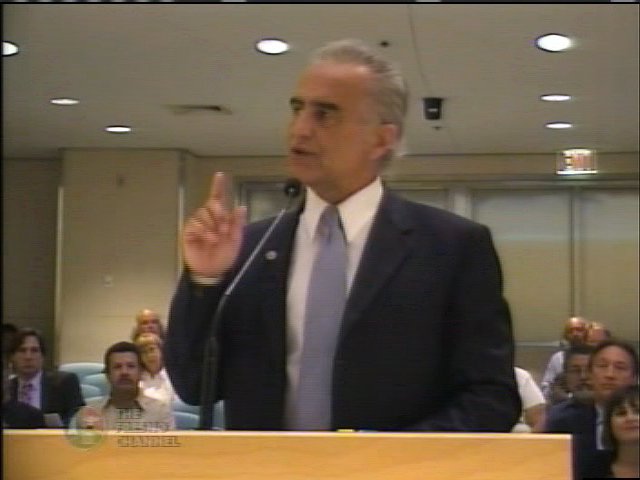 Philip Mangano, the executive director of the Bush administration's Interagency Council on Homelessness, spoke about the cost/benefit analysis of ending homelessness.

Al Williams, a Task Force member, veteran, and homeless man, describes some of the social service providers that take money meant for the homeless as Poverty Pimps.

This is the final draft of the Task Force's 10 Year Plan to End Homelessness.
We are 100% volunteer and depend on your participation to sustain our efforts!
Get Involved
If you'd like to help with maintaining or developing the website, contact us.